Homey with great food (parmesan-pepper wings! Yea) and a pleasant backwoods atmosphere describe the Back Alley Bar in St, Thomas ON – Canada; it was perfect. It reminded me of my small town roots and working the bars and the rock n roll was just as awesome as it was back in the day.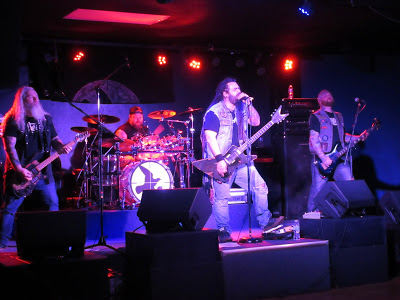 A Rebel Few
Cool sounding band name, good metal look, loud n proud and a desire to have fun onstage is the best way to describe Raposo-vocals/guitar, Barry Martin-guitar, Chris Spiers-drums and Adam Shortreed-bass. Self-proclaimed D.I.R.T bags -DB4L, (Driven by Integrity Respect Trust) is a great take on that outlived negative moniker and will hopefully take them far.
Expert players all, they rocked the house with a pounding crisp sound, despite several technical issues which, in their fun-loving way, played through them, made jokes and engaged us with a rousing bout of HELLYAS! Some kick ass music here and a great stage presence.
I WAS looking forward to the completed cover version of Bryan Adams It's Only Love via your FB teaser trailer, but alas it's a work in progress! Nice one lads, a great cut!
Their EP, As The Crow Flies available on cdbaby and on their FB page, consisting of the killer tracks, bangers all, Born Again, Rebel Few, Empires Fall, Dyin Breed, Said n Done, Serious, Who Knows, Bitter Man and Revolution were sonically and powerfully given to the small but active crowd and got us severely ramped up for the headliner…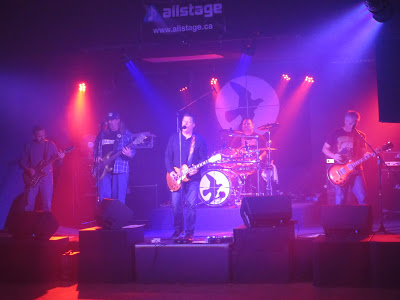 Damn Pigeon
The utter kindness and sincerity from each of the band coming over to chat briefly before their set and sign my freebie cd's of their latest album Whiskey Sinners and an incredible bonus of their 2014 release Re-Coop (haha!.. Pigeon, chicken coop, birds? Get it?), and a signature Damn Pigeon shot glass, currently unavailable on their website, was a testament to Canadian Kindness. Hand on heart for this generosity lads, but you can't keep giving this stuff away!
Already spoiled by their YouTube videos from their latest record Whiskey Sinners, Haunted and Killswitch I was immediately roused with a pounding version of Rammstein's Du Hast, ok, now we're cooking with fire. Unreal! The lovely metal chords of Starlight, an awesome tune with the coolest chorus infused with emotion laden harmonies and screaming guitar solos.
The band was pro all the way, acting as a total team: Musicians Extraordinaire: Doug Weir (lead vox and guitars), Joe Edmiston (guitars and vocals), Steve Proctor (guitars), Steve Proud (Proudy) (bass guitars), Jason Latimer (drums), we were treated to an eclectic mix of definite power metal and rock, interspersed with vestiges of Alan Parsons Project (I heard it in there, don't care what anyone says), Thin Lizzy, 70's rock, 80's anthem metal, all pulled together by their superb originality and writing.
I was particularly hit by the appearance of all four guitars out front during several songs with excellent light and smoke show, reminding me of one of my favourite concerts, Blue Oyster Cult, when all members came out with guitars, including the drummer. A truly moving moment for me; I don't know why, it's one of those that hits you at a concert, y'know?
Doug is an outstanding front man, hurling praise to A Rebel Few, getting everyone metal-motivated and some great humour thrown in when he thanked "Mr. Happy Face", a loose, smiley beach ball, batted around with various ferocities depending on the song, and of course a heartfelt shout out to all veterans on today's Remembrance Day.
The thundering, lightning strike speed of Jason's drum solo Was. So. Cool. It felt like a Peart solo in under a minute. Fast. Really fast. Accurate. Sniper accurate.
Then suddenly a Kiss cover tune (Rock n Roll All Night) and a Cars cover (can't recall which), strategically placed near closing and people suddenly poured onto the spacious dance floor and were giving their all. Some small town 50 year old teenage power drinkers were there (not me!) obstructing my perfect view from stage left, doing the Wobbly-Knee Tango and refreshingly annoying, again bringing me back to my old days working the taverns, but all having a good time.
This live set was amazing, punctuated with the 'infectious', laugh a minute Stripper Crotch. Guys, what the hell…laffin all the way to those cool riffin beats! This promises to be more 'catchy' than a Top 40, any day!
10/10 easy! Must see live! Must See Live!
Damn Pigeon Official Website
Damn Pigeon Facebook
Damn Pigeon Twitter
A Rebel Few Official Website
A Rebel Few Facebook
A Rebel Few Twitter