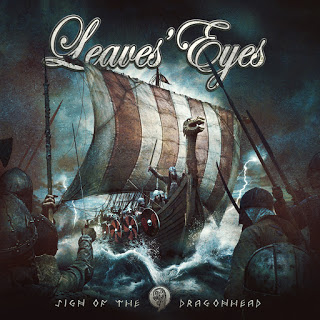 It doesn't happen often that an album doesn't manage to convince me at all, but this unfortunately is the case with the newest album of Leaves' Eyes. First of all, let me tell you about the good things the album has to offer. When listening to the album I can immediately hear the great vocals from singer Elina Siirala, her extremely high vocal lines are spot on! But something else caught my attention. In the opening song Sign Of The Dragonhead there immediately is very much repetition noticeable. If I had to count how many times the phrase "sign of the Dragonhead" is uttered, my two hands would not be sufficient to count them all on. What is also very apparent, is that structurally the songs are very similar to each other. The vocal lines of singer Elina Siirala are supported by Gregorian choirs and at a certain point in a song, usually halfway through, the grunts of Alexander Krull join in, after that each song is nearing its conclusion. In addition, almost every song has some folk influences. I can't say with a straight face that it is bad music however, to me the album comes across as slick and overproduced. Aren't there any positive things to say about this album than? Of course there are!
Like I said earlier, the vocals are really good, you can hear this practically in every song. But in the song Like A Mountain we, for the first time can hear what Elina Siirala really has to offer. It is also the first song on the album that I really like! This is probably because the song is different enough than the previous songs in the track list, it still has the same structure but the vocals in this song really shine through and I really like her vocals so I guess you could say that the one and one is two!
The ballad Fairer Than The Sun is probably one of my favorite songs on the album along with the instrumental Rulers Of Wind And Waves. I won't be completely negative about this album. The album certainly has a lot to offer for people that are searching for symphonic metal that is straight to the point, because that is what Leaves' Eyes actually does and there is nothing wrong with that, but I can't escape the feeling that's all and all the album feels very simplistic, especially if you compare this album with any album where ex lead singer Liv Kristine was part of.
The closing song Waves Of Euphoria does have variation in it and is a beautiful ending to the album.
Don't get me wrong, this is no plea for Liv Kristine at all, I am not a fan of her vocals, but I feel that when she was with the band Leaves' Eyes their songs had deeper meaning and better lyrics. I would definitely listen to the album even if it is just for the vocals of new singer Elina Siirala! Like I said earlier, the vocals are amazing, let's hope that Leaves' Eyes can support them instrumentally and lyrically on future releases!
Read our reviews about Leaves' Eyes' King Of Kings here and Fires In The North here.
Leaves' Eyes Official Website
Leaves' Eyes Facebook
Leaves' Eyes Twitter