On December 30th, Vanha will release their new album called Melancholia. DutchMetalManiac's Tim van Velthuysen recently interviewed Vanha's mastermind and sole member Jan Johansson about it.  

Hey, congratulations with your upcoming second full-length, Melancholia. It sounds great! 

Hey! Thank you & thank you!

On your debut album, Within the Mist of Sorrow (2016), you did everything yourself except the drums, which were done by Jesse Oinas. In 2017 Vanha and Jesse Oinas parted ways. What made you part ways with each other? 

Well, in short, Jesse had other priorities in life at the time, so it had nothing to do with us or the music. So there's no bad blood between us in any way.

Now, on Melancholia, you do everything yourself. Can you tell something about what you like and what you don't like about this way of creating an album? 

The thing that I like the most about it is, I can take my time. There's no "making appointments" with anything, I can just sit down with it whenever I want to.
So it's that kind of freedom with it that I like.
One thing I don't like about it is, I don't have anyone do discuss ideas with. All I have are my ears alone and that's it, you know.
So the situation is kind of bitter-sweet.

Will Vanha be a one-man-band from now on or not? What is important in that decision for you? 

I really want to get people together and get out there to play live shows.
BUT, I am very picky when it comes to band members, the chemistry is very important and that all share the same vision.

About the album you said, among other things, "Creating something raw, aggressive, yet beautiful and calm, is a scale hard to balance.
So why do I try doing it? It´s life." 
I think you succeeded in finding that perfect musical balance. How do you try to find that balance while creating your music? 

Thank you very much!
That's a hard question to answer…but, I basically write the music and as long as it feels right, then everything is good.
Lyrics come along after the music is done, or during the recording process, the music itself often gives me a feeling, and inspires the lyrics.
And of course much of the lyrics I stay true to, what I think, what I feel, what I need to say.
So through the entire process I have an "internal storyline", that feel of where I need to go, so to speak.
I hope my answer says something about it, as I said, it's a hard question for me to answer.

Besides Vanha you also have a few other projects, Frostvang, J. Johansson and The Midnight Man. While writing new music, when do you decide for which project it will be?  

Oh, it all depends on what I have done recently, or what mood I am in.
J. Johansson (or JJ Musicworks, as it's now called) is a great way to take a little break from metal.
I still feel the need of creating, and stepping outside of the "metal-box" is a great way to still create and yet take a break.
Sometimes I work on different stuff at the same time, it all depends on what mood I'm in and what ideas I get.

If it's going to be a Vanha-track, what are some necessary requirements for a Vanha-track? 

To be brutally honest, I can't write a Vanha-song without being deeply depressed and/or having really deepthoughts of life/death.
I can't just sit down and write. That darkness needs to be there, otherwise…there's no feel to the music or lyrics, there's no point.

The first single of Melancholia you released is Starless Sleep, which is about death. How do you look at death? 

It's like thinking "What was it like before I was born?", I believe in a way that that is what is going to happen.
Just an eternity of nothing.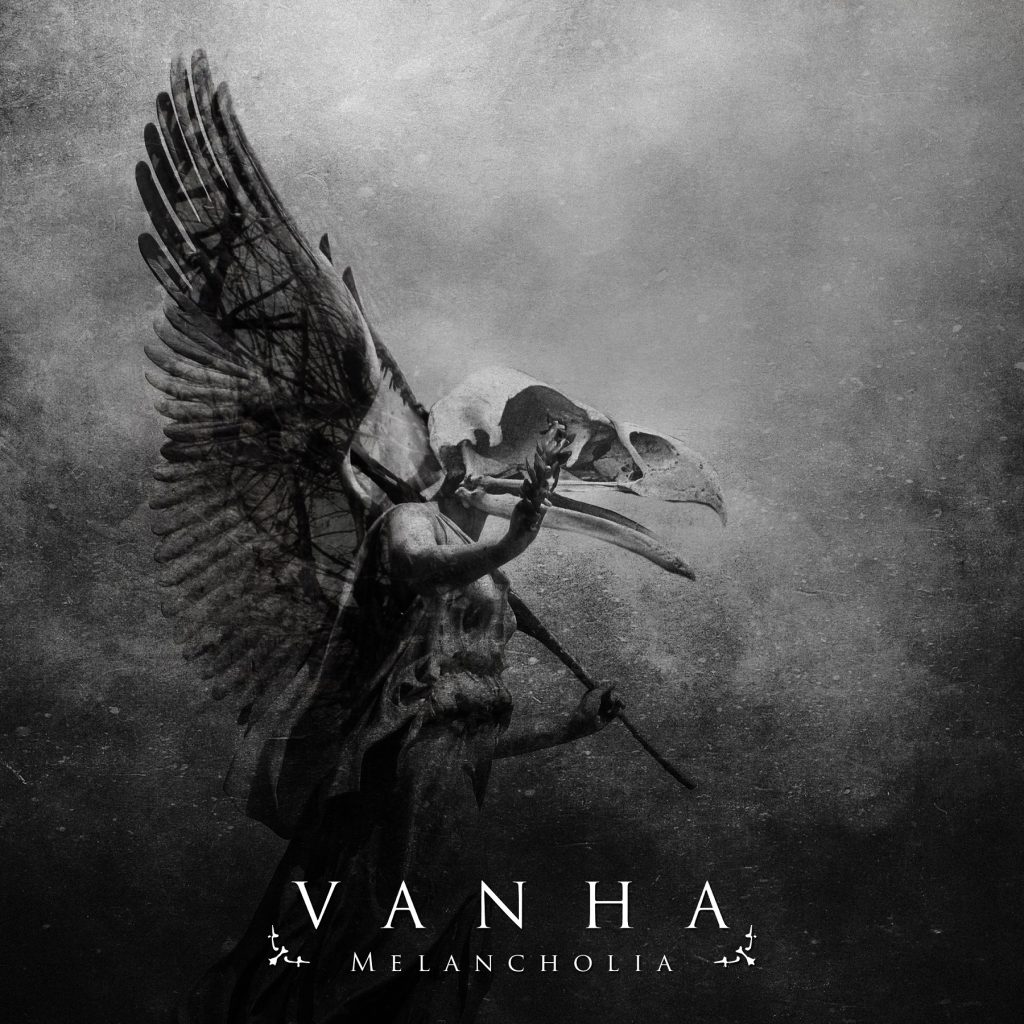 Melancholia's cover, made by Manfish Inc., looks really nice. Can you tell something about the story behind it? 

That is a very nice cover indeed.
I got a tip from Oliver at Black Lion Records, that there's this website where they sell and create custom covers.
So I visited it, and I saw this "Angel of Death" and thought that it was perfect, that image kind of embodies what Melancholy would look like if it was a being.

What made Manfish Inc. the perfect people for this job? 

Getting that tip that I mentioned, I found that the artist is brilliant. I admire the work.
I'd like to see Manfish Inc. creating the next cover too. Unless someone else can best it 😉

Melancholia is, just as Within the Mist of Sorrow, being released via Black Lion Records. What makes them the best label for Vanha at this moment? 

It is without a doubt the great communication between us and support from Black Lion.
A HUGE shout-out to Oliver for the immense work that he does!

Is there a chance of Vanha coming to the stage in the future, or not? 

Yes there is a chance for that, absolutely.
I actually hope that it will happen in 2019 or 2020. We'll see how that turns out.

Thanks for your answers! Is there anything you want to say to our readers? 

Of course! And thanks to you!
To the readers, I just want to thank all of those that listen to the music, and also, check out Black Lions Catalogue. Top notch!
Hi!
I'm Tim van Velthuysen and I started DutchMetalManiac back in 2014. I'm 27 years old and I live in Nijmegen, The Netherlands. Of course, I like metal, but I can also appreciate other musical styles. However, metal is what I mostly listen to. I also like going to concerts, meeting with friends and watching movies (especially arthouse).