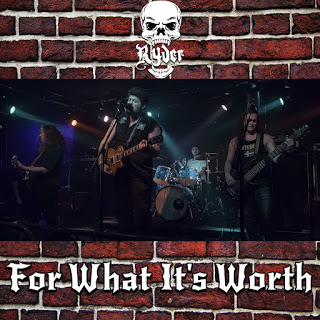 For what it's worth, this is priceless. Already a fan from their live show at The Rockpile Club in Toronto, ON, Canada (check our live review here) this is a brilliant piece with some of the old school sound we desperately need in the rock and metal world.
Recorded in Queens, in a smaller venue, you can get up close and personal and when they become more famous you will always be able to show people THAT selfie right at front stage. (Don't make it a habit though, watch the show willya!).
Being a very picky live revue listener, this one ranks with some of my favourites in terms of production, recording and audience interaction. Well blended, raw, great spots of guitar feedback (can't get enough of that, can you?) and very 'live sounding', this bit is great!
Do or Die was an instant hit with steady audience chants and a solid metal anthem if I ever heard one. Slave to Love and When it All Comes Down are awesome and LOA Club is probably my favourite, with a bluesy, plodding tempo reminiscent of Motörhead's Lost Woman Blues or Whorehouse Blues excellently-enough!
SO LMAO at the audience banter at 03:43: "Is this fucking Guns n' Roses after party?" Some great screams too but would have been made more effective if the audience was miked a bit more. Maybe there weren't that many people either still, a great interaction.
These lads keep on rockin' and are shooting for the stars, especially now being on the bill for Rocklahoma 2018! Well done, well deserved!
10/10