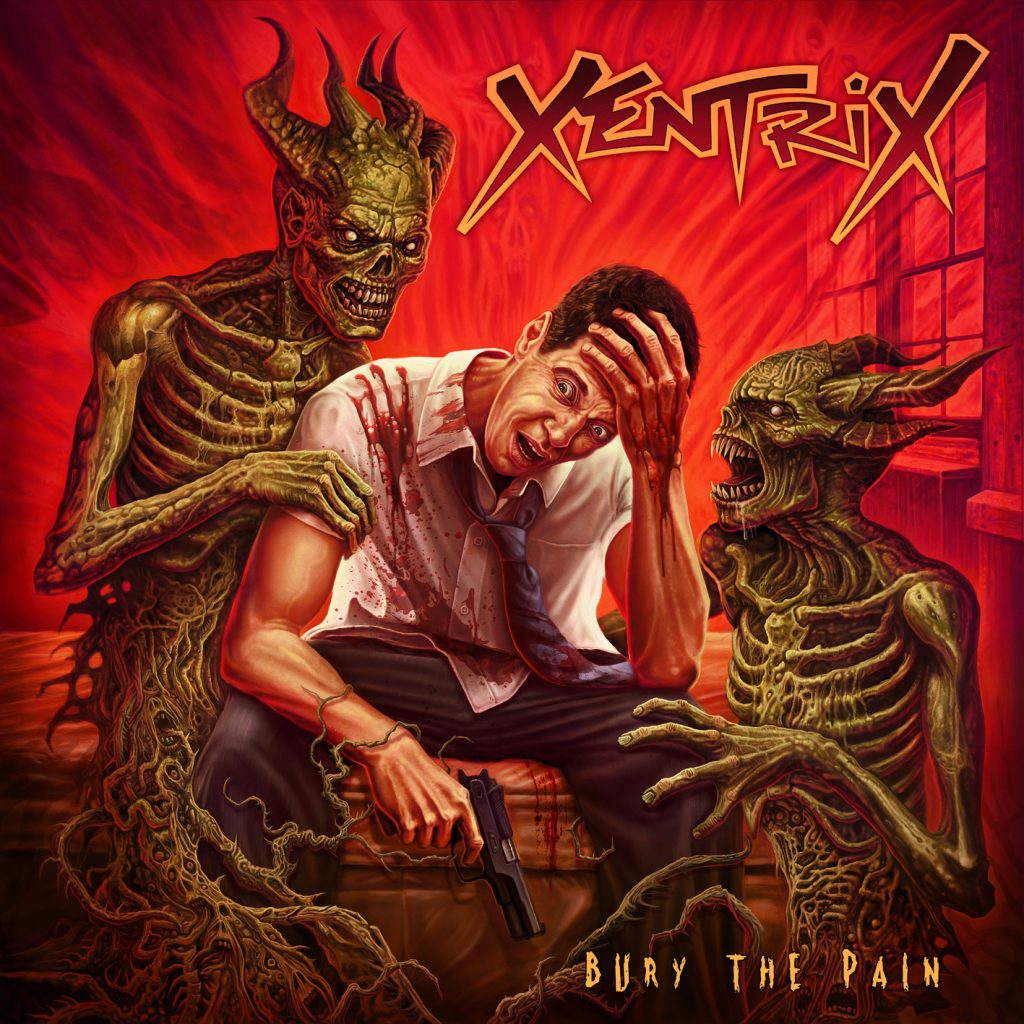 The English thrashers of Xentrix are back. They formed in 1985, but broke up in 1996. They already returned two times for a short time, in 2005/2006 and in 2013, but now they returned to full activity since 2017. Xentrix's current line-up consists of vocalist/guitarist Jay Walsh, guitarist Kristian Havard, bass player Chris Shires and drummer Dennis Gasser. With this line-up Xentrix also started to create a new album, the successor of 1996's Scourge. This new album will be titled Bury The Pain and will be released in the beginning of this Summer via Listenable Records.
Jay Walsh is Xentrix's newest band member, he joined Xentrix when the band returned to full activity in 2017. So let's start with his contribution to Bury The Pain, especially his vocals. These sound quite raw, but unfortunately also somewhat forced at some moments, like in the title track and There Will Be Consequences. However, mainly his vocals really fit well in Xentrix's music, as long as you don't focus on the vocals alone.
On the other hand, his guitar-parts, as well as those of fellow guitarist Kristian Havard, are quite strong. Whether we hear tight riffs, like in Let The World Burn, World of Mouth and The One You Fear or more roaring guitars, such as in The Truth Lies Buried, The Red Mist Descends and the aforementioned World of Mouth, the guitars on this album all sound very nice and crushing.
The Truth Lies Buried probably is the most different track compared to the others. Of course it still is thrash metal, but it starts with a much more quiet part, just like The One You Fear, with an very nice guitar, does. Besides that The Truth Lies Buried also is quite a bit more melodic than the other tracks on Bury The Pain. This is a track that could perfectly be described as melodic thrash. However, for the main part of Bury The Pain, Xentrix pounds really hard. To give you an example make sure to check Let The World Burn, a great training for the muscles in your neck.
Something else we can hear in The Truth Lies Buried, but also in, for example, World of Mouth and There Will Be Consequences is that Xentrix also mixes some longer instrumental parts into their thrash metal. In these instrumental parts we can, for example, hear great guitar solos.
Of course a heavily pounding thrash metal album needs a strong rhythm section, something Chris Shires and Dennis Gasser for sure are. Dennis Gasser really pounds very hard with his chopping drums, like in The Red Mist Descends and Deathless and Divine. Chris Shires thumping bass is also very present, like in the title track, Bleeding Out and with his bass-line in closing track Evil By Design.
Xentrix delivers a heavy and tight, neck-breaking thrash metal album with Bury The Pain which isn't really bringing something new, but just brings straightforward pounding thrash metal. The only track that is a bit of an exception on this is the more melodic but still thrashy The Truth Lies Buried. Jay Walsh's vocals might need a bit of time to get used to, but altogether this is a great thrash metal album.
Xentrix Official Website
Xentrix Facebook
Xentrix Instagram
Xentrix Twitter
Hi!
I'm Tim van Velthuysen and I started DutchMetalManiac back in 2014. I'm 29 years old and I live in Nijmegen, The Netherlands. Of course, I like metal, but I can also appreciate other musical styles.
In addition to DutchMetalManiac I also have a personal website on which I'll post various things that won't fit on DutchMetalManiac, but might be interesting for you as well. It's in Dutch though.