Today is the release day of Insurrection's debut full-length, titled Circles of Despair. Earlier this month DutchMetalManiac's Tim van Velthuysen already reviewed it. You can read that review here. A few days ago he also interviewed Insurrection's vocalist/bass player Pieter Oevering. Enjoy the BBQ party, guys!
Hey Pieter, congratulations with your debut full-length, Circles of Despair, I really like it. How are the reactions you got on it so far?
Thanks. We only received reactions as in reviews since the album isn't released until next week. Those are unanimously positive.
You will be releasing it on August the 30th, anything special planned for that date?
I am throwing a BBQ party for everyone who was involved in this album's process.
But you've nothing special planned for fans on the release date? Except for the release itself of course.
No. It's been quite an intensive process to create this album and we are going to close that process with each other this way. We will play enough shows to promote it in the future.
As I already said in my review Circles of Despair doesn't sound like an debut full-length in terms of you still searching a bit for your own sound. How do you see this?
It's also already four years ago since Catatonic was released. Since that time we've been busy quite a lot. We've thought a lot about how we wanted to sound, what we wanted to deliver and how we wanted to show ourselves to the rest of the world. This came out of all that. That's why it took so long, because every process and every detail is very well thought out. I think we didn't forget anything. I am very proud about the result.
The only comparison between Insurrection and a band that's already on the top for a while I make in my review is about some of your vocals. At some moments your screams reminded me for a bit of the vocals of Kreator's Mille Petrozza. What do you think of this?
I really liked that. In the past I've listened to Kreator a lot, but I especially went for something like the screams of At The Gates.
Who are your vocal influences, besides At The Gates and Kreator?
I really like Chuck Schuldiner of Death, Peter Steele of Type O Negative, Anders Fridén of In Flames with what he does on Whoracle with his weird voices. I try to get my inspiration from them. Randy Blythe of Lamb of God is also a very big inspiration.
For Circles of Despair you worked with Fredrik Nordström, who worked with a lot of big bands. How was working with him?
Exciting. I had some contact by email with him and every time I received an email from him I got goosebumps. He is one of my heroes and I was just working together with him. That's very nice. Especially the fact that he ends his emails with Gayman or Nutstream. I don't know his face, I don't know what he's like, so I didn't know how to respond on that.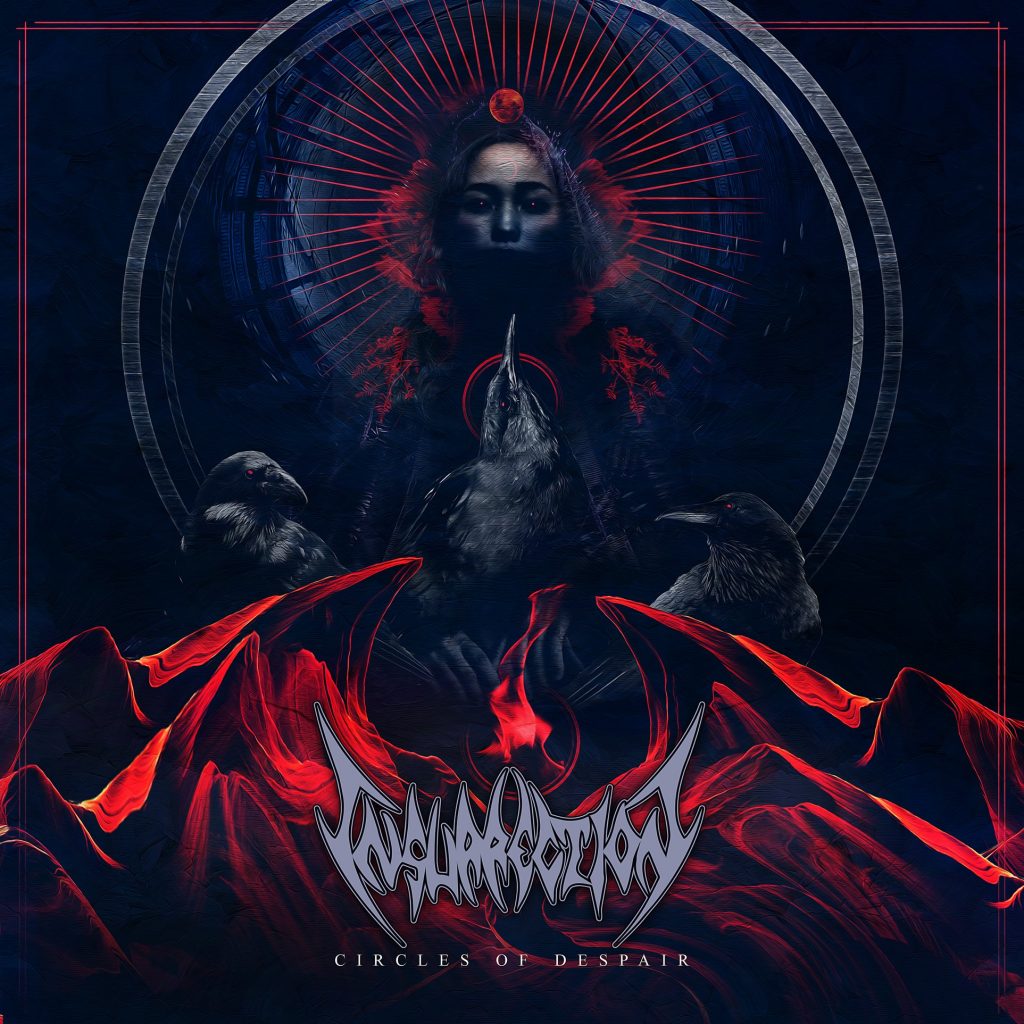 I really like the artwork, which is made by Giannis Nakos of Remedy Art Design. What made him the best person for this job?
We brainstormed a lot about the artwork. First we, as well as some people we know, made some sketches, but all those weren't exactly what we wanted. So, we started searching on the internet and that's how we found him. We really liked the artworks he already created for other bands. He uses a very specific style that we liked and thought would fit with Circles of Despair very well. We sent him a few songs and he made this out of it. We all were instantly satisfied with it.
There's a lot to be seen on it. Can you elaborate on that for a bit?
To be honest I can't tell you that much about it. The things I see on it are the things you can also discover yourself. I don't know the original intention about the details, it's just what Remedy Art made of it. However, I see some comparisons with specific songs, like the goddess surrounded with an halo, that's clearly a reference to Deity. The mountains with the valley in between is referencing to The Deeper Depths. The longer you look at it, the more you'll discover. Even in the background of it, which seems to be just dark blue, but it also includes all sorts of little details. That makes it nice to look at it again and again. There are also a lot of details in the booklet with the lyrics if you have the physical copy of the album.
A month ago you released your video of Non Existent Fall. For that video you worked with Joost Nevels, what made him the best person for this job?
That was especially due to a video he made for Teethgrinder. We know Teethgrinder quite well, we've played together with them a few times. It started the same as with the artwork. We started talking about it, brainstorming and searching for examples. That's how we found that video from Teethgrinder. We all really liked it and thought that style would also fit our music. So, we found Joost because of Teethgrinder. We started brainstorming with him and that's how we came up with the idea for this video.
Was it one specific video from Teethgrinder?
Yes, it was the video for The Pain Exceeds The Fear.
The actress in that video is Lianne Ploegh. What made you want her to be in your video?
That's a funny story. We were already searching for a fitting actress for quite a while, but the people we thought of didn't want to do it or weren't able to do it on that specific date. One week before the video-shoot Douwe met her in a pub. Douwe took a sip of his beer, he choked on it, so he spit it out on the floor. Then Lianne said something like "hey, is that also how you do that at home?" After that they talked to each other for a while, which resulted in she being the actress in our video.
Everytime Lianne draws she escaped from a specific situation. What's the meaning behind that?
Non Existent Fall is about being stuck in your own body due to a disease or problems. In your head you search for a way out of that. When you are in bed for days, it's going to play with your brain. That's what we are trying to represent by thinking creatively and finding a way out of a horrible situation with your fantasy.
Is that somehow comparable with your own situation?
I've been in bed for a while when I had a hernia. The lyrics are based on that.
Are you doing the same, but with music?
Yes, most of my lyrics are my thoughts or emotions I try to express in that way. It feels very well to scream that out very loud, especially on a stage in front of people who aren't understanding it.
Last year on Freeze Fest you already played some songs of Circles of Despair and some adjusted versions of songs of your debut EP Catatonic with a cellist and a choir. How was doing that?
That was nice and very exciting. Freeze Fest is kind of a showcase festival for which you can sign yourself up with an idea you want to execute live. We just finished all recordings and the mixing of Circles of Despair. We wanted to do something special with that. The album also contains a cello and a choir. That was where we based this idea on. We wanted to execute the songs with the choir and cello live in the best way possible. At that time we had the possibilities to do so. That's why we also adjusted the other songs, so that it became a complete band-situation.
You already said it, the cello and choir can also be heard on the album. How are you going to perform those live in the future?
At that moment we performed with a cellist and a choir, but that isn't always possible. Marten is singing the choir-parts on Circles of Despair. He will sing the main vocals of it live. To build those kind of things on samples is quite risky. This way it stays real, raw and analogue. That's what we wanted to deliver as a band.
And the cello?
We don't play the song that includes the cello, Spiraling Down, live. It is more like an nice interlude on the album.
So, how you performed on Freeze Fest was more like a one-time-thing or not?
We sure are open to do that again, but only if people would want it. We sometimes offer it to venues that have the possibilities for it, but there must be something in exchange. That wasn't the case so far.
Since you're a Frisian band, how was playing Dokk'em Open Air?
It was very nice, better than we expected.
Dokk'em Open Air was gone for a while, right? Is the fact that it's back giving you a special feeling as a Frisian metalhead?
Yeah, it indeed was. In the past we of course had Wâldrock. When Wâldrock was gone, Dokk'em kind of replaced it. However, I think it's only recently that it really got that reputation. That's something I am really proud of as a Frisian, now we again have a nice Frisian festival that puts us on the Dutch map.
That must especially feel great if you play there yourself?
Exactly.
At this moment you've only one already announced show, at Waldpark in Germany. Can we expect more Insurrection shows soon?
In October we indeed go to Germany for a weekend. Then we will play two shows, but the other one isn't announced yet. Besides that there are some very nice shows upcoming, more info on that will be announced in the upcoming weeks.
Thanks for your answers! Is there anything you want to say to our readers?
No problem. We put very much effort in this album. If you get the chance to hear this album next week, then try to discover how much effort we put in it. It would be a shame if that's just staying unnoticed. I am very proud on how this process went and of its result. I hope I can share that with the entire world. So, check the video, buy the album and support local bands.
Hi!
I'm Tim van Velthuysen and I started DutchMetalManiac back in 2014. I'm 29 years old and I live in Nijmegen, The Netherlands. Of course, I like metal, but I can also appreciate other musical styles.
In addition to DutchMetalManiac I also have a personal website on which I'll post various things that won't fit on DutchMetalManiac, but might be interesting for you as well. It's in Dutch though.