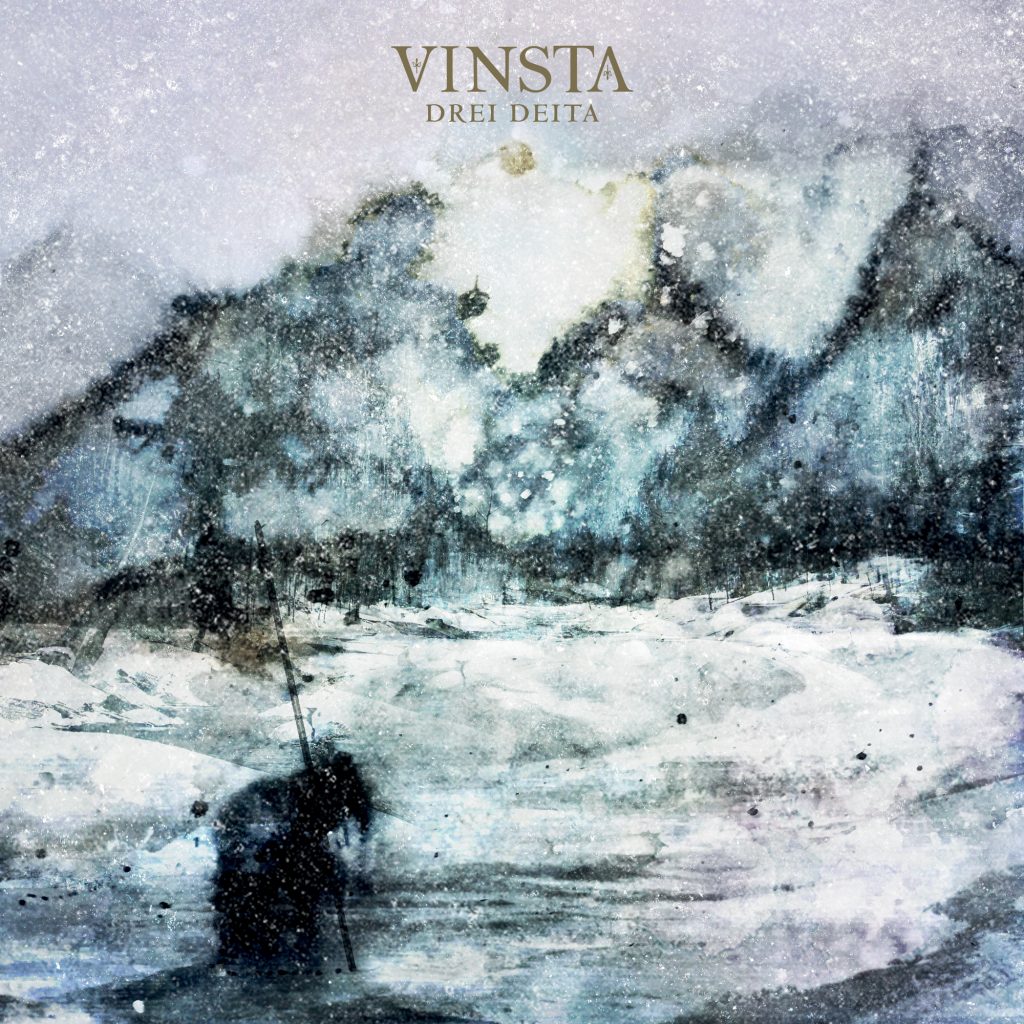 Vinsta (darkness in Austrian-Bavarian German dialect) is a solo project by multi-talented Christian Höll who is a resident of Tennengau, Salzburg, which of course is located in Austria. The purpose of the project was to allow the world to get acquainted with Christians view on music, resulting in intense folk-based tunes that, as time passed by, have been dipped in a melodic death metal sauce, eventually giving Vinsta's music a rather dark edge. Since its start, back in 2014, Christian has not been sitting on his hands, having independently released full-lengths in the debut year (with the help of quite a list of guest musicians by the way) and in 2017. It doesn't stop there, because now he is ready to release more of his work in the form of yet another full-length. It's titled Drei Deita (three 'foreboders') and will be released within the next few weeks. It's in fact the third chapter of an ongoing concept, telling the story of a lone wanderer in the Austrian Alps who, in this release, gets confronted with larger-than-life perspectives and the forces of nature. Christian not only tries to work out said concept in his music, he also tries to paint the picture of the landscape and surroundings in which all this takes place. The chapter Drei Deita is spread out over eight songs, spanning a little under 50 minutes. There is something rather distinctly different this time, though: Vinsta appears to no longer be a solo project as a lady named Monika Hahn, who also appeared on the debut album, has joined the ranks next to Christian as a new member and she leaves an immediate impression. I'll get to that later.
First Drei Deita has to start of course. It does open the dance with a short intro called Ausklong, which I assume is dialect for Ausklang, which I believe roughly translates to 'view'. It actually manages to print an image of a mountain view in your head, resetting you into the right atmosphere, something that is augmented by the first seconds of Weisse Deckn (White cover) where Christian yodels right through the symphonic metal giving you an even more strong feeling of being surrounded by snow-covered mountains. The yodeling is not of the lasting type however, soon the vocals turn more harsh as Christian opens his grunt-register immediately exterminating any touch of light-footedness from the tunes. Not that that is a bad thing, the yodeling was definitely an asset giving a special vibe to the song, but the grunting, though in a completely different manner, is in no way inferior to that. Admittedly, Weisse Deckn is one of the most consistently heavy pieces on Drei Deita, the rest of the songs all have various points of rest, usually in the form of an acoustic piece, but it still does paint quite an accurate picture of what is about to come your way. The key word is melodic here, but with some serious heavy edges at times. Exceptions to this are the title song and the album closer Einklong which do not even remotely remind of metal, as they are entirely acoustic. This too is not a bad thing, both songs fit perfectly into the whole. The addition of Monika's vocals and yodels, like in for example Fiachtn and the title song, add an extra layer to the tunes, giving them more depth while also influencing the vibe. Add to that her emotional, well-placed violin work and it's safe to say she has definitely put her mark on Vista's music.
So, with Drei Deita Christian managed to blend rather appealing pieces of death metal with equally appealing melodic and acoustic parts into an organic whole and the use of various 'non-metal' instruments and techniques, like the yodeling and Monika's violin, give it a distinct different vibe at times. This is not a straightforward death metal release where you're often feel overwhelmed by the sheer power and relentlessness of the music, but rather a more sensibly, well-balanced set-up piece of music that breathes the intended atmosphere of the Austrian Alps without drowning in too much softness. If you're looking for a continuous headbanging session or a release-spanning moshpit you have no need for this, but if you like your death metal served with a huge portion of melody and emotion on the side there really is no reason to let this one slip away. Make sure to take your time for it, though, as it most certainly needs and deserves your full attention. Great release, definitely a band to keep track of.