In May Leaving Eden are going to release their new album, titled Dream With Me. Recently, DutchMetalManiac's Tim van Velthuysen interviewed Leaving Eden's co-founder/guitarist/vocalist Eric Gynan.
Hey, how are you and can you tell us something about the history of Leaving Eden?
Hi, I'm Eric Gynan, co-founder of the rock band Leaving Eden from New England, USA.  Doing the best we can hear during lock down. Normally we start recording our next album in August but seeing that we're stuck here we've been recording it now.
For people not knowing Leaving Eden (yet), how would you describe your music yourself?
I consider Leaving Eden a multi genre band branded in rock/metal, we also have folk, pop, alternative, progressive music that really tends to blend paired with lots of energy and a connection to the crowd. I always say Leaving Eden is best seen and heard live. Eve has a way with people that is intriguing. Lots of melody/harmony with hooks and lyrics that are based on reality to a certain extent.
When someone doesn't know Leaving Eden yet and you can choose one of your songs to present yourself, which song would that be?
Our new album Dream With Me and title track to be released in May 2020, we were told it was the best pre-order for the label.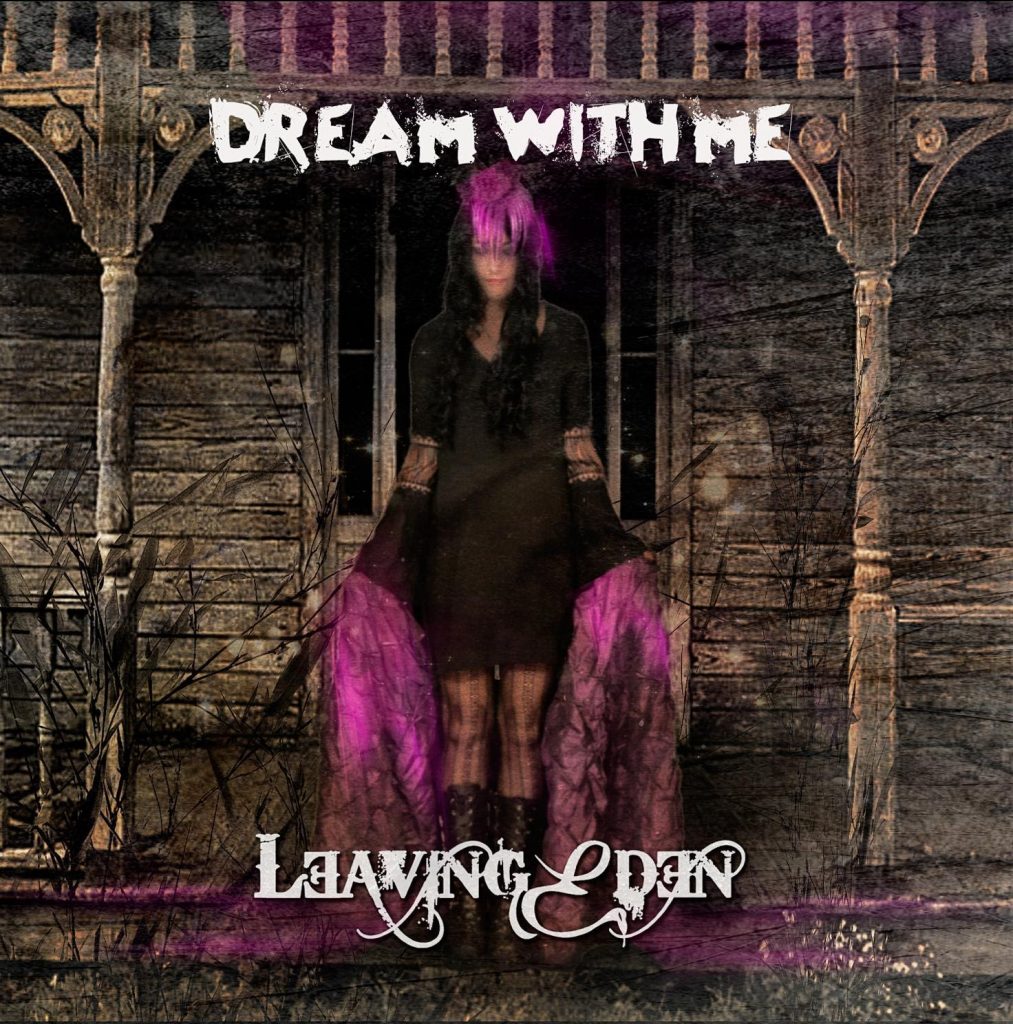 Dream With Me is Leaving Eden's 7th album to be released world wide and distributed by Dark Star Records/Sony/Universal. In this album we got the best of both worlds, where again like our last 2 albums, we were able to take all the time necessary to record and produce Dream With Me in Leaving Eden's studio. But then, to have one of the best rock engineers in the world as far as I'm concerned, Grammy Award Winning Engineer Johnny K. (Disturbed, Staind, Finger Eleven, 3 Doors Down, Megadeth, Sevendust, Plain White T's, Pop Evil, Trapt, Drowning Pool, Alien Ant Farm, and many more) for final mix and mastering is my dream scenario! I love working With Johnny, he's a genuine connoisseur of great music with so much talent, it's such a pleasure to call him my friend. We've worked together on other albums but this one, to have the freedom to dig deep and experiment with my own unique recording techniques and then to have Johnny put his final touches on it was a real treat!
Alyssa and I wrote the title track Dream With Me. We loved the song when it was finished. We felt it was a great title for the album. The video has a connection to the coronavirus.
What makes Leaving Eden unique?
I always say that every band that writes their own music is unique because unless of course you're a superstar and people are covering your songs then you are the only people that are playing that music in the entire universe and that's pretty unique in it of itself. For us, I really think again it's the live show and the connection that Eve has with the audience. The energy that is shared with the crowd together becomes an experience that is quite unique. You can expect Leaving Eden to be tight and confident on stage.
Any future plans you can already tell us something about?
Tracks from Leaving Eden albums will be featured in Massimiliano Cerchi's movies: Painkiller, Mayday, Lockdown and Penthouse starring Michael Pare (The Philadelphia Experiment, Eddie and the Cruisers). And Bloodthirst.
We are excited about this new album also, because the entire album and lots of tunes from our previous albums will also be featured in a new fake reality comedy movie titled The Nitwit.
Originally I had written The Nitwit movie script loosely based on real life events with the intention of having Leaving Eden's music throughout the movie and procuring other pros to make the movie. Where Leaving Eden has been involved with having our music placed in different movies and TV series this simply made sense. While in Iowa after wrapping up on a shoot I sat down with The Nitwit movie producer Ray Van Blarcom and actor Matt Moody over a scotch and threw the script down on the table. They started reading it, thought it was hilarious so we decided let's make the movie. For me being the director of several music videos it was a very simple transition to direct The Nitwit movie. Finally, I was intrigued by Matt Moody's experience not only in production but as an actor. Ironically Matt fit the leading role as The Nitwit perfectly. He then brought in Jordan Smith as his co-star and The Nitwit movie producer, Fran Huges, the rest is history. We expect the movie to be released in 2020 by SGL Entertainment. 
Any upcoming gigs for Leaving Eden? Maybe coming to The Netherlands?
Well we have seen a lot and of course would love to come to The Netherlands! Leaving Eden has toured the USA, UK & Canada sharing the stage with hundreds of the biggest national bands in the world including; 10 Years, 10 Years After (Woodstock Reunion), Adelitas Way, Alice Cooper, Alice In Chains, Anthrax, Apocalyptic Review (featuring members of Godsmack), Avenged Sevenfold, Big Brother and The Holding Company (Woodstock Reunion), Black Sabbath (Heaven & Hell), Blackstone Cherry, Bret Michaels, Buckcherry, Chevelle, Collective Soul, Country Joe (Woodstock Reunion), Damageplan (Featuring Dimebag & Vinnie Paul), Days Of The New, Disturbed, Dope, Dropkick Murphys, Drowning Pool, Five Finger Death Punch, Fuel, Gemini Syndrome, Gin Blossoms, Godsmack, Halestorm, HELLYEAH, Herman Rarebell (The Scorpions), Hinder, Hookers & Blow (featuring members of Guns 'N' Roses, Quiet Riot, W.A.S.P.), In This Moment, Jefferson Starship (Woodstock Reunion), Killswitch Engage, Kittie, Korn, Lacuna Coil, LA Guns, Lamb Of God, Lita Ford,  Lynyrd Skynyrd, Marilyn Manson, Michael Schenker (UFO, MSG & The Scorpions), Motörhead, Mudvayne, Mushroomhead, Napalm Death, Nicko McBrain (Iron Maiden),  Nonpoint, One Eyed Doll, Papa Roach, Pop Evil, Powerman 5000, Puddle Of Mudd, Queensrÿche, Ratt, Rob Zombie, Ronnie James Dio, Saliva, Saving Abel, Scott Stapp (the voice of Creed), Sebastian Bach, Seether, Sevendust, Shinedown, Slayer, Soil, Soulfly, Steven Tyler, Stone Sour, Taproot, Ted Nugent, Testament, The Butcher Babies, The Misfits, Theory Of A Deadman, Trapt, Tremonti (Creed/Alter Bridge), Trixter, Uncle Kracker, Warrant, ZZ Top, Nickelback, Skillet & many more.
How do you think your life would be without music?
Dismal! When one makes a decision to embark upon this musical journey it's really the most important thing in life so if there was no music man, it would just be terrible.
What advice would you give to young and starting bands?
Of course without saying, practice practice practice. Honing in on your craft, and getting out of the basement is paramount. Accept whatever gigs you can, our motto has always been that we will play anywhere, anyhow, anyway so long as we can and that, as I always say, has led us to amazing opportunities that you could've never expected. Kind of like the old days when they had an apprentice, I would try to latch onto a band that's been out there doing it so you can learn from them, and make some good contacts. Don't think about the money because money is tough at first. We have done so many free gigs and benefits. It's really not about the money, it's about what you want to do with your life. Maybe they want to do it as a hobby and that's cool but if it's something that they want as a career, you've got to look at it like anything else. In order to become one of the greatest record producers, you're probably going to have to be the coffee runner first. Finally, make the connection with the universe and you'll find all the music you need there.
Thanks for your answers! Is there anything you want to say to DutchMetalManiac's readers?
Well again it would certainly be great to go to The Netherlands so let's see and we really wish you all the best! Being isolated during the coronavirus is a very tough thing for most people so we definitely do wish for everyone's safety.
Here you will find everything you need to know about Leaving Eden.  Without our friends we are nothing so we thank them with all of our hearts. Thanks much man, it was a pleasure chatting with you here and I wish you peace and safety.
Leaving Eden Official Website
Leaving Eden Facebook
Leaving Eden Instagram
Leaving Eden Twitter
The Nitwit Official Website
The Nitwit Facebook
The Nitwit Instagram
The Nitwit Twitter
Hi!
I'm Tim van Velthuysen and I started DutchMetalManiac back in 2014. I'm 29 years old and I live in Nijmegen, The Netherlands. Of course, I like metal, but I can also appreciate other musical styles.
In addition to DutchMetalManiac I also have a personal website on which I'll post various things that won't fit on DutchMetalManiac, but might be interesting for you as well. It's in Dutch though.