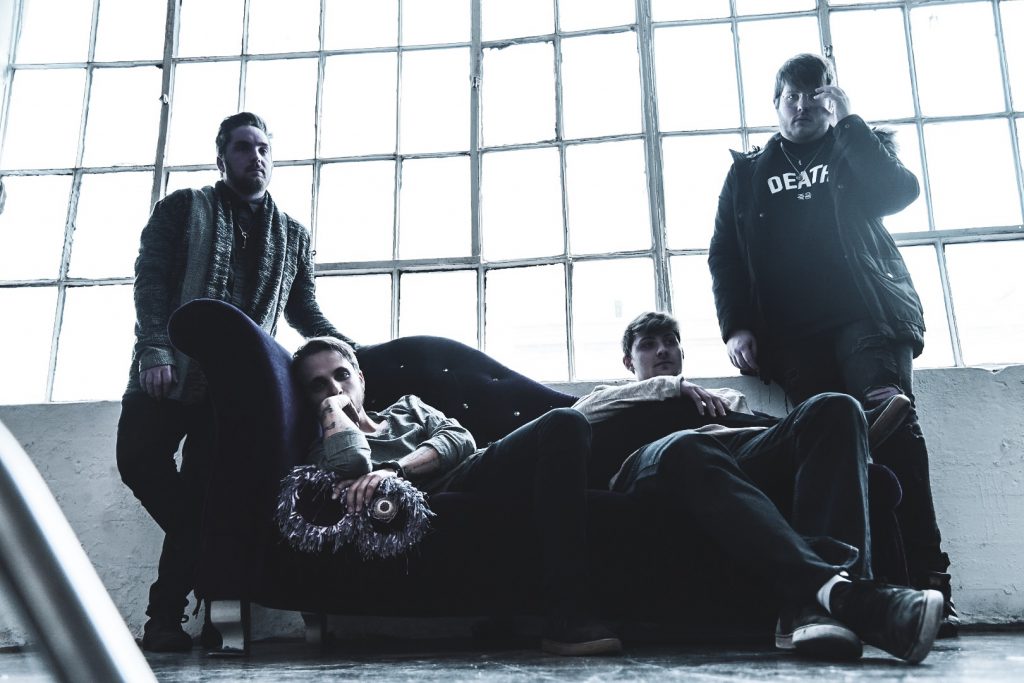 Last year Dig Two Graves released their debut EP, titled Deathwish. Recently DutchMetalManiac's Tim van Velthuysen interviewed Dig Two Graves' guitarist Jaybee and drummer Kenny.
Hey, how are you?
Jaybee: A little sleepy but I'm alright.
Kenny: I'm doing wonderful, how are you?
I'm fine, thanks. Can you tell us something about the history of Dig Two Graves?
Jaybee: Me and Kenny have been trying to start a band forever, then I met Mike and asked him if he wanted to yell for us.
Kenny: It's true. We had a band in the 3rd grade when we met. We played Smoke on the Water poorly and called it a day.
For people not knowing you (yet), how would you describe your music yourself?
Kenny: A mix of progressive metal with a touch of atmospheric dream pop. Next album is a rock and roll album though so be on the lookout.
Jaybee: I play heavy guitar over pretty sounds. And then our singer screams on top.
When someone doesn't know you yet and you can choose one of your songs to present yourself, which song would that be?
Kenny: Definitely Wick. I think it provides the best overall view of what we sound like.
Jaybee: Our old songs suck, our new songs are about to slap. But I guess Wick or So Below.
What makes Dig Two Graves unique?
Kenny: I think our most unique feature is all of the orchestration/piano work Josh adds into basically all of our songs. My favorite moments are when the guitar is chugging or playing a heavy riff and there's melodic piano in the background. A perfect example is in the middle of Wick.
Jaybee: Being so disgustingly good.
Any future plans you can already tell us something about?
Kenny: We are working on our debut full length album and it is coming along very well.
Jaybee: I was hoping to book tours and stuff but then the whole world got a flu.
Any upcoming gigs for Dig Two Graves? Maybe coming to The Netherlands?
Jaybee: I actually have a lot of friends in The Netherlands. Shoutout Dom and Diana. I was in Amsterdam a few years ago. Would love to go back and play some music.
Kenny: Nothing at the moment due to the pandemic but we are itching to get back out there. We may play there someday, who knows 😀
How do you think your life would be without music?
Kenny: I honestly don't know what else I would be doing. Never had any other true passions I would want to follow and I like playing blast beats so it works out.
Jaybee: I honestly have no idea, it takes up most of my thoughts and energy. I'd have to replace it with something I guess, but I have no idea what.
What advice would you give to young and starting bands?
Kenny: Be prepared to play a couple shows where not many people show up. It can be hard when you are first starting out.
Jaybee: Don't try too hard to sound like another band.
Thanks for your answers! Is there anything you want to say to DutchMetalManiac's readers?
Kenny: Thank you for having us! Be sure to follow us on social media to keep up with us!
Jaybee: Yo shoutout Holland. Shoutout Arjen Robben's big bald head. Thanks for having us.
Dig Two Graves Official Website
Dig Two Graves Facebook
Dig Two Graves Instagram
Hi!
I'm Tim van Velthuysen and I started DutchMetalManiac back in 2014. I'm 29 years old and I live in Nijmegen, The Netherlands. Of course, I like metal, but I can also appreciate other musical styles.
In addition to DutchMetalManiac I also have a personal website on which I'll post various things that won't fit on DutchMetalManiac, but might be interesting for you as well. It's in Dutch though.