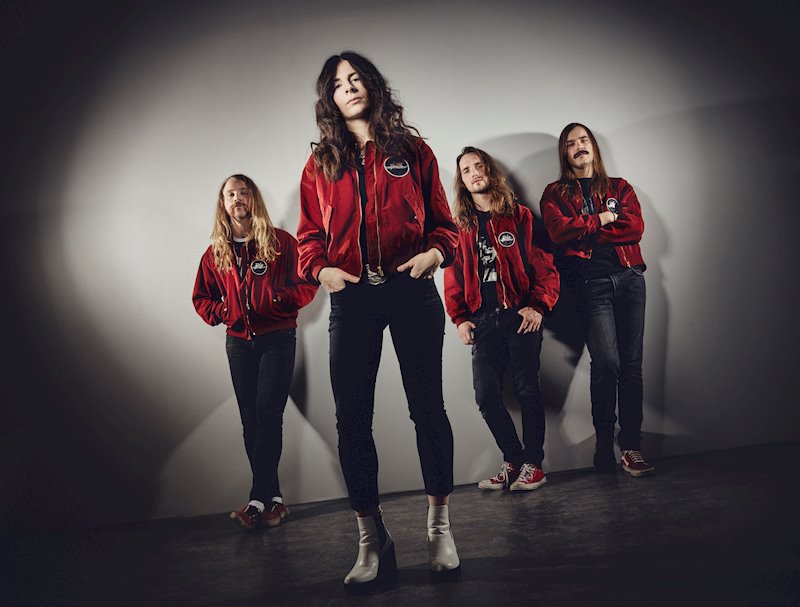 Recently, DutchMetalManiac's Tim van Velthuysen interviewed Hot Breath's bass player Anton Frick Kallmin.
Hey, how are you?
I'm doing pretty fine, thank you. Covid makes a lot boring but at least the winter is coming to an end in Gothenburg. 
Can you tell us something about the history of Hot Breath?
After Honeymoon Disease split up, Jimmy and Jennifer wanted to form a new band. They contacted myself and Karl for a beermeeting. After some beers and talks, plans were set in motion. We wrote our first song Got it All during our first rehearsal ever. We knew that things were going to work out just fine. 
After the release of our self titled EP and shows all over Sweden, we began the writing of the body that would be named Rubbery Lips. 
For people not knowing Hot Breath (yet), how would you describe your music yourself?
A dynamic rhythm combined with well chosen hooks and melody. Music that will make you smile and dance. 
When someone doesn't know Hot Breath yet and you can choose one of your songs to present yourself, which song would that be?
If I would give a crash course in "How to fall in love with Hot Breath", my pick would be Bad Feeling. It's got the whole recipe from who we are as a rockband. 
What makes Hot Breath unique?
We don't take everything so serious. We try to enjoy ourselves in everything we do. A lot of bands nowadays focus on a tough cool image.
We try to focus on stuff we find interesting and never bother to think "what are the cool heavy metal people gonna think about this".
Any future plans you can already tell us something about?
The current state of the world makes it impossible to plan stuff that definitely will happen. We are having conversations with booking agencies about future shows and tours. Hopefully they will happen in a near future. 
Any upcoming gigs for Hot Breath? Maybe coming to The Netherlands?
We will definitely give The Netherlands a visit. When things go back to normal. 
How do you think your life would be without music?
It would be very quiet I guess, and I would probably kill myself.
What advice would you give to young and starting bands?
Go for it. It's the longest education in the world and the chances on getting a decent pay from it are almost zero. So what are you waiting for!?
The most important thing is that you play the music you want to play.
Thanks for your answers! Is there anything you want to say to DutchMetalManiac's readers?
Buy our new record Rubbery Lips! We need your cash to make more fun stuff for you to enjoy. There is also a big chance you will enjoy the record, so the money will be well spent! 
Ta ta, farewell! 
Hot Breath Facebook
Hot Breath Instagram
Hot Breath Twitter
Hi!
I'm Tim van Velthuysen and I started DutchMetalManiac back in 2014. I'm 29 years old and I live in Nijmegen, The Netherlands. Of course, I like metal, but I can also appreciate other musical styles.
In addition to DutchMetalManiac I also have a personal website on which I'll post various things that won't fit on DutchMetalManiac, but might be interesting for you as well. It's in Dutch though.