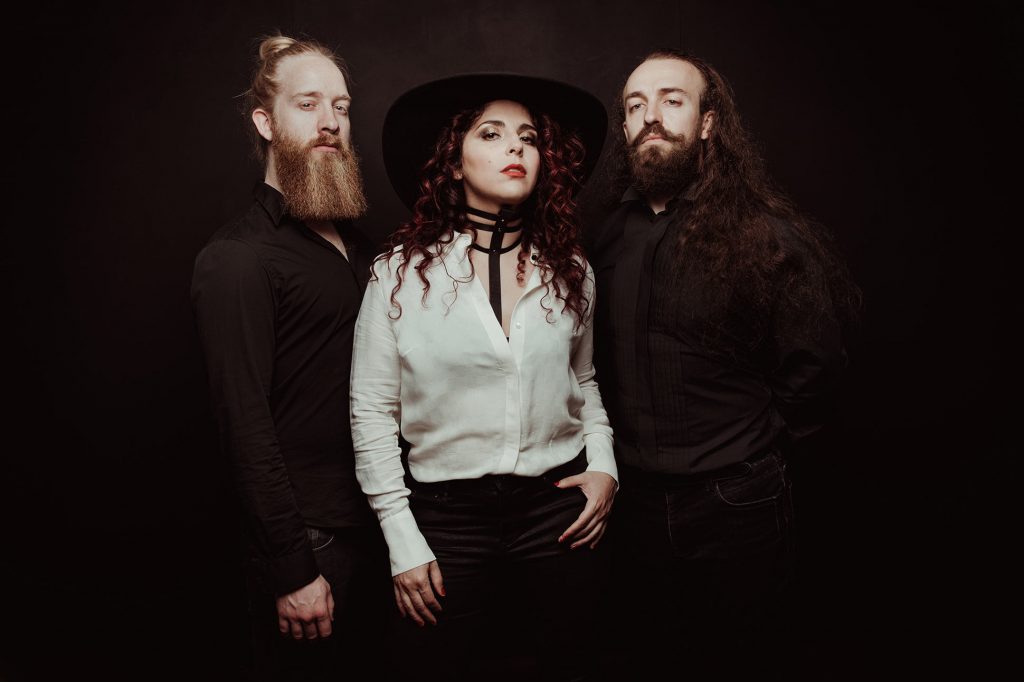 On April the 16th, Dark Horse White Horse will be releasing their self-titled debut EP. DutchMetalManiac's Glenn van der Heijden already reviewed it here, now he also interviewed Dark Horse White Horse's vocalist Marcela Bovio.
Hey Glenn, good evening.
Hey Marcela, good evening.
Hello, how are you doing?
I'm doing fine, it's a bit boring these days don't you think?
Yes, there's that.
We do what we can.
That's all we can do.
Exactly, but how are you doing?
I'm fine, I'm feeling a bit of the same. I would love to play again sometime, but apart from that I'm doing really well.
So, Dark Horse White Horse, your new EP.
Yeah, I'm very happy with it!
I've listened to it and I can totally imagine that. I think it's fantastic.
Thank you.
How are the reactions so far?
Super positive, we are all very happy. We released a couple of singles and there are not many people who have listened to the full EP, apart from you and some other press. But we got super positive reactions. I am very happy!
That's great to hear, tell me, how did the idea of Dark Horse White Horse come to pass?
Well, we started working on it a while ago. That was a couple of months after I quit VUUR. I was playing with Mayan and Jord was also there, because Merel was on tour with Delain. So that must have been almost two or three years ago. I was talking to Jord backstage about bands and stuff and he said "you've got time now. I've got some material with Ruben, would you want to work with us on that?"
So, they essentially came to you and they already had ideas?
Yes, they already had some ideas. He immediately let me listen to some of it backstage and I thought wow, this is really cool, so I said "I'm in. It's going to be super fun!" I was really inspired and I started to work on it almost immediately and that's what got the ball rolling.
And did you come up with the title right away?
Well, it took a little longer to come up with a clear concept of where things were heading. I started making music with them and rewrote a couple of songs and then we thought that we needed to determine where we wanted to go with this. That must've been almost a year later. In the meantime, a lot of different things happened and because of that, many things took longer than we had originally anticipated. At some point we ended up with Joost and we did a preproduction with him to determine where we wanted to go. After that, we came to the conclusion that the easiest way to get a clear picture was to melt our two worlds together. I come from a whole different place musically and they do too, so the melting of the two sometimes contradicting genres, that made our concept and we try to reflect that in the name a little, Dark Horse White Horse, like opposites coming together essentially.
It really blended together quite nicely if I may say so.
Thanks, although I do have to say that it was quite a puzzle sometimes. When we are talking about the music together, we always come to the conclusion that it is very complex music. It usually starts at Jord initially and then it goes to Ruben who then figures out how to fill in the puzzle and then it ends up with me having to fill in an even bigger puzzle. It's all a bit of a challenge, but I think that in the end we create something interesting because we all have very different musical backgrounds.
I understand. Was it hard for you personally to begin something new, with new people having to find each other again musically? I mean, you made a very conscious decision leaving VUUR, so I can imagine that it must have been scary at times?
At first it was. A little bit, because I had the feeling that these musical ideas were a lot more aggressive than anything I had done before. You could say that Mayan is pretty heavy too, but in Dark Horse White Horse I had to carry everything myself, take the lead. That felt like a lot of hard work. Putting more energy in it to see how I was going to handle things. That was pretty intense.
That makes sense, especially when you take into account everything that happened in your life at that time. This EP is here now, you must be very proud of it?
I am super proud. Making this EP has helped me to go through several really difficult moments in my life, because when we started writing, I had just quit VUUR and I think that it's no secret that that was very difficult for me. It was my dream to work with those guys and I had very high expectations from that, so when we started writing for Dark Horse White Horse, I could channel a lot of my frustration from that into the songs.
Well, the frustration can be heard and I mean that in a very positive way. It seems to me that you really wanted to tell your story. And the way you deliver the lyrics, you really seem to get it all out there. Did it feel like that for you as well?
Absolutely. And the songs actually all have different energies because when I wrote them, I had a lot of different things happening in my life and I was coping with that. My relationship that I have had for very long was over and I had a very difficult time. I used this in the writing process. Then, something even worse happened. I was given bad news. I recorded the vocals during my treatment. I recorded all the songs during chemotherapy because I was afraid that my voice would be affected by all the things that I had to go through, but luckily that was not the case and I am really happy it wasn't. But at the time I didn't know any better and for me, it was a way to keep myself busy and have a purpose. I took my time for it and recorded one song a day. It gave me a little focus, working on the songs and working hard. That felt really good.
I can see that. There is some kind of force behind this EP that I cannot explain but I really felt the power of the music so to speak.
That's great. Yes, I think that we are all very proud of what we have achieved. Especially with all the ups and downs we had to go through making it. I am glad we finally can share it with the world.
Was crowdfunding immediately the best way to do it?
Yes. For the people that know me, they know that I'm a big fan of crowdfunding. Not only because of the financial aspect, but it also creates a sort of connection with the people that are already psyched for what's to come. They have the chance to be part of the project and that, to me, is super powerful. So, I didn't have to think about that at all regarding this first EP.
You chose to release an EP instead of maybe doing a full-length album. Is that something that you guys needed to talk about or was that clear from the start?
Like I said, a lot has happened. Because of my divorce I didn't know what I would be doing in the future. So, I told the guys that it would be good for my peace of mind to just put something out there and not wait until we have 13 or 14 tracks ready to create a full-length album. Just make it simple and release the best songs we have at this moment.
In other words, just release what you are feeling?
Exactly, I think it's also the time we live in nowadays. I like making small releases. I looked to my good friend Dianne van Giersbergen, who has a similar concept, although it's bigger with more releases. But I think it's a lot of fun! At that moment it really took away a lot of the pressure which I was feeling and that felt good. And I thought that we needed to do what felt good and it did.
Good to hear that. I think it was a good choice. There are two session musicians involved as well?
Yeah, and what amazing musicians they are!
Yes. Ariën, fantastic.
From the moment I heard the music I thought "I need to have Ariën." And I was lucky to have the opportunity to ask him at a time that he wasn't very busy. They were busy recording their own album and I didn't know whether he was done with his own recordings of Ωmega. But he had some time and that was really nice. What else can we say about Ariën?
Indeed, what can we say? A lot of it has been said already. And rightfully so, don't you think?
Absolutely.
Fantastic. I think those two form the backbone of the EP.
Yes, you see, Siebe actually was a student of the Metal Factory.
You don't say? Really? Wow!
Yes, he is an incredible guy and a fantastic bass player and he is unbelievably energetic. He has a great sound, a very modern sound and he is somebody who can pick things up really well, so I thought I would give him a call. I think we will hear a lot of this guy in the future.
I think he is phenomenal.
What we were talking about earlier, the two different styles coming together, I really have the feeling that with fusing the two styles the music becomes a lot more accessible. I mean the music is very technical and complex but by adding these symphonic elements, the music becomes more approachable and also a lot more unique. How do you see that?
I agree and I really like it. It is very technical and that really surprised me the first time I listened to the ideas of Ruben and Jord. I was like "holy shit, what happens here? A lot of things happen but the song is only four minutes long. How is that even possible?" That's really amazing because the music is approachable and I made the melody very catchy in my opinion. And then you hear people say "huh catchy? Is it really?" On one hand there is a lot of complex stuff in it but on the other hand it is also very approachable. I really love the combination of these things when it all comes together.
And maybe, although we have to wait and see, it is a way to reach people who at first think your music is a little bit on the heavy side. Maybe those people can find a way in, because of the melodic influences.
Exactly. And then we pour a little bit of prog sauce over it, very sneaky! (Laughs)
Because before I started listening to prog, I always had the feeling that it was a bit heavy for me, but after a while, I started to appreciate it more because I started to recognize the complexity and beauty that's in there. I could enjoy it a lot more. But in the beginning, I was overwhelmed by everything that was happening.
Exactly. And that is precisely the kind of music that I want to make. Music which you can listen to time and time again while discovering something more and new every time. But I also like music that immediately grabs you, so I'm happy with what we made, because that is exactly what happened. I hope that people can enjoy the music like that too.
I hope so too, but I really think so.
It is a shame though that you can't tour these days, don't you think?
Yes, it is indeed. We will have to see if anything is possible. Right now, we are just excited to see how the EP is going to be received. We just want to release it and share it and enjoy the release. Meanwhile we work and we will see what happens in the future and what is going to be possible with regards to Covid-19.
Just enjoy the ride and see what comes next later?
Exactly. But I really hope that more will be possible, I really like what we made and I would love to play live but I guess we just have to wait.
That's the only thing we can do, right?
Exactly, we need to wait a little longer.
In what way does Dark Horse White Horse feel different from other things you have done with other people? Ayreon for example and other people you've worked with?
Well, Dark Horse White Horse is much more my own thing. Of course, it is teamwork. I also make solo records and that of course is something that's comes from me 100%. But here, it is not only the vocals, but also the concept behind the lyrics. That, for me, makes it truly my own thing. I really love singing with Ayreon, it is absolutely fantastic, and it gives me all the joy in the world, because I love the music that Arjen makes, but with Dark Horse White Horse the thoughts, the feelings and the emotions are mine. And that makes it a lot more personal and gives it a deeper meaning for me, so it is really something else. I have the same feeling with Mayan. That is more like a soccer team thing really. (Laughs). But I enjoy it all because it's all really fun to do. I'm really glad that I can do so much fun stuff!
That is really good to hear. And how great is it that the treatment you got didn't affect your voice at all. That everything turned out all right!
Absolutely!
That must've been quite a relief. And on top of that releasing such a good EP after everything that is happened.
Yes, there is a lot to celebrate!
I admire that positivity.
Thank you. I am just very happy and it's nice to feel that, to see something positive in the things that have happened. I think that I allow myself to enjoy a lot more things rather than worry about things that are not really worth worrying about.
How do you experience the whole situation we are in right now with the world, meaning Covid-19 and all the nasty things that it brings us? How do you cope with that?
Well, maybe it's a little naïve, but I think this whole experience made me think that we need to be happy with the things we do have at the moment. It can always be better and it can always be worse, but we are still there, I'm still here and at the moment I am healthy. So, I'm going to enjoy the things I have right now and I have a lot of fun things to look forward to. But that's my mindset at the moment. Of course, there will be some nicer times where we can all get together and hug each other. I'm really looking forward to that, but I'm not going to let that keep me from being happy right now in this moment. That's how I feel about it now and it's very nice that I can actually do that.
That's really great to hear. And amazing that you've been able to translate that positive energy into your music because, although at first it might seem like it is all a bit on the heavy side, musically as well as lyrically, I still can feel a lot of positivity and I personally really liked to hear that positive vibe.
Absolutely. The music really lifts you up at a certain moment and I really like that.
Do you yourself have a favorite song on the EP? Or are they all your favorite?
I am really proud of all the songs. I don't think I have just one favorite, but they are all very characteristic at a certain moment, in a certain situation. I think they all ended up to be great songs. Over the years I dared to be a lot more honest when I'm writing stuff. Like, this is what was going on back then, let's put it out there. I am really proud of all the songs. Maybe I'm feeling a little more for the last song that I wrote, which is also the last track on the EP. But that's because it's more recent. I really like them all.
You really made this EP your own. I can really feel that. I really felt the struggle, in a positive way. You were really able to excel at times. Listening to the EP was a great experience for me.
Cool. That is really nice to hear.
Did you have specific musical influences or have you guys just started jamming to see where it would lead to?
Well, a lot of the music is due to the collaboration between Ruben and Jord and I think you can hear that quite well in the songs, that it's their work. Like for example, when you look at the last Revamp record which they wrote together. On the side of Jord there is a lot of that technical guitar work, that kind of stuff. Ruben on the other hand has a bit of a more symphonic side to him. But we also looked a little bit to Igorrrr for example and more of those new, a bit of electrical, dissonant sounds. There's a little bit of that worked in as well. As for myself, I come from a lot more symphonic metal and really more melodic music. But that is no surprise either since I really love melancholic and dramatic music. I could really lean on that in this music as well. I think that is because of my Latin American background.
Nothing wrong with that if you ask me, I think it's a beautiful. And what about Joost van den Broek, was he immediately your go-to-guy?
Yes, I always really like working with Joost, because he just gets what I want to do every time. I guess you could say that he plucks ideas out of your head that you just can't reach. He is great at listening to ideas. If you sometimes do not know the words for what you want to say, he would say "oh, you mean this?" And then you are like "yeah, that's it!" That is what Joost does in the sense. He looks at what we have from the sidelines. He kind of guides us, or we are talking together about the direction we are about to take and eventually you figure it out and it fits. That's what's really special about him as a producer. He does this with a lot of different styles of music and it's really bizarre the way he does this.
That's amazing.
Yes, I have a lot of respect for his work so I immediately knew I wanted to work with him. And the boys know him from a lot of different projects which they worked on with him, so for me it was a given.
And he immediately wanted to join?
Yes. And I was really glad because he is really busy.
He does a lot of different things, doesn't he?
Yes, it is a lot. And he also does these enormous productions nowadays. I am really happy for him. Not only is he a fantastic producer, he is also one of my closest friends so I like to see that he is doing very well. I mean he is a top producer in The Netherlands nowadays, how cool is that?
And he deserves it, right?
Indeed, he does!
Do you already have plans for the future of Dark Horse White Horse or do you guys just want to enjoy the moment right now?
We kind of actually have a couple of musical ideas which we have to think about further. I think it would be a lot of fun to keep writing music and maybe at some point make another release like this, but we will have to see. We are doing things here and there so we need to make plans for that. But we are not rushing things. We are taking it easy at the moment and we are enjoying it I guess.
It is important to take the time and enjoy these moments, right?
Exactly. And I think we made a very conscious choice to do it like this. Because, even if we would want to, we cannot rush or force things at the moment, because we're living in restricted times. So, we just have to follow our hearts.
And that inevitably led to this beautiful EP.
Thank you.
Thank you for this really nice interview.
You too. It was very nice.
I hope we can do this again real soon.
That would be great, right?
Good luck with the release of the EP. I'm curious to see how people react to it.
Thank you.
Dark Horse White Horse Official Website
Dark Horse White Horse Facebook
Dark Horse White Horse Instagram