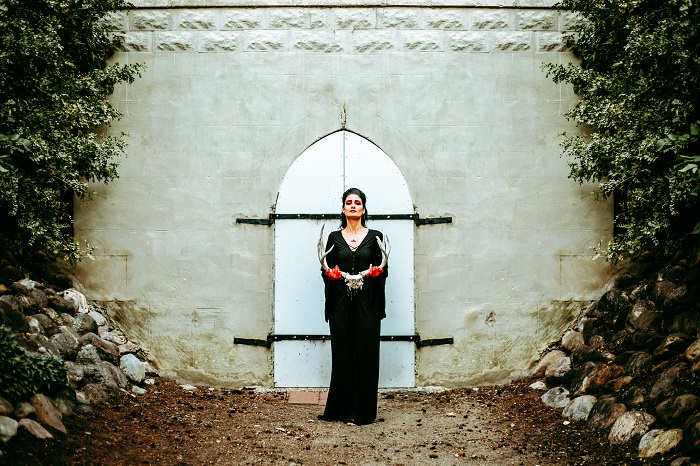 Recently, DutchMetalManiac's Tim van Velthuysen interviewed The Inferno Doll's Laura Vargas.
Hey, how are you?
Hey! I'm doing great, thank you.
Can you tell us something about the history of The Inferno Doll?
I'm Laura Vargas, a Chilean singer and songwriter living in Canada and The Inferno Doll is my solo project. The Inferno Doll started to come to life in 2013 and I asked my friend guitarist Gabriel Hidalgo to join me as a co-songwriter and in 2015 DOLLMINATION came to life. In 2016 I relocated to Canada and at the beginning of 2019, Gabriel and I started working on what became SACRIFICE, released in December 2020.
For people not knowing The Inferno Doll (yet), how would you describe your music yourself?
I make gothic-styled music with elements of black and industrial metal and I'm inspired by dark romance, gothic literature, Dracula and personal experiences.
When someone doesn't know The Inferno Doll yet and you can choose one of your songs to present yourself, which song would that be?
I would show them Ghost Waltz from my latest EP Sacrifice.
Any future plans you can already tell us something about?
A new album that could see the light by the end of this year. Gabriel and I are already working on new songs.
Any upcoming gigs for The Inferno Doll? Maybe coming to The Netherlands?
I would love to go to The Netherlands one day!
How do you think your life would be without music?
I can't imagine my life without music. Music has been part of my life since I was a kid.
What advice would you give to young and starting bands?
Do what makes you happy.
Thanks for your answers! Is there anything you want to say to DutchMetalManiac's readers?
Thank you for this interview!
And to all the DutchMetalManiac's readers I say: go check my music! I'd love to hear your feedback and that you take part in my amazing community.
Stay safe, stay strong and we will see you soon.
The Inferno Doll Official Website
The Inferno Doll Facebook
The Inferno Doll Instagram
The Inferno Doll Twitter
Hi!
I'm Tim van Velthuysen and I started DutchMetalManiac back in 2014. I'm 29 years old and I live in Nijmegen, The Netherlands. Of course, I like metal, but I can also appreciate other musical styles.
In addition to DutchMetalManiac I also have a personal website on which I'll post various things that won't fit on DutchMetalManiac, but might be interesting for you as well. It's in Dutch though.