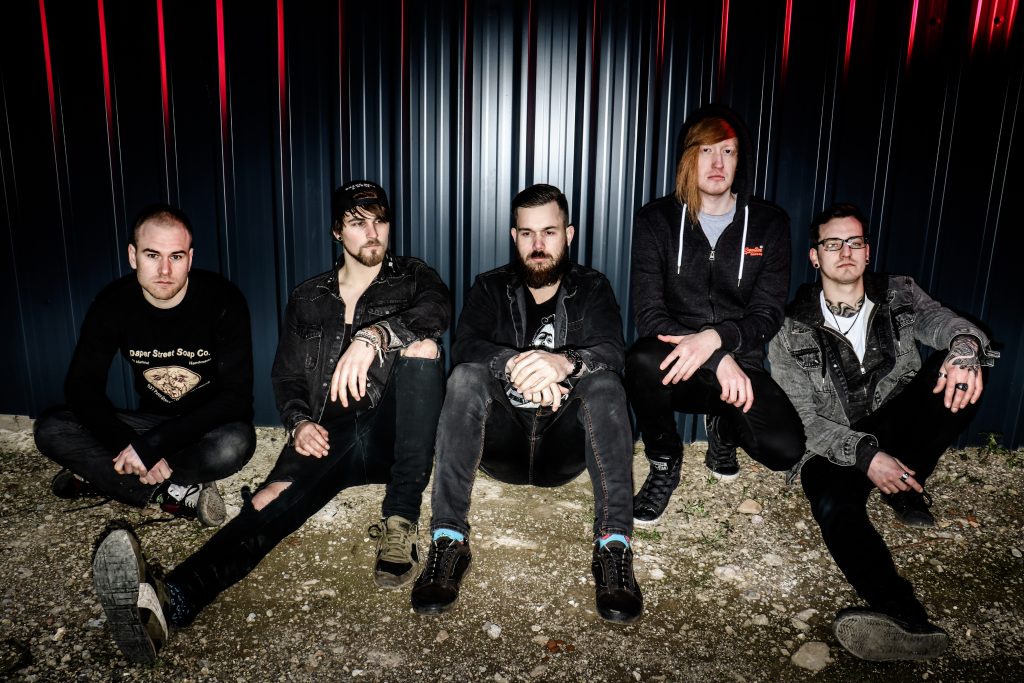 Recently, DutchMetalManiac's Tim van Velthuysen interviewed Next Stop Olympus.
Hey, how are you?
Hey! We're great thanks, hope you're keeping ok over everything going on!
Can you tell us something about the history of Next Stop Olympus?
Conor and Matt had discussed being in a band years before NSO actually came about and nothing ever really came from it, fast forward a few years and Matt first met Josh and learned that he played drums and that's when Next Stop first really started going, Matt and Josh started working on finding new members. Matt had asked Conor to join the band as well and them also finding Skips on an online site for musicians, after them all hitting it off well and still looking for a second guitarist they started working on becoming our debut single Home during this time they tried out some people to join the band and nothing seemed to work the way they'd hoped and then Matt had realised Harry was back from university and asked him to come along for a chat, having known Harry could sing as well as play guitar it was a perfect fit so then we had our official line up. We started back at the end of 2017 so roughly 4 years or so.
For people not knowing Next Stop Olympus (yet), how would you describe your music yourself?
We class ourselves as a metalcore/post-hardcore band with our own twist of rock 'n' roll.
When someone doesn't know Next Stop Olympus yet and you can choose one of your songs to present yourself, which song would that be?
Matt: I'd have to go for Hell To Bear because it has abit of all of our styles, rock 'n' roll riffs with heavy sections and a big chorus.
Conor: Yeah to echo what Matt said, Hell To Bear has not only got a little taster for everything we do but also still gets a lot of praise from fans when they listen to our music.
What makes Next Stop Olympus unique?
I think we're unique because most bands are trying to go for as heavy as possible nowadays and we're determined to keep some of a rock 'n' roll sound to our music.
Any future plans you can already tell us something about?
We've actually just released our brand new EP Heart, Mind & Hell in April so it's going to be pushing that as much as possible and playing shows as much as possible.
Any upcoming gigs for Next Stop Olympus? Maybe coming to The Netherlands?
We're in talks for a couple of shows now and always working on getting more, we haven't managed to get over to Europe yet but it's a big thing we want to do when possible and we'd love to play The Netherlands.
How do you think your life would be without music?
I don't think any of us could even imagine our lives without music in, most of our, if not all of our lives revolve around music all day every day.
What advice would you give to young and starting bands?
Write what you enjoy, you have to be able to enjoy your own songs or how do you expect anyone else too and just have fun with all aspects of being in a band.
Thanks for your answers! Is there anything you want to say to DutchMetalManiac's readers?
Just for everyone to please go check out the new EP Heart, Mind & Hell and check out all our social medias and merch store!
Next Stop Olympus Facebook
Next Stop Olympus Instagram
Next Stop Olympus Twitter
Hi!
I'm Tim van Velthuysen and I started DutchMetalManiac back in 2014. I'm 29 years old and I live in Nijmegen, The Netherlands. Of course, I like metal, but I can also appreciate other musical styles.
In addition to DutchMetalManiac I also have a personal website on which I'll post various things that won't fit on DutchMetalManiac, but might be interesting for you as well. It's in Dutch though.