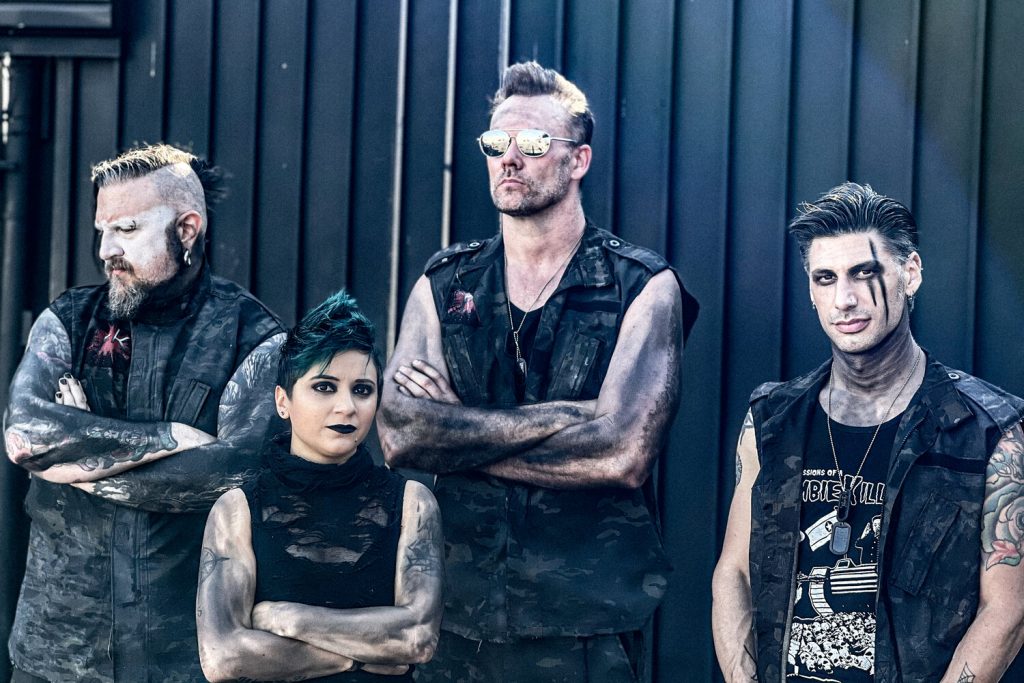 Recently, DutchMetalManiac's Tim van Velthuysen interviewed FleishKrieg.
Hey, how are you?
Pretty good. No dry cough, no blood in the stool. Life is good.
Can you tell us something about the history of FleishKrieg?
I was a Uber driver and picked up a family of goths travelling from Ohio. One of them had a Rammstein shirt on and I just wrote two demo songs using a $200 guitar and some free synth VSTs. The rest is history.
For people not knowing FleishKrieg (yet), how would you describe your music yourself?
I've personally always been a fan of that German industrial sound. Die Krupps for the first band I was ever really obsessed with. I feel like we are similar, but with a more synthpoppy element. It's weird… Thomas calls us "brutal wave". I like that.
When someone doesn't know FleishKrieg yet and you can choose one of your songs to present yourself, which song would that be?
I would probably go with Reach… it's high energy, has the heavy and synth side playing along nicely. It's also about aliens stuffing stuff up my…well…you know.
What makes FleishKrieg unique?
I don't think any of us have any idea where we fit exactly in any genre, which I think makes us unique. Everyone has different preferences, so that helps stretch us out and keeps us from being in any one box too long.
Any future plans you can already tell us something about?
We're hoping we can tour more once the world opens back up. We have a video for a cover song (Relax, by Frankie Goes to Hollywood) we're hoping to release Sept 10th. We're so excited for this song release we've got custom song T-shirts printed with the words "Semen" splattered across the back. It's happening.
Any upcoming gigs for FleishKrieg? Maybe coming to The Netherlands?
We'd LOVE to go to The Netherlands. I went to Amsterdam years ago, loved that city. I smoked so much weed there one night I couldn't find my way back to my hotel. This was way before Google Maps was a thing. But we don't have anything scheduled in Europe yet.
How do you think your life would be without music?
I don't think I'd be much use as a person. Music allows me to be honest with myself, and hopefully that's helpful to others.
What advice would you give to young and starting bands?
Try to be open to synchronistic events. Think of the universe and your journey as all part of some cosmic puzzle you've got to figure out. Do your best, figure out the rest as you go.
Thanks for your answers! Is there anything you want to say to DutchMetalManiac's readers?
Holland is a wonderful place. We'd love to live there. Anybody want to adopt a band?
FleishKrieg Official Website
FleishKrieg Facebook
FleishKrieg Instagram
Hi!
I'm Tim van Velthuysen and I started DutchMetalManiac back in 2014. I'm 29 years old and I live in Nijmegen, The Netherlands. Of course, I like metal, but I can also appreciate other musical styles.
In addition to DutchMetalManiac I also have a personal website on which I'll post various things that won't fit on DutchMetalManiac, but might be interesting for you as well. It's in Dutch though.