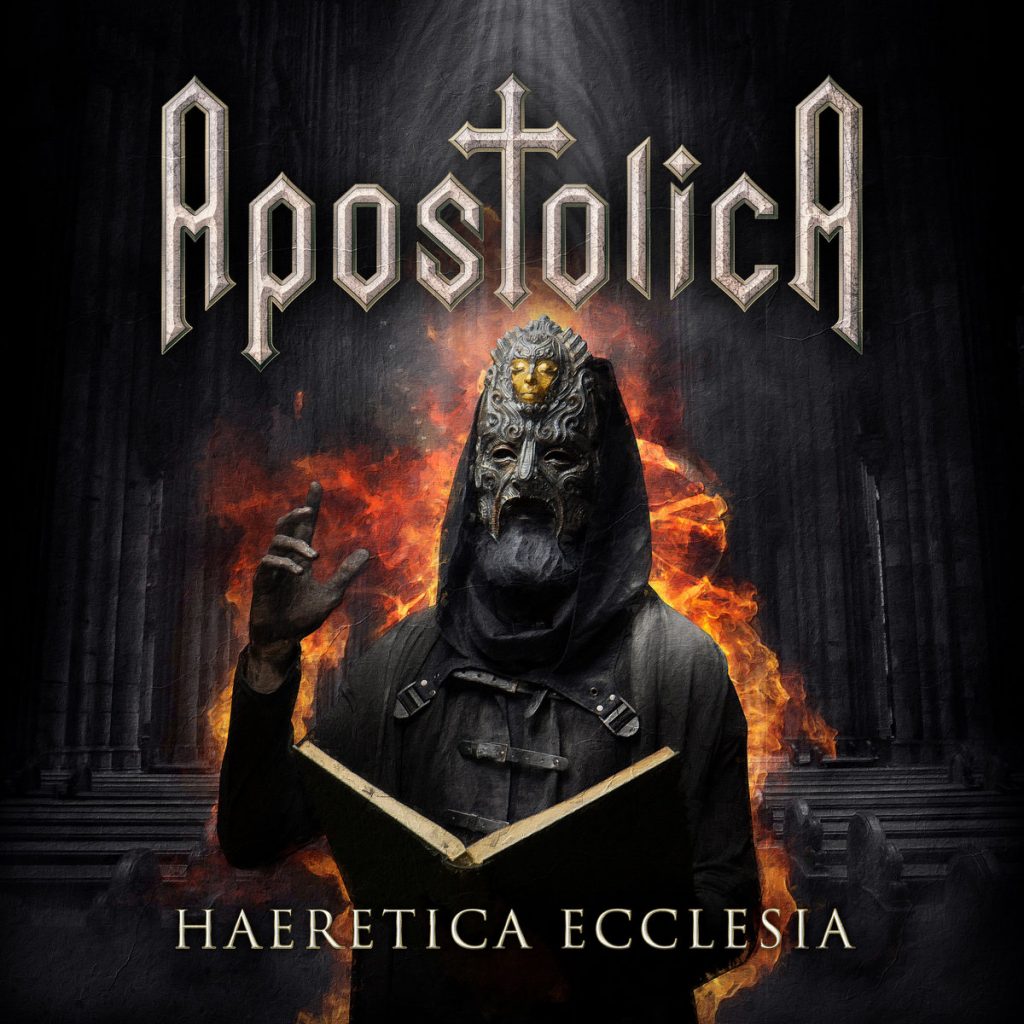 What is it with metal bands and their apparent deep-seated desire to remain mysterious and anonymous nowadays? Don't get me wrong, I do get the idea behind it, at least to some extent. It is, usually anyway, supposed to force the audience to focus on the music rather than the musicians, but honestly, is it that big a deal or even a problem? Why not simply make known who you are? Anyway, end of rant. That raises the question what the reason is for this rant at the start of this review? Well, I now happen to find myself dealing with a band that does exactly that: remain anonymous, triggering my OCD by ruining my usual introduction of a band I am about to review. Nothing more, nothing less, hehe. Anyway, the band in question is called Apostolica and they're a new band formed by, supposedly, some of the finest musicians of the international hard 'n' heavy scene. All I know is that it's a quartet and, judging by the accompanied picture, they're all men, dressed as heretical deities or clergy. Not really surprising considering the band name and the title of their debut release, Haeretica Ecclesia, church of heresy. Such a title is a dead giveaway for a black metal album you'd think, right? Especially with their true identities being furiously shrouded in mystery. Wrong. Apostolica is a power metal band that has its musical roots deeply embedded in the European power metal. Their deliberate anonymity to shift the focus to their music sets the bar of expectations rather high, so let's see if this illustrious quartet can indeed add something valuable to this already quite overcrowded genre with their 50-minute long Haeretica Ecclesia.
Sanctus Spiritus opens with an organ-accompanied choir chant that wouldn't be out of place in any Catholic mass before exploding into a full-blown symphonic power metal song that musically reminds me of bands like Epica and Powerwolf, with its massive, bombastic arrangements. The vocals that join in the fun after a few moments however, put me on a completely different track. His style and sound is almost identical to that of Sabaton's lead roar Joakim Brodén, complete with the sometimes extremely rolling 'r'. So Epica and Powerwolf meet Sabaton here, especially when the musical style of the latter becomes clearly audible when The Sword of Sorrow, the next song on the album, takes off. The deep, resonating roar from the opener has made way for a more shallow voice that still has quite some power to it, making the similarities with Mr. Brodén even more striking. And this mystery vocalist has at least one more trick up his sleeve, one he uses in song number three, Come With Us. This time he strikes a more raspy, throaty tone that feel to, at times, touch the outer borders of his vocal range and thus his capabilities, like in The Doom. Not a really big deal, as it still sounds good, but worth mentioning nevertheless. Throughout the entire album he alternates between these three styles, merging them into a hybrid whole.
As a rule any vocalist, regardless his or her quality and capability, is nothing without a group of equally qualified musicians. Obviously this rule applies to Apostolica as well. With their music having clear commonalities with a few of the leviathans of the power metal genre, it's required they have an excellent line-up and I must say, they certainly meet the requirement. Guitars, bass, drums, they all are of an equally high level, effortlessly following the at times intricate path of the various songs making this a top-shelf power metal release. Haeretica Ecclesia offers the complete package with ingredients taken from the entire range that forms power metal. The most striking are the uproaring tunes that awaken your fighting spirit known from bands like, here we go again, Sabaton. They are abundantly present and form the core of the music, like in The Sword of Sorrow and Thanatos. However, there are quite a few references to the darker, more keyboard lead, symphonic orchestral power metal, which are smartly and subtly woven into the compositions. Examples of this can be found in Pollution Is My Name, Redemption and, much more subtle, Thanatos. To complete the package the guys of Apostolica have added a few very nice musical details, which increase the quality and value of the songs even more, like the incredible haunting intro of The Doom, the guitar work in Famine and the sweet collaboration between rhythm section and guitar in the solo in Come With Us to name a few.
So all in all it's safe to say Apostolica's Haeretica Ecclesia has turned out to be a qualitatively well above average power metal album. Is it particularly original or innovative? No, it isn't. Is that a problem? No, it isn't either. Look, I am all for innovative, one of a kind type of music, but that does not mean every single release has to be exactly that. Sometimes, often even, it's much better to stick to what you are good at, simply because what you do is of great quality. This clearly is the case with this release. I have no idea who Apostolica are, but it's a definite fact they full well know what they are doing and they are pretty good at it. This release brings you fifty minutes of unadulterated power metal in its purest form, tapping from the entire spectrum of the genre. Fans of the genre simply cannot afford missing out on this one, everyone else can consider this as a textbook example of how power metal should be composed and executed. Regardless who the four musicians actually are, in the end it's the tunes that determine the judgment and success of an album. And that right there isn't an issue here. At all. Get your hands on this one!
Apostolica Official Website
Apostolica Facebook
Apostolica Instagram