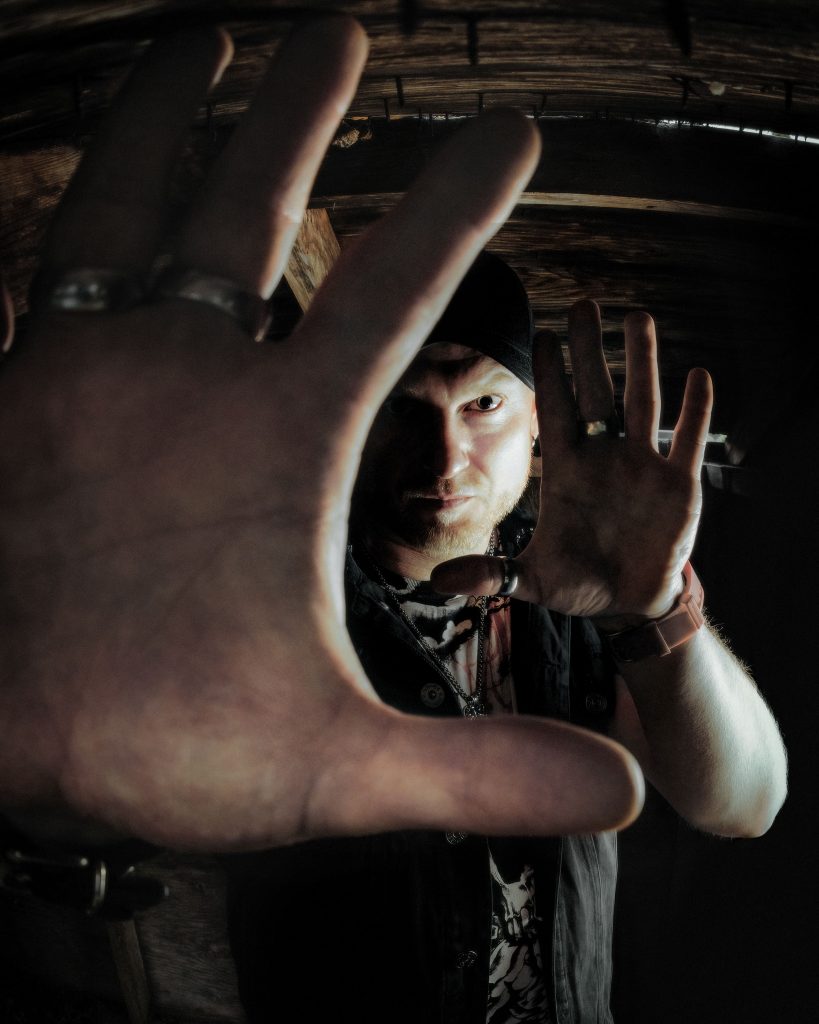 Photo by Francesca Ludikar
Recently, DutchMetalManiac's Tim van Velthuysen interviewed Dead Defined's Craig Ewan.
Hey, how are you?
Doing great thanks! Thanks for this chat and wanting to know more about my project Dead Defined!
Can you tell us something about the history of Dead Defined?
Sure, I'm a self-taught singer/songwriter from the very musical country town of Uxbridge, Ontario, Canada. (40 mins NE of Toronto, Ontario) I've been involved in music since the age of 16 yrs old and have been in and out of semi-professional bands my whole life until 2018. (I'm 35) In 2018 I decided to start my own solo band project entitled Dead Defined. Having freedom to experiment with different genres and being able to move at my own pace seemed like the right choice. Music is always evolving and being able to adapt to that I find it's more freeing than having to work in a typical band structure.
For people not knowing Dead Defined (yet), how would you describe your music yourself?
I like to describe my music and style as pop/rock/industrial. I have way too many influences when it comes to narrowing myself down to just one musical style so more or less it's an amalgamation of many genres and artist influence. The reason I chose to create this solo project was also to be able to experiment with different sounds and bend the mold when it comes to my own typical rock'n roll writing style.
When someone doesn't know Dead Defined yet and you can choose one of your songs to present yourself, which song would that be?
Lifeline. It's a song I wrote having to do with addiction and mental health issues. It's developed some traction for me as a mental health advocate. The music video has been nominated for an OMA (Oshawa Music Award) in the category of Music Video of the Year. I'd suggest your readers to check out the music video as it's a great representation for how I write and for what I represent as a musician.
What makes Dead Defined unique?
The uniqueness comes from being a solo act. People mistake it for being a full band as of now but it's really a studio project that I write and record. I started in 2018 hoping to build an audience via social media and then in the future to perform live. I do have fellow musicians to play live when we start gigging as I'm not just a one-man band per say when it comes to the live aspect of things, ha. Covid put a halt to the live shows in 2021 as the industry here in Canada has yet to comeback into full swing. I'll continue to write/record new music though as to keep the fanbase growing online.
Any future plans you can already tell us something about?
I have a new song concept I'm excited about. A ballad. I haven't written a full on ballad as Dead Defined yet and was really wanting to. I have written a really light piano composition that will be the outline for this next song. I do have a title for the song and a very emotionally heavy chorus written, but I'd like to keep it a secret for now as it's still in the writing process. Hoping to get into the studio very soon to record it.
Any upcoming gigs for Dead Defined? Maybe coming to The Netherlands?
As COVID numbers in Canada have just now seemed to stall out there isn't any set plans for live music in 2021 as of yet. My main focus is to try and write/record/video a new single every 2-3 months to stay consistent and relevant when the time comes to open the venues back up. Social media has kind of been the 'Saving Grace' for musicians in this time. I would love to play some shows in The Netherlands as it's a place I've always wanted to visit! Is this an invitation? 😉
How do you think your life would be without music?
One word, boring. Music is my life. I'm not only a musician but a full on fan of many other bands and their music. Music has been my life since I can remember. It may not be a full-time job for me but it's my outlet to relax or vent frustration. I love finding new bands and new talent to listen to every day.
What advice would you give to young and starting bands?
Have fun and find bandmates you are legitimately friends with not just hired guns. I've been doing this for many years and the main reason is because I've always kept the mindset that it's supposed to be about the comradery of bandmates, life experiences and the people who love your music. It is tough sometimes to stay positive in this industry as there are many ups and downs as far as the business side of things and when finances are involved, but I always try to stay grounded and remember why I love the music for what it is.
Thanks for your answers! Is there anything you want to say to DutchMetalManiac's readers?
Thank you for listening to my rants! Haha. Any opportunity to promote my music to new readers/listeners is a blessing these days as fans are the real lifeblood of the music industry whether they know that or not. Please feel free to check out all my music under the band name Dead Defined. You can find it on all digital streaming platforms worldwide. Much love!
Dead Defined Official Website
Dead Defined Facebook
Dead Defined Instagram
Hi!
I'm Tim van Velthuysen and I started DutchMetalManiac back in 2014. I'm 29 years old and I live in Nijmegen, The Netherlands. Of course, I like metal, but I can also appreciate other musical styles.
In addition to DutchMetalManiac I also have a personal website on which I'll post various things that won't fit on DutchMetalManiac, but might be interesting for you as well. It's in Dutch though.