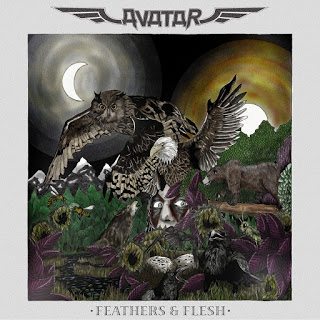 Avatar is a metal/rock band from Sweden. This is their 6th studio album released on May 13, 2016. After several tours supporting 2014's Hail the Apocalypse, Avatar entered the studio in December 2015 to begin recording a then unnamed follow-up studio album. The band split their time between three European studios — Castle Studios in Rohrsdorf, Germany, Finnvox Studios in Helsinki, Finland and Spinroad Studios in Lindome, Sweden. The artwork of the new album with the release date was posted on instagram several times.
On to this album: Regret is the first song on this album it's very melodic and sets the mood for this whole album. In the middle the vocals come with rhythmic drums, you just get goosebumps already. The song The Eagle Has Landed begins with drums and guitars the way you would expect from an Avatar song. Very rhythmic with the vocals, it keeps you head banging slowly and the lyrics are just to the point "Your hero has returned again". New Land is a more progressive song, with hard riffs and drums. The shortest song on this album is For the Swarm with 1.54 min. that starts with very grunty vocals and fast paced riffs. In the fast paced vocals parts he says: "Gotta go to work, work, work, work, gotta work". The last song on this album is Sky Burial. The first 40 seconds softly singing the opening lines from Regret without any instruments is very breath taking. The instruments then slowly and softly start playing. This is a perfect song to end this beautiful album.
This is a great album from Avatar everything you would expect from them. If you like metal/rock with a touch of rhythmic.
Track list:
1. Regret
2. House of Eternal Hunt
3. The Eagle Has Landed
4. New Land
5. Tooth, Beak & Claw
6. For the Swarm
7. Fiddler's Farewell
8. One More Hill
9. Black Waters
10. Night Never Ending
11. Pray the Sun Away
12. When the Snow Lies Red
13. Raven Wine
14. Sky Burial
Avatar Official Website
Avatar Facebook
Avatar Twitter