After a great first day of FortaRock 2018 and a short night, time has come for the promising Saturday of this edition of FortaRock.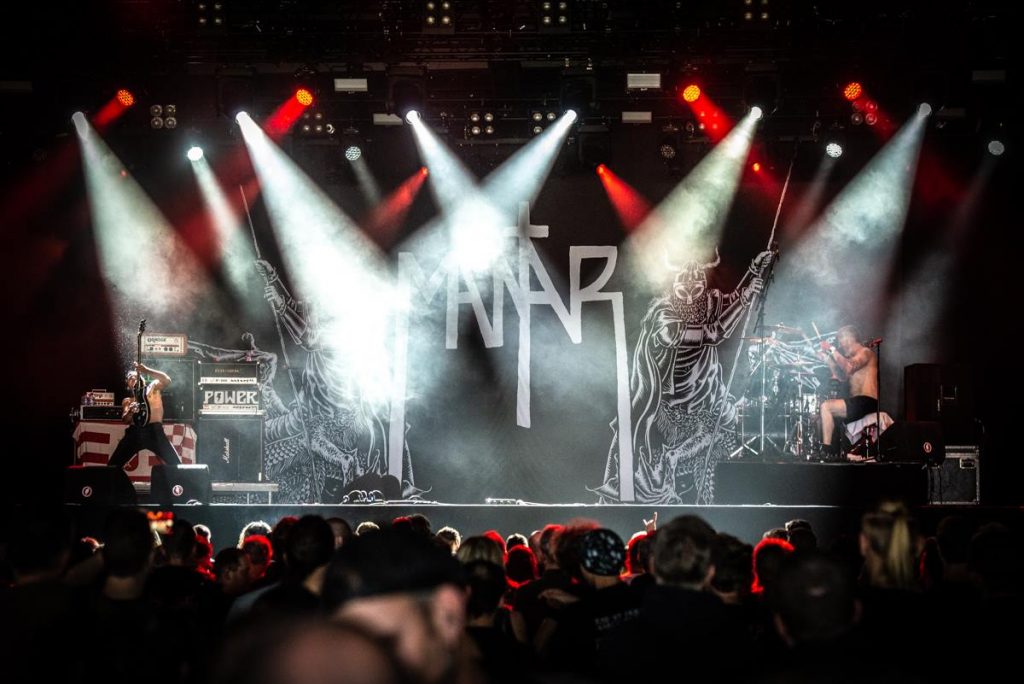 Around 12 o'clock today's first band kicks off. This task has been given to Mantar. Right from the start of their set they give a very heavy and loud show at the tent-stage. It can be immediately heard that the sound is much better compared to Friday's opening band, Betraying the Martyrs. Besides that, it seems like the volume is a bit louder, which really fits Mantar's show. Erinc on drums and Hanno on vocals/guitar, yes Mantar has only two members, deliver a giant dose of heavy music. Especially when you think about the fact that this is only produced by two people. The raw vocals of Hanno go through marrow and bone. In case some people were still a bit sleepy after a short night and due the fact that it was quite early at this moment, Mantar for sure wakes you up. This duo takes care of a very heavy and raw start of this promising FortaRock-Saturday in a tent which is already filling up quite well. (Tim)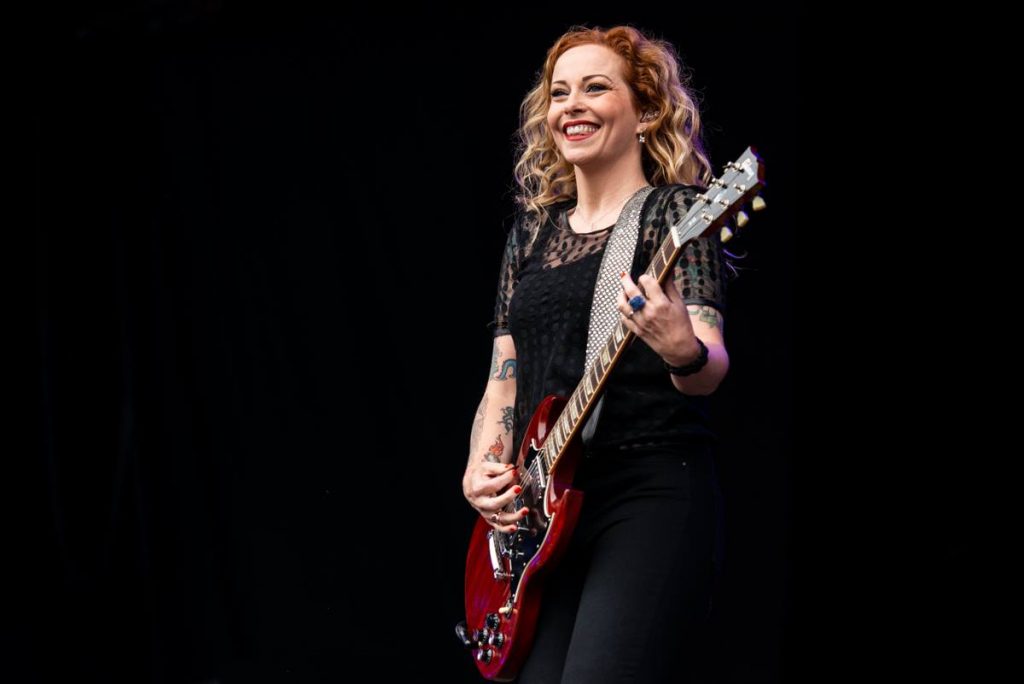 Before their appearance at FortaRock I had the privilege to see Vuur, which is next, perform two times already and full disclosure, I am a fan! But that is not without reason and Vuur and Anneke once again proved this at FortaRock! Opening on the main stage the second day of the festival is not an easy task if you ask me, but Vuur does it and they do it well. From the moment the opening song Time – Rotterdam starts the crowd goes wild and the atmosphere is great. Anneke and her crew have no trouble at all entertaining the crowd to the heart's content, like they usually do actually. But something is different today, it is like the band is on steroids or something, like they said to each other, "we have to do really well, because we are on FortaRock and we have to show the people we are!" I don't know but it really seemed like they had even more energy than they usually have! It's like they thought, this is our time, it has to happen now. The show, similar to Arch Enemy's performance on Friday, was plagued by technical difficulties, granted, they were a lot smaller than the problems Arch Enemy had, but still it was noticeable. For example, guitarist Jord Otto had to walk to the side of the stage twice to check his guitar and drummer Ed Warby had some problems with his drum kit. There was also a very short moment where the sound wasn't working. But Vuur, under strong leadership of Anneke did not let these minor issues distract them from doing their job and they delivered a pretty solid performance! Anneke and the audience feel like one, as always, she knows exactly what buttons to push to make them go all out. But if I have to be fair and objective and compare the FortaRock show with the club shows of Vuur I have already seen, then I have to say that it all looked pretty hasty to me. I even noticed that Anneke's breathing was not always on point during the show, but seeing Anneke run zigzagging across the stage, it is no wonder that you might run a little bit out of breath from time to time. However, seeing this I do have to say I never noticed this from Anneke during the other highly energetic shows from Vuur that I've been to. Who knows, maybe the stress of playing at the festival and being on the clock had a part in all that, that's very understandable because a festival show is totally different from when you are headlining a club show! Further evidence that the band gave it their all this early in the afternoon, I got when I saw bassist Johan van Stratum jumped really high while standing in the same spot and still holding his bass guitar and playing his notes! Incredible! What an energy do these guys have, it is absolutely amazing! And I think the audience noticed that too. They were very enthusiastic if you ask me! Apart from the well-known Vuur catalog, they also played two songs from Anneke's first band The Gathering On Most Surfaces and the fan favorite Strange Machines as the closing song. Halfway into the set list The Storm was played, a track from The Gentle Storm, a collaboration project Anneke did with Arjen Lucassen from Ayreon. It's a song that has become standard in a Vuur set list. The fact that the band closed off the set list with Strange Machines is hardly a surprise anymore, but every time they do it's an absolute pleasure to hear this wonderful song with three electric guitars instead of one back in the old The Gathering days! (Glenn)
After Vuur opened the main stage for today, it's time for today's second band at the tent-stage. At the moment Týr begins their set the tent is already quite packed. Týr delivers a very strong show with their pagan metal, which is heavy as well as melodic. The drums might be a bit too heavy compared to the rest of the band, but not so much that it's annoying. With a bit of imagination, you can close your eyes listening to this show and you almost feel like you're on a giant Viking boat on the rough sea. Some other nice aspects of this show were Terji Skibenæs and Gunnar "Gunz" H. Thomsen accompanying Heri Joensen on the vocals. There are also quite a few nice guitar solos in their set. The non-English tracks are also very nice and the sung language fits the music perfectly. Another highlight is for example the battle-song By the Sword in My Hand. (Tim)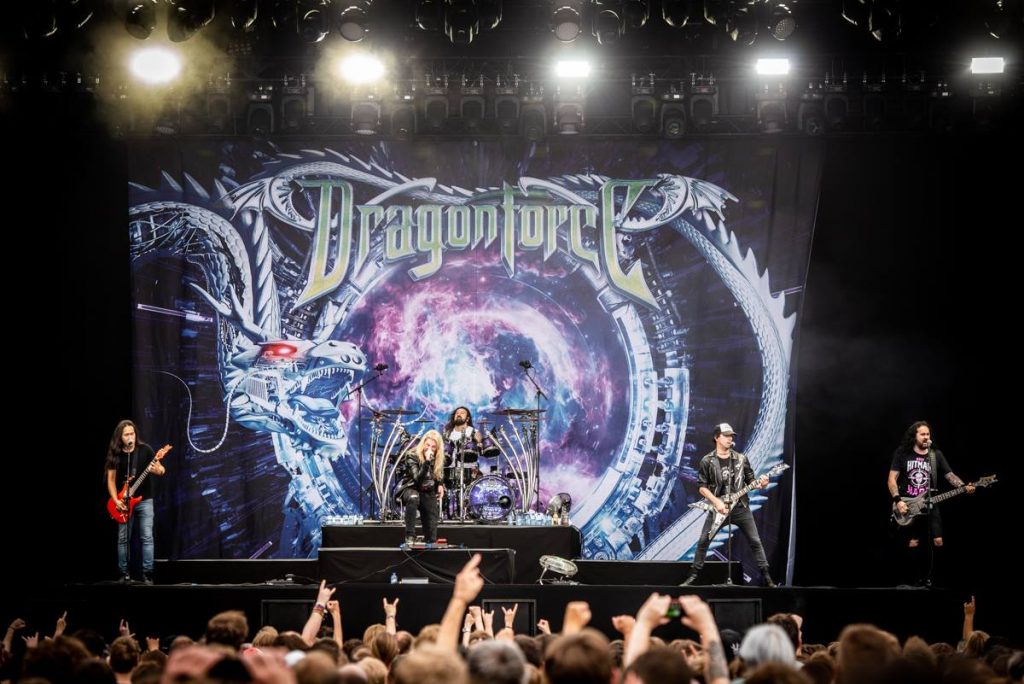 Dragonforce is not really my cup of tea. Regardless of that I am well aware that the band has a lot of fans, a fact that is kind of hard to miss if you look at the devoted and enthusiastic fans who came to see them at FortaRock. But even when I try to review this band objectively, which I am currently doing, I can't ignore the fact that singer Marc Hudson was singing out of tune multiple times during the set. Sure, he has a large vocal range and he obviously did hit some high notes, but it varied a lot! The band itself and the heavy guitars sounded decent. There was a lot of screeching and guitar solos, but for me as a spectator and listener this was about the only thing that was good about the show. The power metal I have experienced in the past wasn't really to write home about either, it is just not my thing, but at least those bands weren't singing out of tune. If you are a fan of Dragonforce however, I can understand that you consider it to be a good show, because like I said earlier, the band does what it's supposed to do and then it becomes a matter of whether you like the music or not, which I don't and that doesn't matter! What also really disappointed me was the fact that singer Marc Hudson was very passive on stage. If there was a long guitar solo he would stand on his monitor with one leg trying to entertain the crowd in a very fake American-like way. He succeeded in that, I have to give him that, but that isn't very difficult considering there were a lot of Dragonforce fans in the audience! My opinion about the Johnny Cash cover Ring of Fire, you can probably guess right now! No, I don't like Dragonforce at all, and maybe I'm a bit too harsh, but that is something you are free to decide for yourself! (Glenn)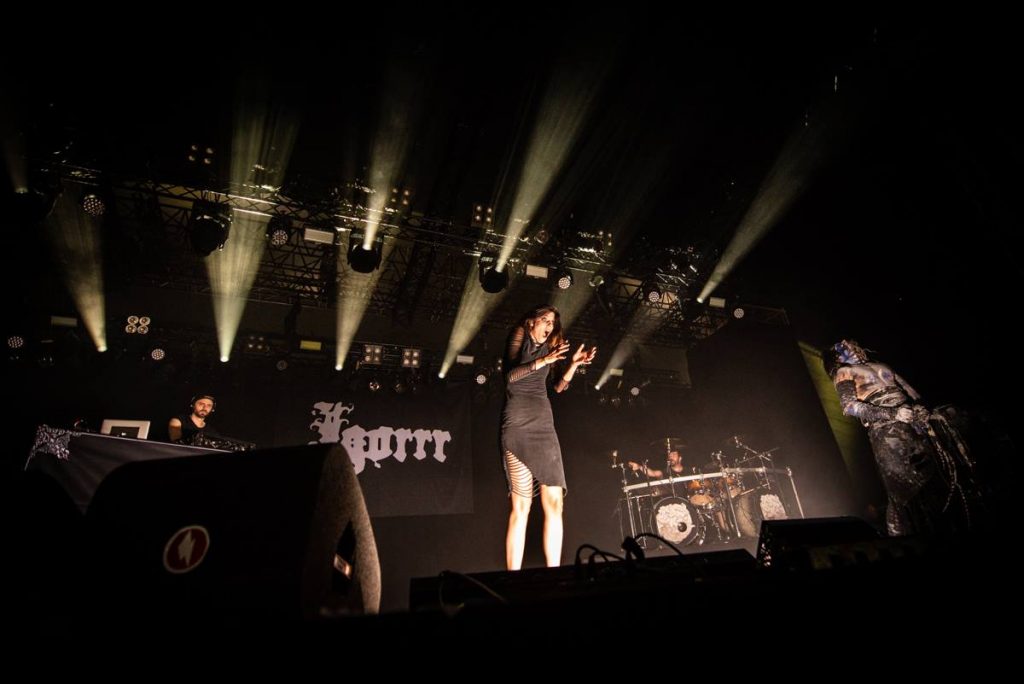 During the last four non-main stage moments the visitors of FortaRock 2018 have to choose between the bands at the tent-stage or the, since this edition part of FortaRock added, theater-stage, which is at the Openluchttheater De Goffert. While Death Alley is about to open the theater-stage, we choose to go to Igorrr's show at the tent-stage. For me personally this was one of the shows I was very curious about and it for sure was worth it! Igorrr delivered a great show. With their mix of electronic music, baroque and metal, much energy is coming off of the stage constantly. Alongside Igorrr's mastermind and DJ Gautier Serre and drummer Sylvain Bouvier, Igorrr has two people delivering vocals. The male vocals are brought by Laurent Lunoir, who also has a very nice appearance due to his make-up and outfit. He gives us extremely raw, misanthropic shouts as well as low, clean vocals, both done really well. The female vocals come from classically-trained Laure Le Prunenec, and the fact that she is classically-trained is something that can be heard for sure. She delivers the higher vocals, but she is also able to deliver some hellish shouts. She in addition shows that she can move very elegantly but can also go totally crazy during the heavier parts. Apart from some little problems with the drum kit, this was a very nice, heavy, tight show. With their music and podium-performance Igorrr shows some true art during this show for sure! (Tim)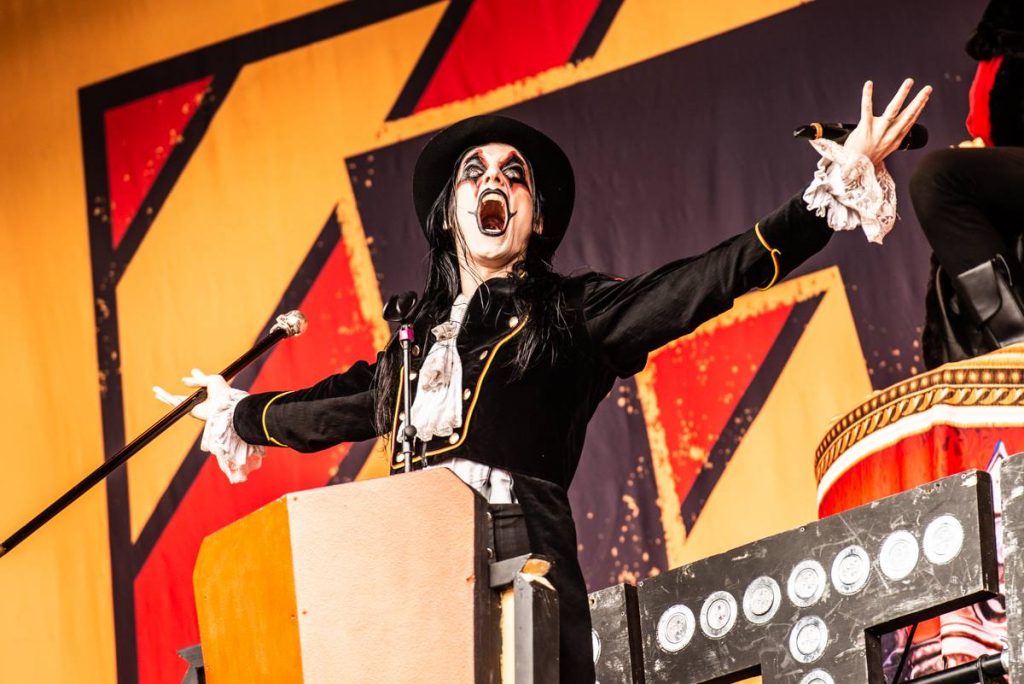 Next is Avatar. Before seeing them at FortaRock I did not know Avatar at all, that's why I thought it would be wise to do some research and prepare myself by listening to some songs and what I heard I liked very much! But what I didn't know was that if you come to watch Avatar, you get a lot more than just the music! Because that's what happened when the band took the stage at FortaRock. Their new album titled Avatar Country has a medieval theme and plays with a lot of ludicrous and a not to be taken serious form of self-glorification. This already starts at the beginning of their show when the speaker calls out to the audience to take two minutes of silence for their King. This, surprisingly enough happens all in Dutch! When the speaker is done, one of the band members comes onto the stage dressed as a king wearing a Royal cape and a crown. The characteristic singer of the band, Johannes Eckerström also enters the stage, wearing his signature makeup and outfit which is best described as a mix between the Penguin and the Joker from Batman. But I have to say that he is a bit weirder than that because he could have just as easily have walked out of the Hellsing anime or perhaps American Horror Story Freak Show. I think that this last example is very applicable when thinking of the song Smells like a Freak Show. I can't get over the fact how spot on Avatar's overall presentation is! Even the crewmembers are dressed and act as Royal servants to the obvious Avatar King, in a very humble way they hand instruments to the Royal band members! Vocalist Johannes Eckerström triumphantly leads the whole band and despite the fact that everything that he does is deliberately comical, it doesn't mean that people shouldn't take this band serious. Let me explain, if you are a band like Avatar and you choose to be this big theatrical act rather than just make music, then you have to do it all the way. Nothing is "just" with Avatar. Everything is thought of through even the smallest details. The act surrounding the music serves the music rather than overshadowing it. This is very well done! This is Avatar! What you see is what you get!
Musically the band plays like a well-oiled machine. Johannes Eckerström has a hold over the audience like I have not seen very often. His vocals are easily among the best ones I have heard on FortaRock 2018 and he is also very versatile and capable of singing in various styles. From grunting to singing clean to hitting those pesky high notes, this man is a phenomenon on itself! Well, coming from somebody that before the festival hadn't heard from this band at all anyway. The music itself goes in all directions. One moment you are listening to really hard metal and the next moment you are listening to a country song in the title track of their latest album called Avatar Country. In short, there is a lot of variation in the set list. The comical aspect which I spoke of earlier is what makes Avatar unique in the selection of bands performing at FortaRock and it is certainly a force to be reckoned with! I myself am planning to listen to this band more often and for me Avatar was the biggest surprise of FortaRock 2018!
While Baroness is playing their music at the tent-stage and For I Am King is delivering their show to the audience at the theater-stage, we chose this moment to get something to eat, to prepare for the rest of the day.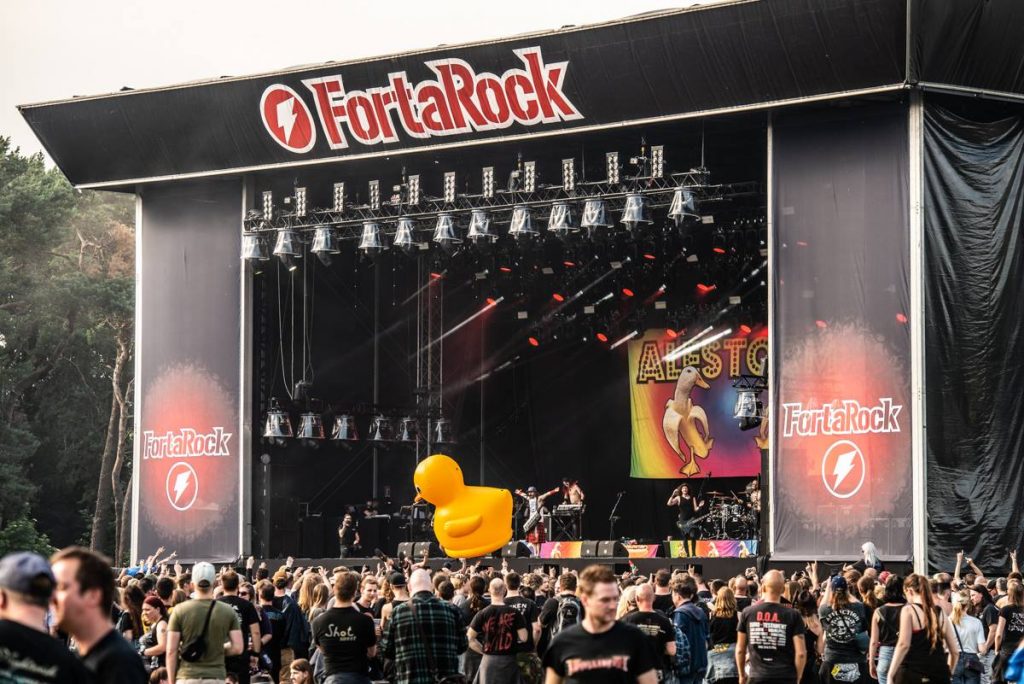 Then it was time for Alestorm! What a lot of energy does this band have! I did not see them live before FortaRock, but I did know their music. Straight to the point pirate metal and for those of you that do not know what that entails, it involves a lot of drinking, beer throwing and dancing, the metal way! Musically it isn't all that complex and it doesn't take itself too serious, but that is the whole point! Vocalist Christopher Bowes, dressed in a white shirt and kilt and holding a keytar in his hand, had absolutely no problem entertaining the crowd. Even if people never heard of Alestorm he, and his band of course, made sure that people wouldn't forget them. The signature song Keelhauled serves as a well-chosen opener and the crowd knew exactly what they were going to be in for. In the middle of the stage behind the band members there hung a banner with two bananas that had a duck face on them. There was also a huge rubber duck on stage that later on in the show was thrown into the audience and was tossed around enthusiastically! To me the music comes across as a bit of Flogging Molly like but with lyrics about pirates and about the pirate life and let's not forget the low pitched heavy metal guitars! I wasn't able to view the whole show properly because I couldn't get a great spot because there was such a large crowd of metal pirates before me. This way I could get a pretty good picture of what it was like to stand in the audience during one of their shows. Because of this I could also see that at a certain point the audience were sitting on the ground acting like they will rowing a boat. This is a normal thing to do at an Alestorm show as I verified later with my buddy Tim, but to see and experience it, is a whole other thing!
During the song Wolves of the Sea Heri Joensen of Tyr joined the band on stage. The fans loved it and it looked like he and Alestorm have been friends for a very long time. During a speech of vocalist Christopher Bowes, the seemed to be somewhat bored keyboard player played a small part of the intro to Game of Thrones. Fucked With an Anchor closed off the festive set list and there was a lot of singing, dancing and jumping! I wanted to see Alestorm earlier, but due to the fact that my family and friends organized a surprise party for my 30th birthday, I was unable to go. I am very happy that I got to see them on FortaRock 2018 because I think a show of Alestorm is something that you have to experience for yourself. It's a big ass metal party and trying to explain how it must've been like to people who were not there remains a challenge. (Glenn)
While Thy Art Is Murder is trying to destroy the theater-stage, we went to Satyricon's show at the tent-stage. This band was also part of the line-up of FortaRock's first festival-edition, back in 2009. Right after the symphonic, ominous, horror-like intro, Satyricon goes full throttle. Tracks like the faster-paced Now, Diabolical as well as the bit slower-paced, new tracks like Deep Calleth Upon Deep and To Your Brethren in the Dark are part of tonight's set list. There is very much energy coming off of this tight, heavy show. Led by front man Satyr with his raw, powerful voice and accompanied by his iconic microphone stand, Satyricon truly delivers a show that is as solid as a rock.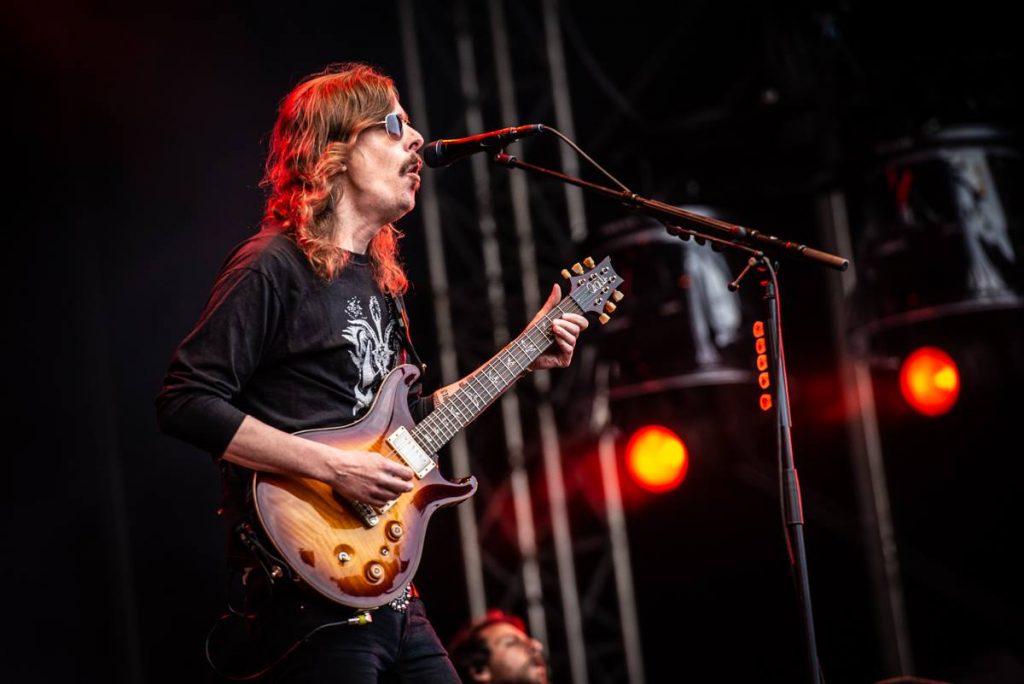 The next band, Opeth, is the last main stage-band before the headliner of FortaRock 2018. During their set Opeth gives the audience heavier parts with deep grunts as well as some a bit calmer, more melodic parts with some clean vocals. Especially the guitars and the keyboard regularly add some progressive vibes to the music. However, Opeth's show is very guitar-driven. Opeth's guitarists show that they are very good at playing their instruments, whether they play with distortion as well as without it. This, combined with the solid drums delivers a solid show to the many people watching them.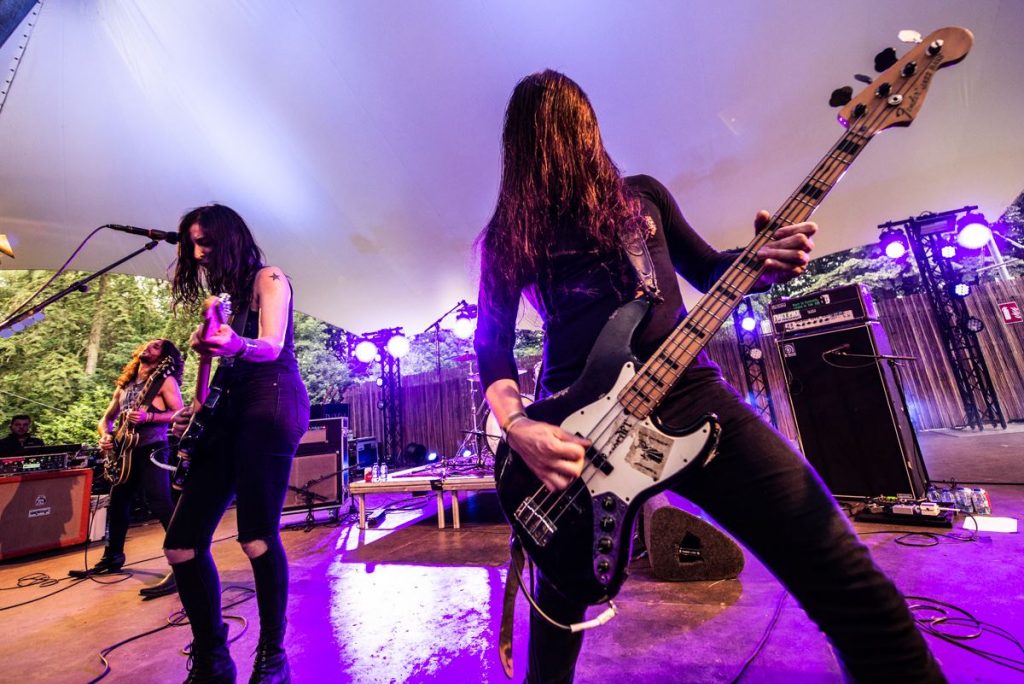 Before the headliner show of FortaRock 2018 at the main stage, there are still two bands on today's bill. While Meshuggah is destroying the tent-stage, we went to the show of Dutch band Dool at the theater-stage. The half-rounded, upward permanent tribune of the Openluchttheater is packed and Dool shows how to give an energetic show right from the start of their set. During the first track the bass is a bit too loud in the mix, but luckily this is fixed very soon. Dool knows how to deliver a perfect show for sure. Due to the energy they put in their show, combined with their music and the haunting vocals of Ryanne van Dorst, their show is very awesome and hypnotizing. The fact that the overall sound is very clear (besides the bass at the first moments of course) also contributes to this. This was a very nice show by a very nice, promising Dutch band and based on the loud applauding during and at the end of the show, lots of people seemed to agree with that. (Tim)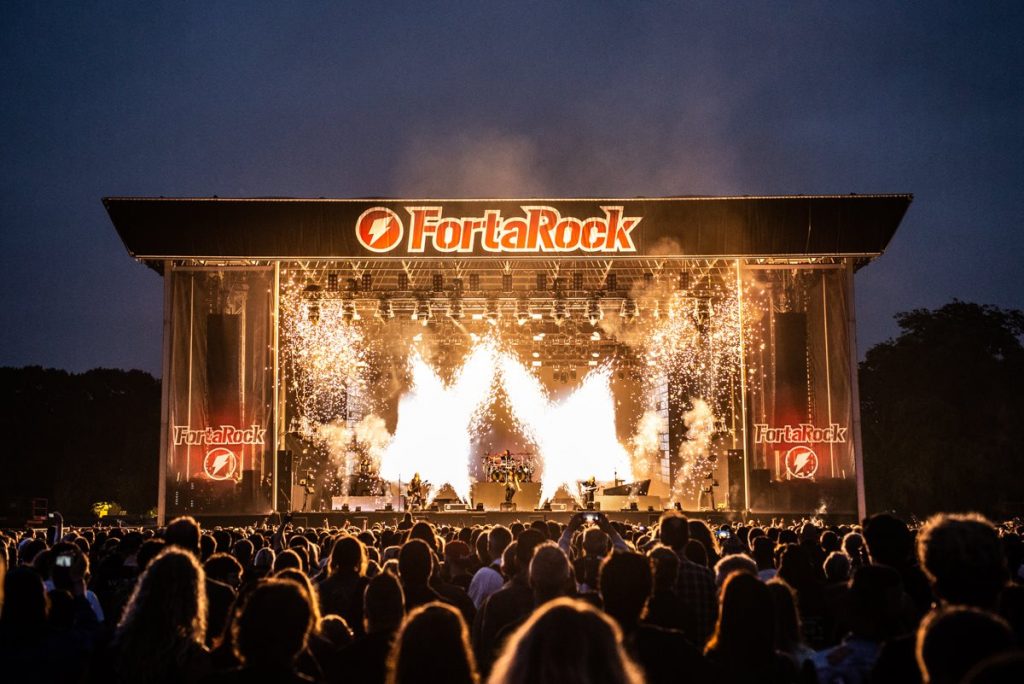 Then it was finally time for Nightwish, the band I personally looked forward to the most. I saw them for the first time in 2015 in the Heineken Music Hall in Amsterdam. This was the first time I ever saw them. But this FortaRock weekend I had the strong feeling that Nightwish would really go all out. This, because lead singer Floor Jansen told Dutch newspaper De Volkskrant that the band would make it a special show because it had been a while since they were on a Dutch metal festival and were back in the Netherlands. Well, let's just say they did not disappoint! Full disclosure, I have become a big Nightwish fan since Floor Jansen joined the band. I didn't like Nightwish at all prior to that. I know many fans might disagree with me, but I rather hear Floor sing in Nightwish than one of her two predecessors! I especially like the fact that their show was going to be a trip down memory lane due to the release of their new Decades album. Songs from every period in Nightwish's history graced the set list. All sang by the charismatic and energetic Floor, who also had a big dose of humor! The show started with the song End of all Hope. I was ecstatic because I have always wanted to hear Floor sing that song.
But I will try to be somewhat objective now. It is absolutely unbelievable what Nightwish as a collective can achieve. Under the leadership of Floor's unmatched vocals, the band is a massive force on stage, playing one golden oldie after another. And I don't know if there are still people who doubt if Floor is still treated as newcomer in the band, let me tell you one thing, she is absolutely adored by all the members in the band! The band truly kept its word and gave it their all. There were so many flames that it actually looked like the whole band was on fire! Not only there were vertical flames but there were also diagonal flames, smoke, a lot of fireworks and an intense light show. There was also a massive screen that showed beautiful artwork corresponding to the song that was played at that moment. All these things together made for the fact that Nightwish was a worthy headliner. The beautiful visuals supported the songs so well that it truly created the mystical and epic atmosphere you need at a Nightwish show.
Classics like Ghost Love Score and Nemo were sung by Floor like they were never sang before and like I said, I don't think that there was anybody in the audience that wanted one of the two old singers back. That the band shares my opinion is underlined even more by the fact that bassist Marco Hietala took the time to tell the audience that Floor won the Buma Rocks export award for bringing music to other countries as a Dutch artist. Floor got the award presented earlier that day at FortaRock. Marco and the other band members were glowing with pride and Marco told Floor that this momentous occasion needed to be toasted with wine and that, if they didn't have any wine, he or one of the other band members would get some for their beloved front lady, because Floor he said, that is how we treat you! Despite there being a comical note in his remark I am sure he meant it. The band is very happy with Floor and vice versa! In the set list there was also room for songs from the most recent album Endless Forms Most Beautiful, the only studio album so far with Floor Jansen on vocals. The quiet and catchy Elan surprisingly appears in the set list amidst all the bombastic and heavy-duty songs. Then it is time for the extreme complex and epic 24 minute during The Greatest Show on Earth. I swear to you, composer and mastermind behind Nightwish Tuomas Holopainen should have a statue erected solely for writing and composing this song! It still remains one of my favorite songs of the band and the way Floor carries this song is absolutely phenomenal. But after this it still wasn't over. Nightwish closed this massive set list off with the longtime fan favorite and earlier mentioned Ghost Love Score. Floor shows the audience one last time this evening that she and she alone is the number one front woman of Nightwish. She really sings like there is no tomorrow. During the show Floor also tells the audience that she and the band are coming back to the Netherlands this November for a show in the Ziggo Dome! If that show is going to be just as great or even bigger than the show on FortaRock, then to me November can't come fast enough! (Glenn)
Photos by Jimmy Israel
Also, be sure to check our album reviews of Alestorm's No Grave But The Sea (here), Avatar's Feathers & Flesh (here) as well as Vuur's In This Moment We Are Free – Cities (here). You can also read our earlier live reviews of Dool (here), Nightwish (here) as well as Vuur (here). We also did interviews with FortaRock's Freek Koster (here), Vuur's Anneke van Giersbergen (here and here). Furthermore we also mentioned Vuur in two parts of Promoting Bands (here and here).
FortaRock Official Website
FortaRock Facebook
FortaRock Twitter
Nightwish Official Website
Nightwish Facebook
Nightwish Twitter
Dool Official Website
Dool Facebook
Opeth Official Website
Opeth Facebook
Opeth Twitter
Satyricon Official Website
Satyricon Facebook
Satyricon Twitter
Alestorm Official Website
Alestorm Facebook
Alestorm Twitter
Avatar Official Website
Avatar Facebook
Avatar Twitter
Igorrr Official Website
Igorrr Facebook
Igorrr Twitter
Dragonforce Official Website
Dragonforce Facebook
Dragonforce Twitter
Týr Official Website
Týr Facebook
Týr Twitter
Vuur Official Website
Vuur Facebook
Vuur Twitter
Mantar Official Website
Mantar Facebook
Mantar Twitter
Combined profile for Glenn van der Heijden and Tim van Velthuysen