On Friday September 6 2017, DutchMetalManiac's Alessandro got an opportunity of a lifetime!
After seeing them many times, taking some personal pics and creating a Helix shrine of cool signed memorabilia and personalized, rare items, he got the chance to do a live phone interview with the leading man of Helix – Brian Vollmer himself! It wasn't long but it was intense and a wealth of information for those starting a band and those who are veterans of the music wars!
Helix is still a metal force to be reckoned with; still performing live across Canada and overseas and with several of their newer releases. 2014's fully new track listed Bastard of the Blues and 2016's Rock It Science, a compilation of hits with one new song, (Gene Simmons Says) Rock Is Dead, it brings their total, including solo and compilation and live albums, to at least 25!
Read on! – There's a surprise at the end!
Brian, I am so honoured to be invited to talk with you live at Planet Helix, your home. Thank you so much!
Hey, thank you for the interview, this is great!
Wow. Can't believe I'm talking to the lead singer of the "Hardest Working Band in Canada" as is said in your book Gimme an R. You're still working harder than ever; solo albums, a cool, festive green vinyl single, All I Want for Christmas (Is the Leafs to Win the Cup) (side note: good luck with that one, Brian…lol!) newest record Rock It Science… can you tell us of your upcoming tour?
Well, we have shows in St. John's Newfoundland October 21st then in Brampton October 26th with Lee Aaron and then October 28th in Oshawa.
Lee Aaron The Metal Queen! No way! I saw and met you all at Metal On Ice, organized so well by Sean Kelly, of Nelly Furtado and Crash Kelly fame. It was amazing. Lee signed my shirt…with me in it, right on my chest!
(Vollmer laughs)
What's your best, favorite heaviest, Helix album?
Well they all are, really. Albums are a labour of love, they're like my children. You produce them and then you see them grow and then you have to let them go. But if I had to choose it would be No Rest For the Wicked (1983). The single Heavy Metal Love from that album did really well.
I'm lovin' the new single and video (Gene Simmons says) Rock is Dead – hilarious! So IS rock dead? Has Gene contacted you about this?
(laughs) No, rock isn't dead. Of course, that's not what the song was about. As long as someone picks up a guitar, someone will play metal for a variety of reasons, not just money. And no, he hasn't contacted me but… (slight pause).. he's seen it, I'm sure he's seen it (chuckles).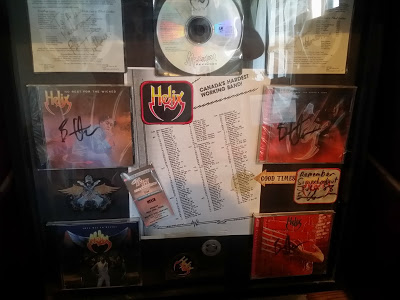 So, tell me of some of the metal influences you've had.
Pretty much what everyone was listening to at the time. Lemmy of Motorhead said you're influenced by the first bands you listen to. He was also always a gentleman and did it purely for the love of the music. Also, Danko Jones for sure and Danko will be singing on my new solo album Get Yer Hands Dirty!
Whoa! A new album. What the… I have not heard of this!
Yea! My new solo project, Get Yer Hands Dirty, available by pre-sale. It'll be on CD as well as vinyl.
THAT is so cool! Well I hope to see you with Lee Aaron on the 26th! I want to thank you so much for speaking with us and….
(SURPRISE HERE!)
Hey, .listen…(slight pause)…why don't you come to the pre-release party here in London next week?
(stunned silence). Umm, you're inviting me to Planet Helix?
(laughs) Yea, it'll be a great time. Just email me and I'll send details.
Oh, wow thank you so much, that's an honour. Thanks so much for your precious creative time and we'll see you at the show!
Thank you!
Is there anything else you'd like to say to our DutchMetalManiac readers?
Yea, Buy the records, keep buying the records and support your bands!
——————————————————————————————————————–
As of this writing, Alessandro has quit his job and will be going for a week of rock n roll mayhem. An exclusive invite for DutchMetalManiac to the home of the legendary Brian Vollmer, frontman of Helix! He will be reporting on this tour as it happens…stay tuned!
You need to grab once in a lifetime opportunities; there are other jobs!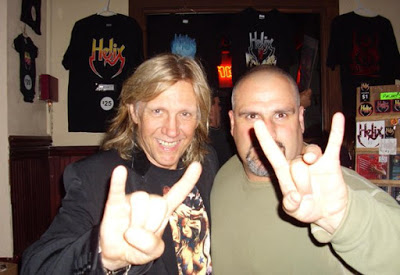 Helix Official Website
Helix Facebook
Helix Twitter