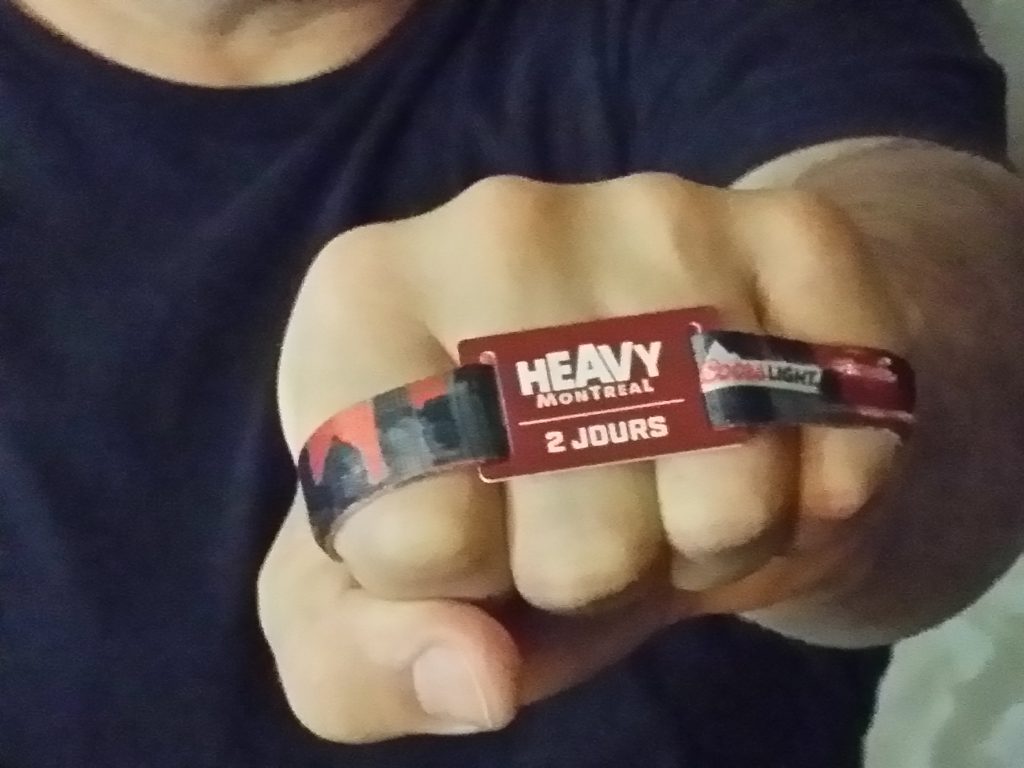 Much can prepare a person for the unknown, except the reality of things.
This grand event, put on at beautiful Parc Jean Drapeau was truly epic, with four massive stages and all the music you could rock to. Phenomenal weather with one refreshing downpour during Marilyn Manson's set…that thankfully got him off there (more on that later), all the coldest refreshments you could handle, and of course, poutine. The gorgeous city of Montreal not only knows its metal but its creation of artery-clogging perfection. It was consumed every day, for four days: a simple recipe really, fresh cut fries, cheese curds, gravy, but not just anyone can MAKE it. Topped with Montreal's famous smoked meat…better than ___________. Add your own word here.
A heartfelt and big thank you to Mitch Lafon, of Rock Talk and Westwood One, our greatest Canadian export, found everywhere at Facebook, Twitter, Youtube and Heavy Montreal for making me feel and be a winner of some of the best concert tickets ever!!!
The full line ups can be seen here although I will recount only what we could manage, running between stages and collapsing, moshing, eating, drinking, etc.. 3, 10 hour days isn't bad, maybe some of you younger folks could have done better!
Thursday 26 July 2018:

Travel and anticipation day! Knew things would go well when the random hotel room booked had the same as the apartment number…with a similar broken door! We were booked across the street from the lottery office, so hoping for good luck, bought some tickets…. guess we keep the day jobs….
Friday 27 July 2018:
Another part of this metal deluge was 77+ Montreal which was not attended but an incredible lineup nonetheless.
Mitch LaFon also kindly, ramped us up with guest list status to Heavy En Ville an incredible night of these amazing bands! A great mix of prog, death and all around fabulous metal! Very cool venue at Les Foufouness Electriques!
Bands featured were: Miss May I, Archspire, First Fragment, The Kennedy Veil, and the very Yes inspired and excellent finger-picking of Sarah Longfeld.
While going in and out of the stages and venturing to the enormous lounge area, discovering my new favourite beverage 'La Fin Du Monde' (End of the World) generally speaking and from what I casually saw, these bands offered a great variety of metal, prog and excellent showmanship all around. Some of it was getting a little gravocally for me, but still impressive. The venue was packed and had a very active and appreciative audience. No slouches any of them!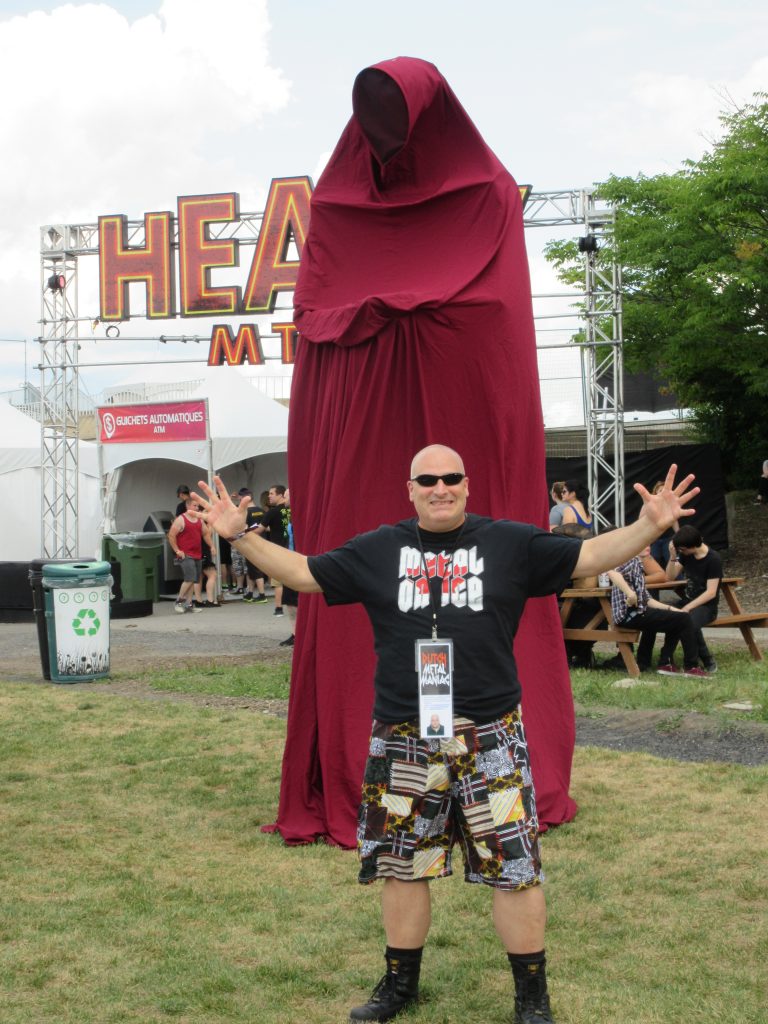 Saturday 28 July 2018: 
Born of Osiris:
The first step into the metal planet found us instantly dragged into ScreamerTown. Hard hitting sound with a great light show, I was impressed having only been peripherally aware of them. Their set list:
Machine
Divergency
Bow Down
The Other Half of Me
Throw Me in the Jungle
Brace Legs
Empires Erased
Silence in the Echo
Lee Aaron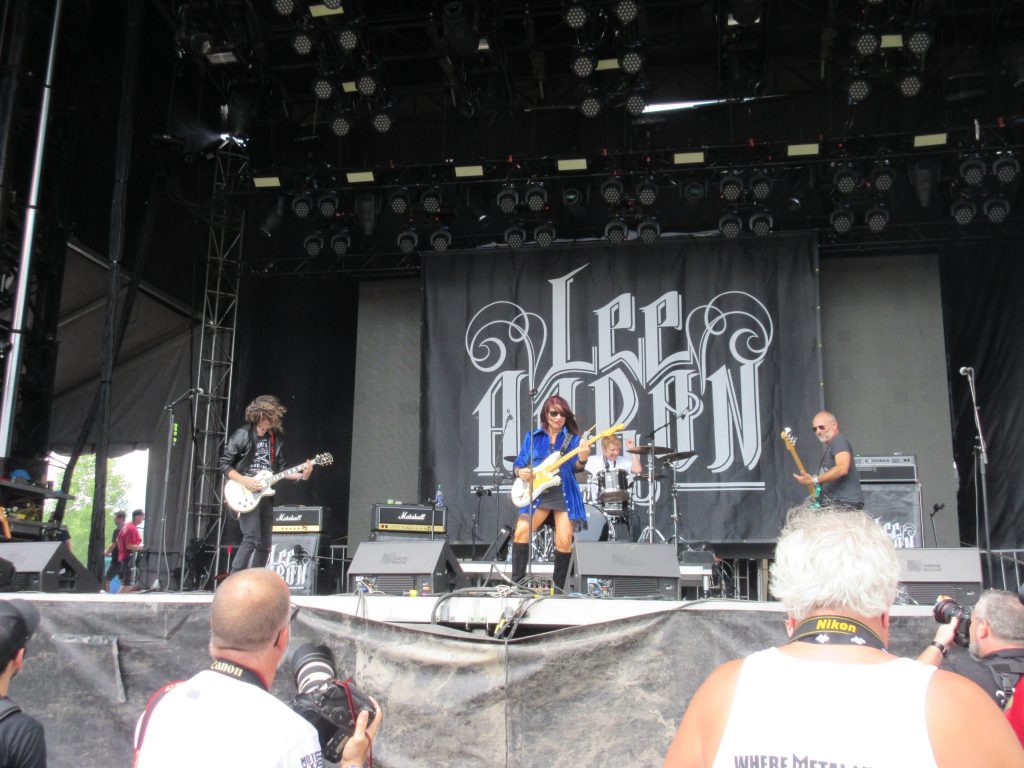 Next up after a brief run to the other side of the park in time to get front row standing-seats for the still, forever, incredibly talented Lee Aaron. I had a nice banter with Sean Kelly as they were setting up, catching his attention while wearing, as far as I could see, the only Metal On Ice tee in the venue, maybe the province! Yes Sean, I was THAT guy that bought the book! Ha-ha!
Bonus: Also, there as the newest and finest professional photographer for Lee, with a keen eye, picking me out and immortalizing my haggard ass for all eternity. Deadly shot, sir! Big congrats on your new gig Rik! (Check Rik's amazing photo array of Metal On Ice – he might have the OTHER book!).
Go see this link for incredible pics of Lee Aaron, Rik Emmett (of Triumph), Metal On Ice and more! A great fellow Twitterite and much appreciated for the 'heavy metal' love!
Launching into the thick, drenching summer air with Metal Queen got everyone in the mood. Lee was as sensuously talented as always with the same supremely talented band we saw at the Rose Theatre Brampton (live review). On and on the hits kept coming with Some Girls Do, Sex With Love, Diamond Baby, Fire and Gasoline, Hands On, American High, I'm a Woman and finally Whatcha Do To My Body. I think I burned it out this first set….
Sword: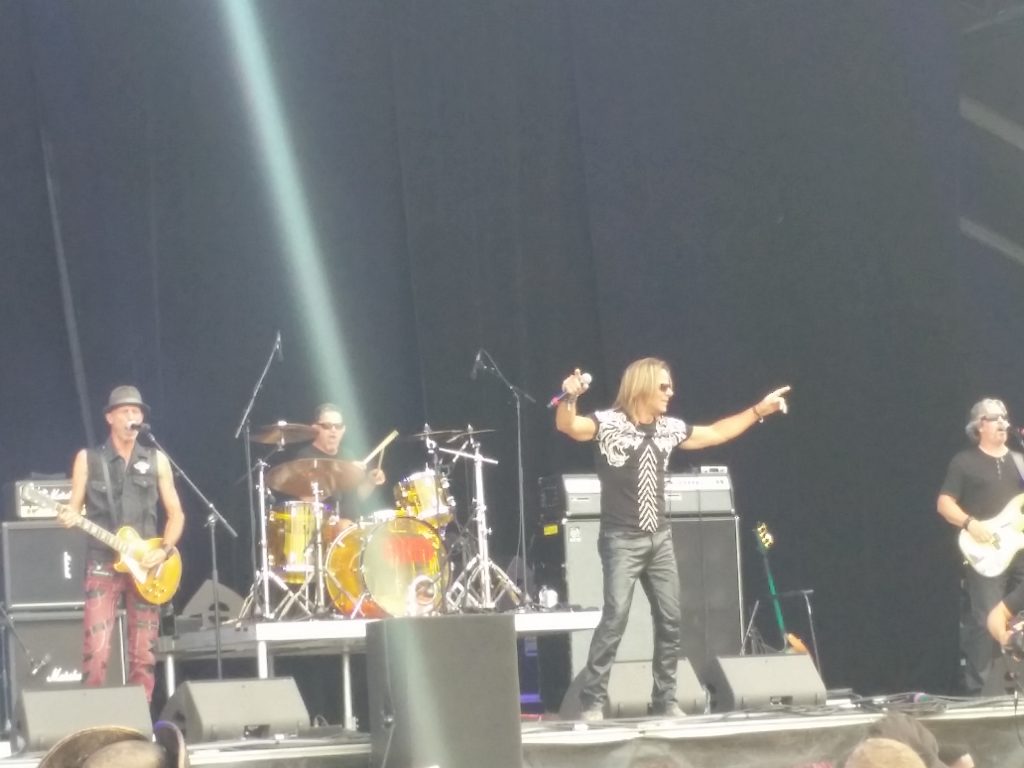 Yet another run, arriving mid performance! Life is now complete having seen these long-standing members of the old school original thrash scene. A last-minute addition, possibly in the stead of RATT, I was completely blown away by this power crunching crescendo of the beautiful chordage. With a small set of the beautifully crafted longer songs of Outa Control, Back Off, The Trouble Is, I'm in Command and of course Stoned Again and FTW were met with resounding applause and respect.
I Prevail: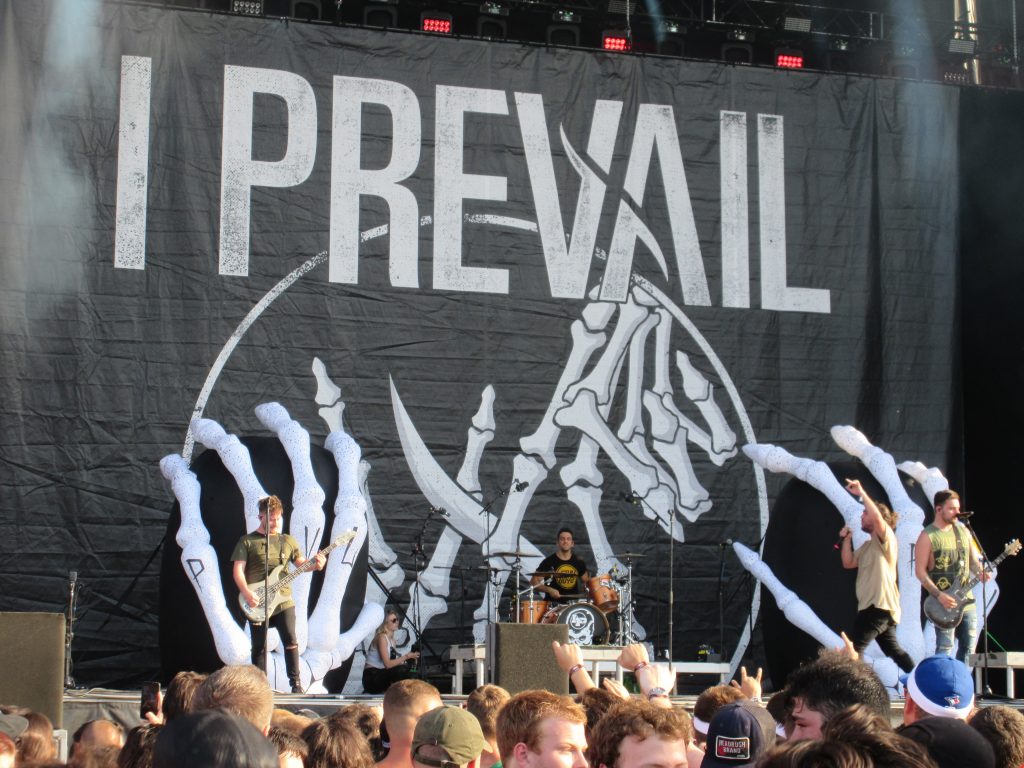 This was my mantra when we were hurled into the rabid but friendly mosh pit. I haven't thrown so many people happily around since working the bars, but this was truly fun. An intense group, and while not my style, an absolute pleasure live and the energy was inescapable. Neck snappers like Rise, Come and Get It, Already Dead and Scars kept the metalcore flowing! VERY cool stage setup lads!
Marilyn Manson: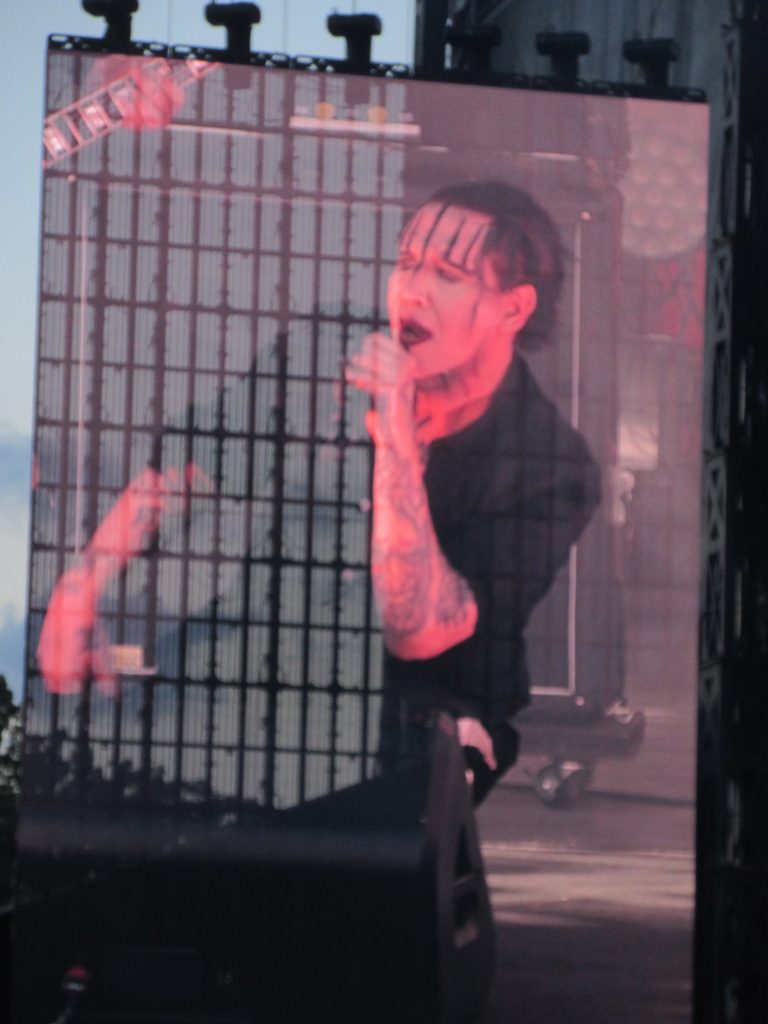 Despite his varied hits and his longevity, The Dope Show (yea, that was a LOT of weed people… kaff kaff!), Say 10, a woeful rendition of The Eurythmics Sweet Dreams (are Made of This), Antichrist Superstar and Beautiful People, this, my first Marilyn Manson show, was not a mOBSCENE for me.
Drab, listless stuff and the cams were centered only on him not his band at any point I saw. I suppose this is his style, but the crowd loved him.  In all due hope, he was feeling better from cancelling the Toronto show due to illness. This might have been a mitigating factor in the lackluster performance.  I personally liked the Heavy Montreal-fall of rain that cut his show short and drenched out the smell of weed and cut the heat that had been adding to already scorching festival!
Rob Zombie: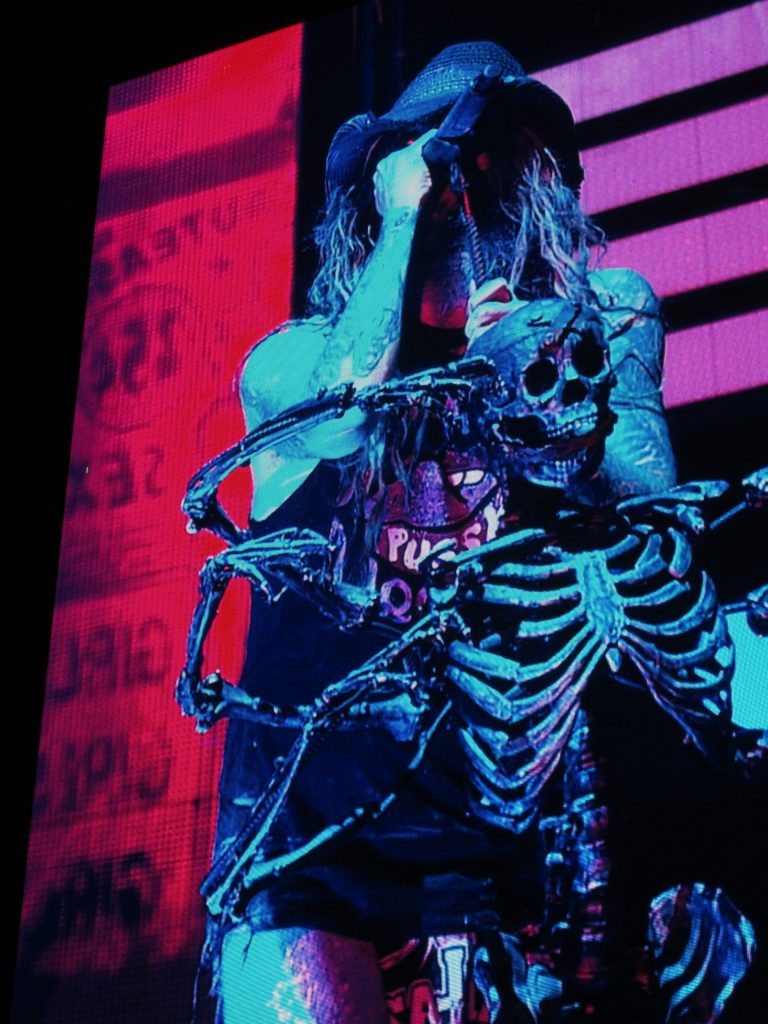 Absolutely the most overwhelming kick ass, brain draining show I expected. Done under a full blood red moon appropriately enough, this giant tracklist and background show, would please any rocker, any generation any genre. Now one of my all-time fave live shows.
Meet the Creeper
Superbeast
Well, Everybody's Fucking in a U.F.O.
Living Dead Girl
In the Age of the Consecrated Vampire We All Get High
Dead City Radio and the New Gods of Supertown
More Human Than Human
Never Gonna Stop (The Red, Red Kroovy)
Scum of the Earth
House of 1000 Corpses
Guitar Solo
Thunder Kiss '65
School's Out (Alice Cooper cover)
God of Thunder (KISS cover) (tour debut)
Helter Skelter – Beatles cover with Marilyn Manson
Marilyn seemed to have a bit more energy here, but I think Rob threw him a bone having him come out for some notoriety.  Not a Beatles fan either but they drowned out the Sorrowful Sixties sound of it for a good rendition.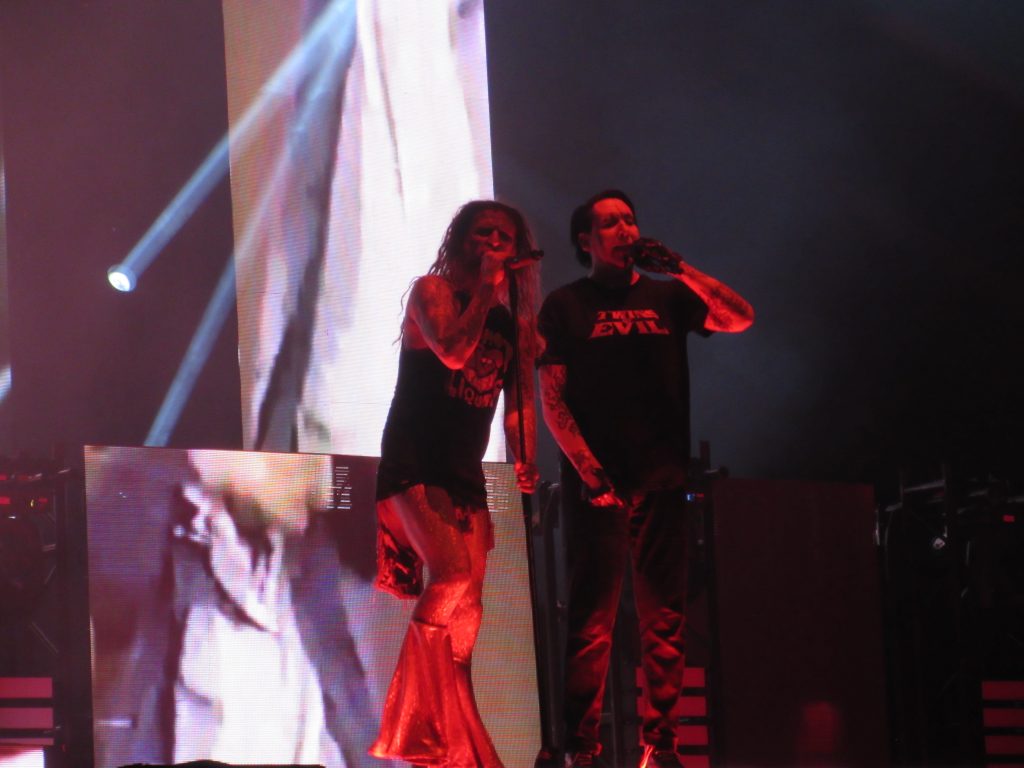 Encore: Dragula
The shows timelines were near exact and well respected by the bands as there was limited time to setup soundcheck (if even) and play. Zombie ended at about 10:45 pm and then it was the exhausting, crowd laden Metro' ride back. The happy metal-head energy was palpable on the great streets of Montreal. Night Two coming up…
Sunday 29 July 2018:
Ok. I'm feeling the mosh pit now. Even our energy laden, high protein breakfast isn't going to stave off the aches and pains of this one so easily. Better try La Fin Du Monde instead!
Helix: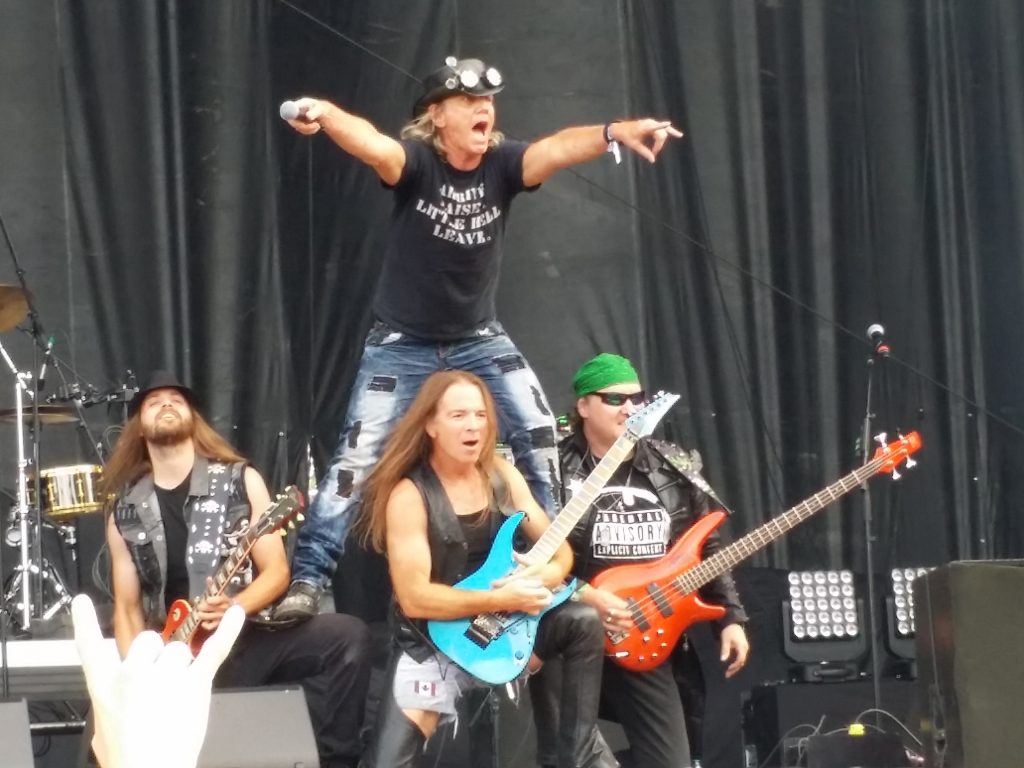 Having seen, interviewed, rocked and partied with Helix several times (see our interview, live review and pre-release party review) they always satisfy and amaze with 30+ year boundless energy. No background Helix stage banner interestingly, but then, once you hear Rock You, who else could it be? All their hits in an unfortunately shorter set were included: Wild in the Streets, Feel the Fire, a cool bonus of Danger Zone, When the Hammer Falls, Heavy Metal Love, Deep Cuts the Knife, dedicated to the great Mitch Lafon, and finally of course, Rock You with Vollmer getting out to us as far as the mike cord would allow! The boys all performed with the large stage energy as they are fit to do.
Emmure:
A short jaunt past the stage but this was a decent sound. Very heavy with strong Limp Bizkit overtones, this isn't my fave, but the team was up to the challenge. Ice Man Confessions was alright, but I doubt I could listen to an entire CD in a row!
Bad Omens:
Some good heavy stuff here and while we stayed for a brief time, what I heard was excellent. Superb energy and playing and there was a great following. The band is tight with great riffs excellent action on stage. The light show was awesome as well for one of the smaller stages. The Worst In Me and Reprise were excellent.
Voivod: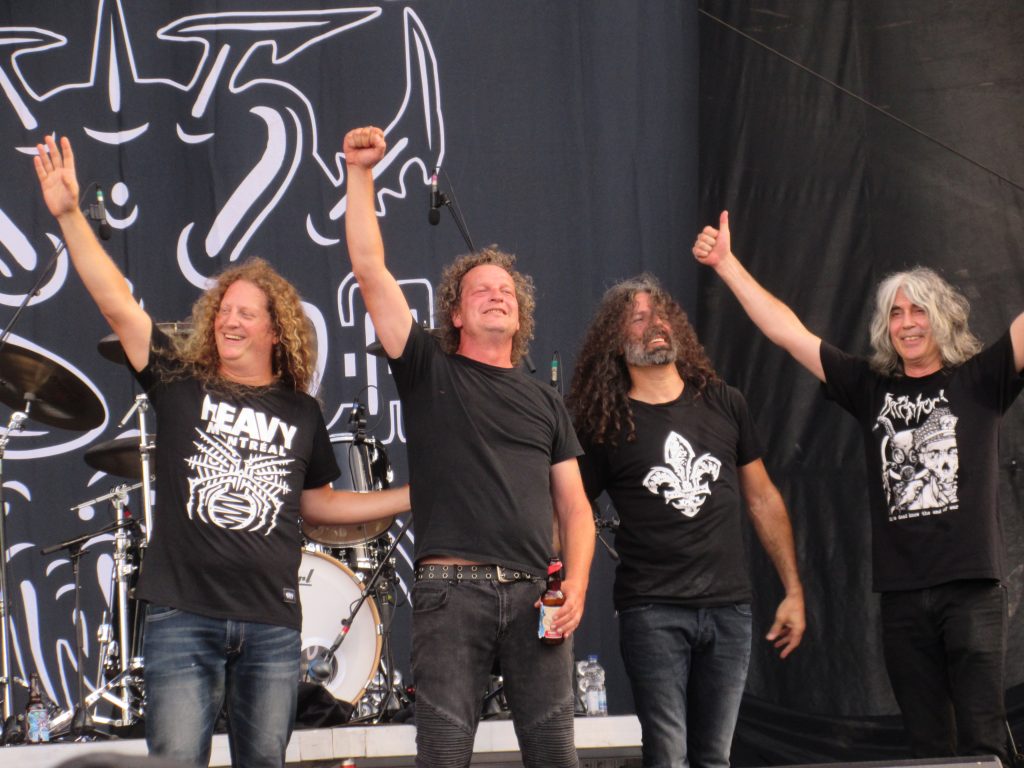 Just…wow. Life is now doubly complete having seen them. My roaring for Jack Luminous was deafening and constant but sadly not played with the limited timeframes. This was still a great set of tracks and for being around for 35 years, there isn't an inch of live given to anyone in this band.
Post Society
Ravenous Medicine
Psychic Vacuum
Obsolete Beings
The Prow
Order of the Blackguards
Unknown
Voivod
There you are; as many as we could comfortably do with the amount of travel and racing about. The selection is fabulous but there are so many choices and over lapping times, it's hard to decide. Sometimes, you just gotta sleep!
Sorry to see you in the rear-view mirrors Montreal! Adieu!
An incredible show and experience, thanks once again Monsieur LaFon!
85/10
Photos made by Alessandro
Heavy Montreal Official Website
Heavy Montreal Facebook
Heavy Montreal Twitter
Miss May I Official Website
Miss May I Facebook
Archspire Facebook
Archspire Twitter
First Fragment Facebook
First Fragment Twitter
The Kennedy Veil Facebook
The Kennedy Veil Twitter
Sarah Longfield Facebook
Sarah Longfield Twitter
Born of Osiris Facebook
Born of Osiris Twitter
Lee Aaron Official Website
Lee Aaron Facebook
Lee Aaron Twitter
Sword Official Website
Sword Facebook
I Prevail Official Website
I Prevail Facebook
I Prevail Twitter
Marilyn Manson Official Website
Marilyn Manson Facebook
Marilyn Manson Twitter
Rob Zombie Official Website
Rob Zombie Facebook
Rob Zombie Twitter
Helix Official Website
Helix Facebook
Helix Twitter
Emmure Official Website
Emmure Facebook
Emmure Twitter
Bad Omens Official Website
Bad Omens Facebook
Bad Omens Twitter
Voivod Official Website
Voivod Facebook