Here it is! The event of a lifetime! Why I quit my job for rock n roll!
The week was a blur, an amazing double bill at the Rose Brampton for Helix and Lee Aaron (our live review), more running around and prep work and then the ultimate 3 hour voyage to a nearby …Planet.
When we got there, the house, which has been featured on MTV Cribs, is outwardly garish, slick and very red. Simply beautiful. Darker as it got, we waited for a few minutes, soaking it all in, watching guests arrive and trying to stem the bit of nervous anticipation of going into one of your favourite rock stars' house!
Squawking back the front iron gate, we're hit with the Halloween-ness of the setup. The amazing food spread inside the living room, the smell of mouthwatering appetizers cooking, the scary noises and since The Devil Was Having a Party Tonight, (Helix's latest single, on wickedly slick red vinyl) that's who answered the door.
Introducing ourselves, a quick hello and a friendly don't bother with your shoes, and some chit chat, Vollmer-Devil was off to mingle with an already packing up event. Rockers and friends mixing together, completely friendly and hyper-costumed, it was a good ol' fashioned house party.
The sounds of Vollmer's new solo release were playing, to rave applause and congratulations. Featuring Canadian icon Danko Jones on the title track and background vox of amazing Cheryl Lescom, the album is a fabulous release of 7 covers and 2 originals: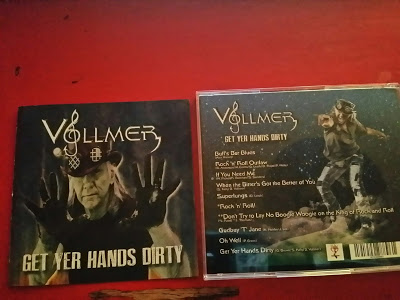 Buff's Bar Blues (Alex Harvey)
Rock n Roll Outlaw (Rose Tattoo)
If You Need Me (Wilson Pickett)
When the Bitter's Got the Better of You (original: Kelly/Vollmer)]
Rock n' Roll /Don't Try to Lay No Boogie Woogie on the King of Rock and Roll (Velvet Underground/Long John Baldry)
Gudbye t' Jane (Slade)
Oh Well (Fleetwood Mac & Peter Greene)
Get Yer Hands Dirty (original: Brown/Kelly/Vollmer)
Indeed the guitar and writing of famed Sean Kelly is also underscored on the record (see Helix/Lee Aaron live review for more Sean)!
Perhaps not metal in the sense hardcore metallers are looking for, but check these songs; they have deep roots and personal connections to Vollmer and are a part of rock and metal history.
As over 100 people now poured into the narrow house and onto the outside deck, even amidst the oncoming stormy rains, I met many people in the rock industry; Doug Weir of Syre and now Damn Pigeon! I was floored. Such an awesome guy and hopefully (take heed, Tim!) a possible review of their new record!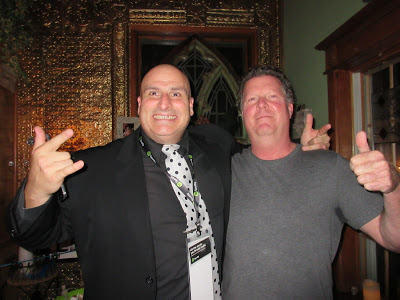 Also, Jim McKormick CEO of Allstage, prime supporter of live music, they have an app at Google Play/App store!….Fritz and Kaleb, Helix drummer and guitarist…too many to count. Everyone with a kind word, everyone with a hug and a handshake; it was overwhelming.
Vollmer's wife Lynda was the ultimate hostess and made sure everyone was not drinking and driving and were well fed, amidst ordering the Devil to mop up some spills, ha! The next album needs to be called "Domestic Metal"! You are the greatest!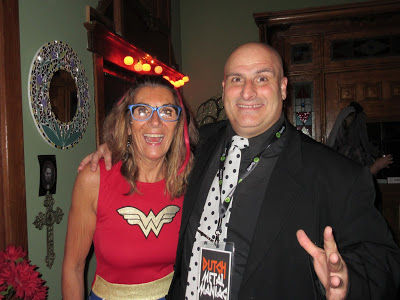 The "Helix Bucks" as I call them were an awesome piece of swag, a fitting invite to the Devil's Party! (Conceptualized by Don and Tracey – these are not for copying and posting without express permission).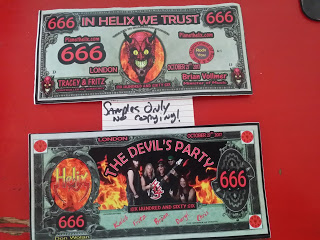 As the rains wore on it was time to venture out after some heavy hearted goodbyes; an amazing groove at Planet Helix, and a successful launch for the new record, hopefully to be repeated!
10/10 – Record
15/10 – Hospitality and Welcome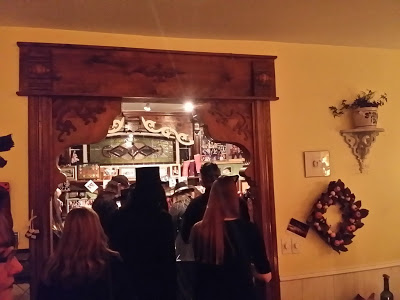 Read the earlier interview DutchMetalManiac's Alessandro did with Helix vocalist Brian Vollmer here.
Helix Official Website
Helix Facebook
Helix Twitter