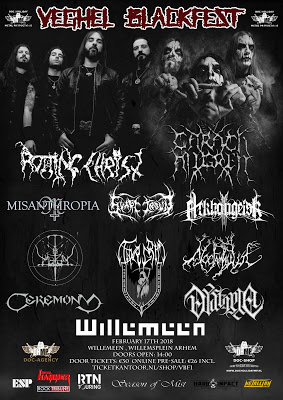 In a bit more than a month, on February 17th, 2018, it's time for a new festival. After three successful festivals in death metal style organized by Doc Holliday Metal Productions, this time it will be in black metal style. Doc Holliday Metal Productions, who are they exactly?
Doc Holliday Metal Productions is founded by Alwin Roes, bassist of the Dutch band Dead End. In a pretty short time, Doc Holliday Metal Productions' activities were extended and so did their crew with Dave Blummel and Meindert Meinsma being the main men besides Alwin. Nowadays Doc Holliday Metal Productions is an agency for twenty bands, for example the Dutch band Altar and the Belgian guys of Moker. Besides being an agency, they also got their own record-label and -shop. Last but not least, they organize gigs. They do DocFest Metal Meetings at different locations, they have the regularly returning Veghel Deathfest and now they got their first edition of Veghel Blackfest lined up. Besides Veghel Blackfest, the following gigs are already confirmed coming from the Doc Holliday Metal Productions camp:
Death From Within IIat Studio Gonz, Gouda, The Netherlands, March 24th, 2018
Doc's Metal Massacreat De Reunie, Geleen, The Netherlands, May 12th, 2018
Veghel Deathfest IV atDynamo, Eindhoven, The Netherlands, May 26th, 2018
However, first of all: Veghel Blackfest!
As you can probably now by its name, Veghel Blackfest will be a festival for people who dig black metal. However, within black metal there are many differences and Doc Holliday Metal Productions have got that perfectly balanced with this line-up of Veghel Blackfest.
Rotting Christ
Headliner of this first edition is the Greek band Rotting Christ. These Greeks are already playing black metal for a while now and while doing so they regularly use ancient Greek influences in their music. Last year this band existed for 30 years, so they have enough experience to give you a phenomenal show. Curious!
We also reviewed their Rituals album (here) and their Lucifer Over Athens live-album (here).
Rotting Christ Official Website
Rotting Christ Facebook
Arkhangelsk
The other band coming from Greece performing today is Arkhangelsk. In contrast with fellow Greeks Rotting Christ, this is a fairly new band. They just formed in 2015 and released their debut EP in 2016. Last year, Arkhangelsk also played their first shows and made the announcement that they are writing new material. The tracks on their debut EP sound great, so I really look forward to their new material and their performance at Veghel Blackfest.
Carach Angren
Doc Holliday Metal Productions also makes sure you can support your local scene. They got six bands playing on Veghel Blackfest that are Dutch. The biggest name of these six bands is Carach Angren. This horror metal band plays dark, theatrical music based on concept stories. I already saw them live twice and I also really look forward to seeing them perform again at Veghel Blackfest.
Read our interview with Carach Angren's keyboard-player Clemens 'Ardek' Weijers here.
Carach Angren Official Website
Carach Angren Facebook
Carach Angren Twitter
Misanthropia
One of the other Dutch bands is Misanthropia. They play a melodic form of black metal, sometimes even in epic proportions. The in 2016 released album Omerta is a fantastic album with sometimes even some prog-elements shine through. Seeing this live must be amazing!
Misanthropia Official Website
Misanthropia Facebook
Ceremony
The band who is probably the most divergent music-wise today is Ceremony. This, also Dutch, band plays music being more death metal than black metal. However, this offers a variation for the audience. This way, Ceremony can shake the audience's heads while they are headbanging before they go back in black metal modus.
Dystopia
Dystopia, another Dutch band, play their black metal mixed with some psychedelic doom influences. To do this they use two instruments that can be called unconventional in metal: the trumpet and the trombone. This gives a very nice touch to Dystopia's music and if their show will be as nice as their latest album Chaos Philosophorum, which is released in April, I can't do anything other than looking forward to it.
Dystopia Official Website
Dystopia Facebook
Yaotzin
Yaotzin is a Dutch band playing fast black metal, already existing for quite some time. Other than a hiatus between 2009 and 2013 they are going strong in the black metal world since 1995. Based on their music this will be a crushing show!
Yaotzin Official Website
Yaotzin Facebook
Noctambulist
The last Dutch band to mention is Noctambulist. This band is formed a short time ago and as far as I know they haven't released any music yet. However, the members of Noctambulist are no strangers in the metal scene. Bassist/backing vocalist Sam C.A. used to sing in progressive metalcore band Discreator. Guitarist Stef Heesakkers also plays guitar in doom metal band Treurwilg, which is also where the band's drummer Mitchell Scheerder plays in. Last but not least, their vocalist/guitarist J.D. Kay also sings in the modern death metal band Purest of Pain. Based on their Facebook page Noctambulist plays atmospheric post-black metal. Curious to hear their music and see the show!
Svart Crown
Svart Crown hails from France and plays blackened death metal. In March last year they released their fourth album, titled Abreaction, which is a great album. The music on Abreaction is very intense and this promises a very nice and intense performance!
Svart Crown Facebook
Svart Crown Twitter
Thyrgrim
There is only one more band I haven't mentioned and that is the German band Thyrgrim. Personally, this is the band on Veghel Blackfest I am mostly looking forward to. The first time I heard Thyrgrim's music, which was on their 2015 album Dekaden, I was immediately blown away. What an album! The successor of Dekaden, Vermächtnis (released September last year), is also definitely worth listening. Really looking forward to their show at Veghel Blackfest!
Read our review about Thyrgrim's Dekaden album here as well as a Promoting Bands including Thyrgrim here.
This promises to be a very nice afternoon/evening full of black metal, do we see you there at Veghel Blackfest?
Haven't got tickets yet? Buy them here.
Veghel Blackfest event on Facebook
Doc Holliday Metal Productions Official Website
Hi!
I'm Tim van Velthuysen and I started DutchMetalManiac back in 2014. I'm 29 years old and I live in Nijmegen, The Netherlands. Of course, I like metal, but I can also appreciate other musical styles.
In addition to DutchMetalManiac I also have a personal website on which I'll post various things that won't fit on DutchMetalManiac, but might be interesting for you as well. It's in Dutch though.