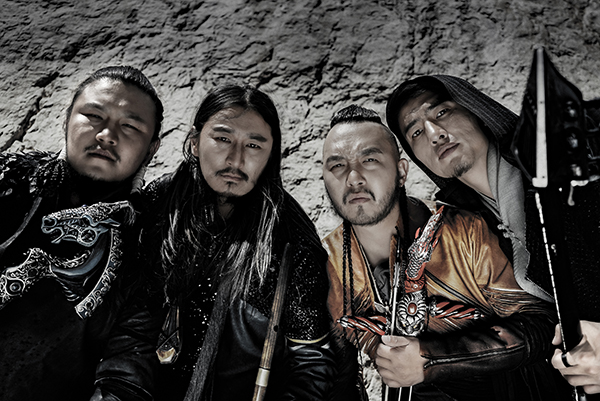 On July the 1st The Hu played their first Dutch show in the Melkweg, Amsterdam. You can read our live review of that show here. Before the show DutchMetalManiac's Tim van Velthuysen sat down with The Hu's Gala (throat singing/morin khuur), Jaya (jaw harp/tsuur/flute/throat singing) and Enkush (morin khuur/throat singing) for an interview.
Hey, you already toured Europe for almost a month right now. How is it going so far?
Gala: We're doing really good and all of our headline show are sold out. We've also been playing at legendary festivals with legendary bands that we were growing up listening to. We feel so loved by the people of Europe and the UK because when we go to these big festivals like Rock Im Park, Rock Am Ring and even though at noon when we are the opening band thousands of people are still waiting for us and shouting "Hu! Hu! Hu!" which we think is fantastic.
Have you ever been in Europe before as individuals?
Jaya: As a band it's the first time but personally the members came here with different bands before. It's been so crazy because we got 23 shows in 30 days and everyday is just about playing shows, go to sleep in the bus and get up in wonderful cities and play and do the same.
You already mentioned that it is your first European tour and all shows already are sold out, including tonight's one. How does that feel?
Gala: We feel so loved by the people here. We are not only touring here, we will actually do a North American tour in the fall in America and Canada. Not only that, we're also going to release our first album, on September 13th. After that, next year we're going to be back here again.
Nice. Also looking forward to tonight's show?
All: Yeah!
Our readers question comes from Evelyn van Koot and her question is: what is the meaning of the band name The Hu?
Gala: It is a very ancient word. Hu is the Mongolian word for human. We chose this name because of the inclusive nature. We want to include everybody in the world. As in that we're one big family. We want our messages and other things to be heard by every human being on this earth. When you say this word we believe that it means power, when you say "Hu!" you get that positive energy. We want to share this positive energy with everybody.
Your first two videos Yuve Yuve Yu and Wolf Totem went viral very fast. How did that feel for you?
Jaya: We are so honored and humbled by the reactions of the people all around the world. We believe that it went viral and successful because of our hard work. For example, in order to film our first music video for Yuve Yuve Yu we traveled over 5000 kilometers off road to Western Mongolia, we wanted to include the beautiful nature of the Mongolian land. So we went to the highest mountain and the highest desert. Some day would be like on top of the mountain with the snow while some other day would be like burning in the sun. Because of our hard work and message, I think that people reacted greatly. Secondly, with Wolf Totem we wanted to bring some message. Our music is a mixture of Western and Eastern, new and old. So we wanted to connect this whole spirit of the people, human beings, like Mongol warriors and bikers, even though they might have like thousands of years apart, but that warrior spirit can be translated to any generation, we can use that in a positive way, that power. We can be a warrior inside regardless of time, race and country.
What does coming from Mongolia mean to you?
Gala: It's very important as Mongolians that we wanted to show the world how beautiful Mongolia is because we have such a rich history, traditions and beautiful things in music. For example, the musical instrument that we play called morin khuur, also known as horse headed fiddle, has been there for thousands of years, being played by Mongols, or the tovshuur and others. So we wanted to combine this beautiful Mongolian traditional music with the western music and show the world how beautiful it is while also sharing our message. The most important thing is actually our message, because we want to show all people to get energy and be strong when they listen to our music and get this energy, to do something good for the world, unite together and love this nature, the world as it is, we have to protect that. We want to inspire younger generations to get strong and stand against injustice in the world. That's our message.
You already mentioned that you're inspired by Mongolia's past. Are you also inspired by Mongolia's here and now?
Jaya: Of course, it's all about today because of our mixing between old and new, the message is eternal. We are inspired by this old history and by being strong, but it's for the younger generation. There are a lot of things going on in this world and we're actually singing to them, we're not singing to our ancestors. We are singing to the people who are on this earth today and try to inspire them to get strong and be united together, to do something good today for the future.
I've heard about a metal festival called Noise Metal Fest. How is the metal scene in Mongolia?
Enkush: We actually know the people who are in charge of Noise Metal Fest. They are trying to get more and more bigger stars every year. This year they brought Sepultura to Noise Metal and that was cool.
In May you met Mongolia's president Khaltmaagiin Battulga. How was that for you?
Jaya: It was an absolute honor to see our president. He expressed his support and love for our music. He reminded us of how important it is to do something positive and stay strong together. We will represent Mongolia in the world positively. We're trying hard and we'll get better I think.
You call your musical style Hunnu Rock, which could be very dynamic as it was stated in the press releases. Does it also have boundaries or is literally everything possible?
Gala: There are no boundaries. We will do anything we want because we're creating something. We started this style with our producer Dashka. He's not like a traditional producer we would think of. He's more like our band member who doesn't go on stage. But he's like a member of the family and he's included in every song. It started three years ago, he found the idea while he was traveling in Western Mongolia in the Khovd Province, which was his father's homeland and which is the birthplace of the throat singing. So, when he was there, he wanted to write some beautiful songs for his father and his ancestors. He thought that the combination of this traditional music and singing style with the Western rock music was going to sound amazing. So he started researching for instruments, music and tuning styles. In 2016, the four of us got together with Dashka and we went working on our first three songs and we eventually found this sound that we were looking for and it's still evolving. This Mongolian traditional playing style with the tovshuur, the Mongolian guitar, has been there for thousands of years played by old Mongol tribes. The tuning is like fifth and fourth, which is the actual rock guitar playing style. Even the old Mongolian rhythms are just rock. That always has been there so we just needed to combine and mix it carefully with the rock music. That's why we came up with this. We are the first band playing this new rock style right now, but we know that we're not going to be the last band to play this style.
You already mentioned that on September 13th, you're going to release your debut full length, The Gereg. The three songs that are already on Youtube will be on it. What can we expect from the other songs?
Jaya: Our first album, The Gereg, will be released September 13th. As for now, you can already pre-order it on our website. This album is all about the message and also inspiring others with courage. The name of the album is The Gereg because we chose this name. It is the diplomatic password introduced to the world by our ancestors. In the 13th century when you had this Gereg, you could go to many nations without any problems. We named our album The Gereg so that this album becomes our diplomatic password to the world so we can travel every nation, every country without any restriction and without any harm. We want to share our music and share our message through our music. We want to give people strength and pride. We also want to invite people to join us and be united and to do something good.
I'm looking forward to it. In September and October you are going to a North America. Also looking forward to that?
All: Yeah.
Do you already have plans for after October?
Gala: The North American tour will start in September, but it probably is going to be until mid December. We got so many dates, we haven't announced all dates right now because it's in process. We also are working on our second album. Half of the songs are already recorded actually. Four or five songs for the second album are recorded and we're going to work on the rest of the songs. We also will be back in Europe shortly too.
Do you already have any idea and can you already tell something about when that second album can be expected?
The Hu's manager/translator: Not yet.
Thanks for your answers. Is there anything you want to say to our readers?
Gala: Thank you so much for everything and we are so honored to be here in Europe and the UK because we feel so loved. Even though it's our first step, everywhere we go all we get is love and support. So we are so lucky to be here and these reactions from the fans in Europe gives us the strength to do more and do better. We know that we will be here so many times and we'll see you next time.
The Hu Official Website
The Hu Facebook
The Hu Instagram
The Hu Twitter
Hi!
I'm Tim van Velthuysen and I started DutchMetalManiac back in 2014. I'm 29 years old and I live in Nijmegen, The Netherlands. Of course, I like metal, but I can also appreciate other musical styles.
In addition to DutchMetalManiac I also have a personal website on which I'll post various things that won't fit on DutchMetalManiac, but might be interesting for you as well. It's in Dutch though.