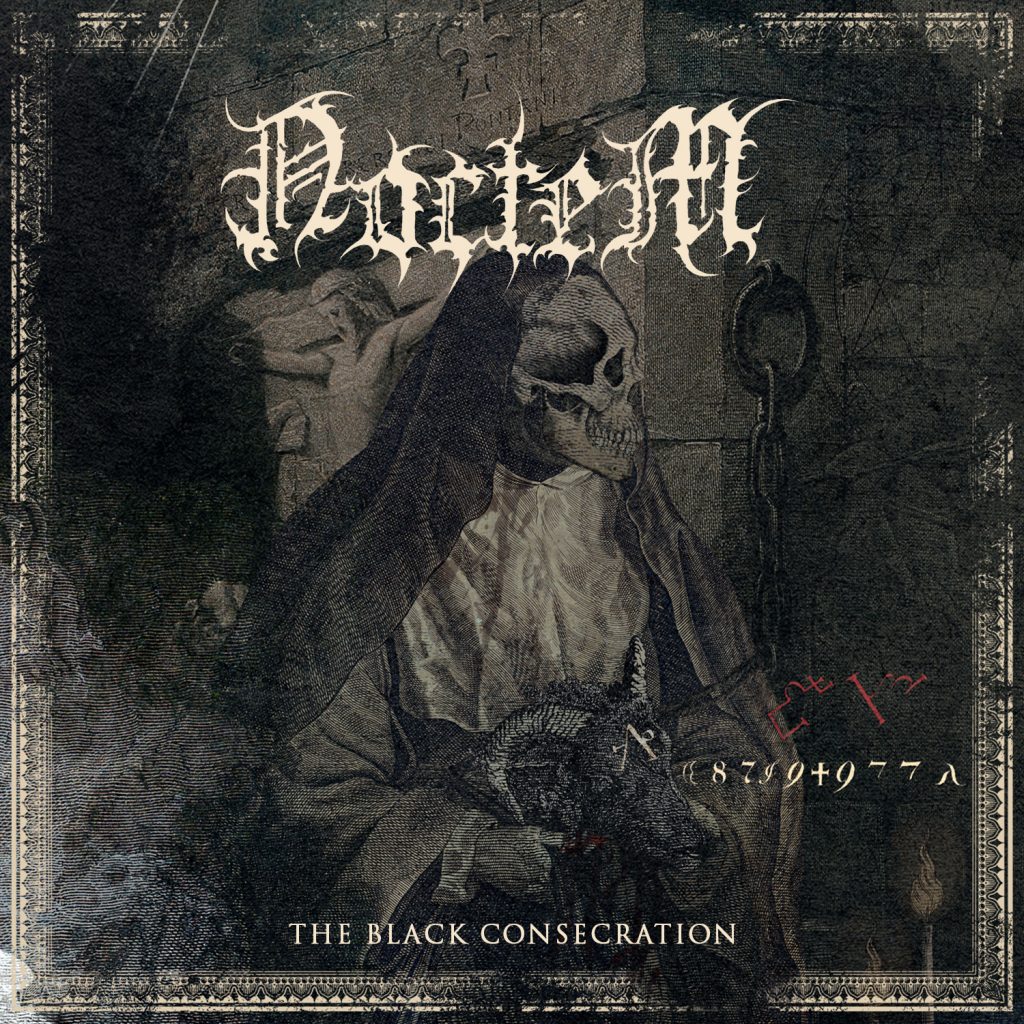 Earlier we already wrote about Noctem on DutchMetalManiac. We reviewed their previous album Haeresis here, we had an interview with their vocalist Beleth, which you can read here, and we wrote a live review about their show in dB's, Utrecht, where they performed together with Wesenwille and Evil Oath. You can read that live review here. Earlier this month these Spanish blackened death metallers released Haeresis' successor, and fifth studio-album in total. This new album is titled The Black Consecration and is released via Art Gates Records.
The Black Consecration immediately starts with its title track, in which Voor's very raw-sounding drums stand out quite soon, constantly firing at your ears like machine guns, as can also be heard in for example Coven and Let That Is Dead Sleep Forever. In addition to that there are also some deeper sounding drums to be heard, such as halfway in this title track, at some moments in the already-mentioned Coven and in Court of the Dying Flesh, in which these deep drums are nicely combined with Varu's humming bass.
Those crushing drums and Exo's and Ethell's lingering guitars, such as in Court of the Dying Flesh, are augmenting each other, making this combination this album's power. Exo's and Ethell's guitars may sound lingering for the main part of The Black Consecration, that definitely isn't all we'll hear on this album guitar-wise. For example there is a guitar that you won't really expect in this style of music, an acoustic one, to be heard at the end of the title track and halfway into Uprising of the Impenitents. Those parts are very calm, making the transition quite big, but despite this being quite a big step, it's executed very fluently. You might think that the calm end of the title track is a predecessor for the next track, Sulphur, but if you do so, you'll be surprised, because Sulphur again pounds very heavily. Uprising of the Impenitents is instrumental from the acoustic guitar-part on and becomes much heavier and quite sludgy after that part.
The Black Consecration contains a lot of power, with some moments where the discharge of power seems to be even more extreme, such as at the start of Let That Is Dead Sleep Forever, partly due to Beleth's very deep grunts, which we'll also hear in All That Now Belongs To The Earth, and his first scream in Court of the Dying Flesh. So, as I already mentioned at some moments Beleth also delivers very deep grunts. Something we can, in addition to Let That Is Dead Sleep Forever and All That Now Belongs To The Earth, also hear in Sulphur, where they reach an even deeper level. During the chaotic-sounding part halfway Sulphur we also hear Beleth perform some very dark, low, clean vocals, something he also does in Coven, Court of the Dying Flesh and closing track Dichotomy of Malignancy. Beleth does a lot with his vocals for sure, but for the main part his vocals are very raw, hoarse screams.
With The Black Consecration Noctem delivered a very strong, enormously overwhelming and crushing album, which makes The Black Consecration very recommended for everyone who likes to listen to extreme metal.
Noctem Facebook
Noctem Instagram
Noctem Twitter
Hi!
I'm Tim van Velthuysen and I started DutchMetalManiac back in 2014. I'm 29 years old and I live in Nijmegen, The Netherlands. Of course, I like metal, but I can also appreciate other musical styles.
In addition to DutchMetalManiac I also have a personal website on which I'll post various things that won't fit on DutchMetalManiac, but might be interesting for you as well. It's in Dutch though.