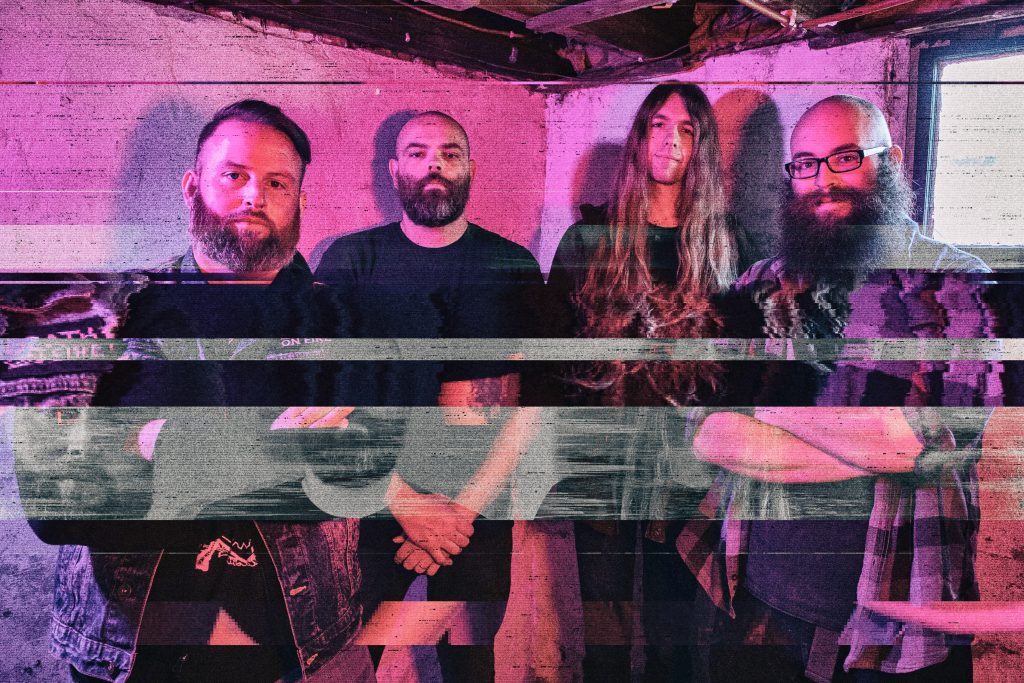 Recently, DutchMetalManiac's Tim van Velthuysen interviewed Death On Fire.
Hey, how are you?
Doing great thanks!
Can you tell us something about the history of Death On Fire?
We started off as a bedroom project in Chicago. Eventually I wanted to play live and once I moved back to Fort Wayne IN, I reconnected with some friends and started rehearsing. We have released several demos and toured across the Great Lakes region quite a bit and started making a name for ourselves in the area. Last year we released our first official full length album and then the world shut down. Now we have some new music and are ready to pick up where we left off.
For people not knowing Death On Fire (yet), how would you describe your music yourself?
We are a melodic death metal band. We love that early Gothenburg sound and have some of that, but we have a lot of American OSDM influence too. I would say the easiest way to describe us is a thrashy/progish Iron Maiden with meaner vocal styling.
When someone doesn't know Death On Fire yet, and you can choose one of your songs to present yourself, which song would that be?
The new single that just came out is a solid tune to introduce ourselves. A Hell of Our Own Design has a little of everything we do and has a really fun bridge section. I also recommend Lies We Eat from our last album: Ghost Songs.
What makes Death On Fire unique?
We have several influences from a wide range of styles and we figure out how to wedge them into a metallic context. We love new wave and post punk, death metal, NWBHM, Tom Waits, Nick Cave, jazz, classical. We are music nerds. I think the biggest thing compared to other newer bands is that we have so many influences we sound different from other peers and it allows us to stand out from the pack a bit.
Any future plans you can already tell us something about?
We have our new EP Six Foot Box coming out July 16th. Aside from that we are finalizing a short December tour and working on some festival slots. We also have a new album in the can that we are seeking a label to help us release. We have been staying busy for sure. 
Any upcoming gigs for Death On Fire? Maybe coming to The Netherlands?
We have a slew of short run shows we are doing over the summer and the December tour we are planning in the SE of the US. We are hoping to find a way over to Europe next year once things open up a bit more. The Netherlands is absolutely on that list.
How do you think your life would be without music?
Dark and meaningless. Music is always on in the background, I wake up with it, work with it and work on it, go to sleep with it. Music is so deeply ingrained in me that I can't imagine a life without it. It is the way I have found to say those things that I don't have the words to say.
What advice would you give to young and starting bands?
Embrace the grind!!! This is supposed to be fun, but it is also hard and there are plenty of times that you will want to quit or reassess what you are doing. Just stay the course, have fun, and enjoy. Additionally, don't half ass anything. We made this mistake in the beginning by saving money in the wrong areas. The music is what matters to musicians but the visual aspect of the band is so important. Get good photos, art and videos.
Thanks for your answers! Is there anything you want to say to DutchMetalManiac's readers?
Thank you for supporting your local scene and for exploring new music and discovering new bands. Hopefully you dig what we do and share it with friends. Most importantly though, just a heartfelt thank you!
Death On Fire Official Website
Death On Fire Facebook
Death On Fire Instagram
Death On Fire Twitter
Hi!
I'm Tim van Velthuysen and I started DutchMetalManiac back in 2014. I'm 29 years old and I live in Nijmegen, The Netherlands. Of course, I like metal, but I can also appreciate other musical styles.
In addition to DutchMetalManiac I also have a personal website on which I'll post various things that won't fit on DutchMetalManiac, but might be interesting for you as well. It's in Dutch though.