On the first two days of June 2019 it is again time for Fortarock in the Goffertpark in Nijmegen. This time it isn't just another edition of Fortarock, but an anniversary edition, celebrating the tenth time this festival is happening. Soon after entering the festival area it appears that the organization changed the layout of the area compared to earlier editions. After a few moments of getting used to this, this seems to be done in a fine way. There is a clear and spacious area to get different kinds of food, the toilets are accessible from two different directions, the Main Stage and the Tent Stage are next to each other, which makes it easy to get from one stage to the other pretty quick. The only exception to this latter point is the new third stage. However, this isn't very far. This third stage is called Hank's Garage, the bands that are going to perform on this stage are playing heavy music that isn't always metal, but it is music that can be within metalheads' taste of music for sure. Almost all the bands that perform on this stage start five minutes after the preceded Main Stage show and are ending five minutes before the next Main Stage show.
I can be quite short about the weather during this weekend: the sun is shining and it is pretty hot. A while before the festival was about to kick off, the organization announced that the ticket sales were a bit disappointing. And because for this tenth edition they wanted to have some more people coming, they decided to do a ticket action: Every ticket gives entry to two people. Whether it has something to do with that ticket action or not, many people decided to come to Fortarock 2019. There were some more crowded Fortarock editions indeed, sometimes even a bit too much in my opinion, but for sure not this time. However, that only adds to the great atmosphere on this Fortarock-edition.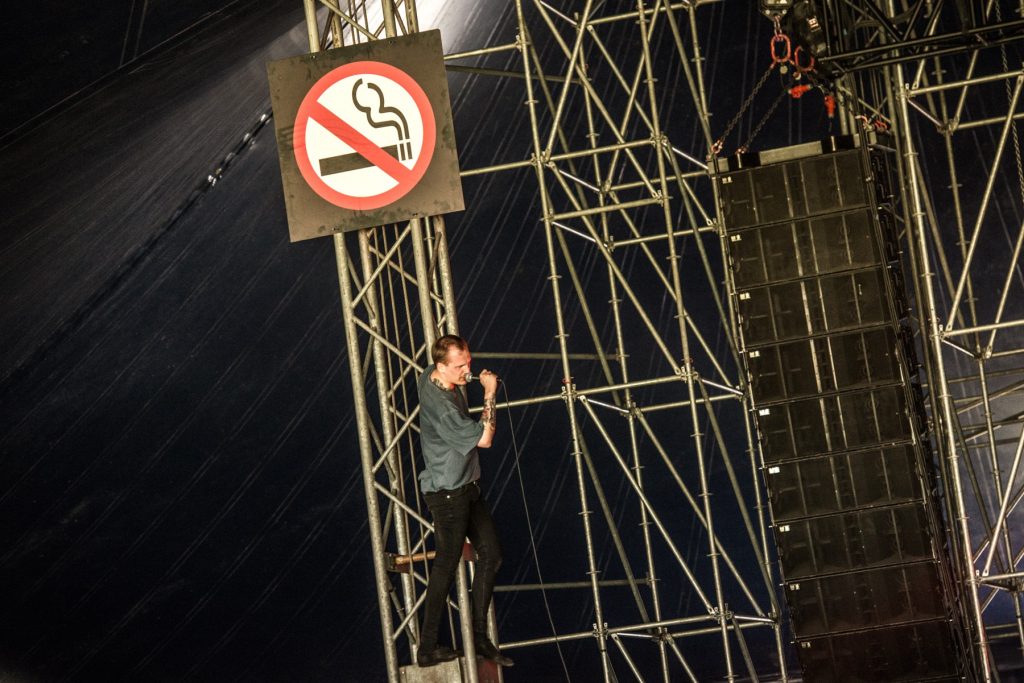 Around half past 12 it is time for the opening band. The honor is given to God Mother. A task they execute in a perfect way. Their music is quite chaotic, intense and it hits you like a rock, especially when it is the first show of the day. Vocalist Sebastian Campbell immediately jumps in the audience, climbs in the tentpoles and let the audience dance the limbo under his microphone wire. This all while he puts an enormous dose of energy and intensity in his show, in his vocals as well as in his movements. It's clear that he feels his music very deeply and this intensity works infective on the audience, resulting in the first mosh pit of the day. In the 30 minutes God Mother is on stage they play a very tight show. Besides those intense vocals, their chaotic music and the enormous amount of energy, guitarist Max Lindström also displays a very nice solo. The Fortarock audience also gets a treat in the form of a very new song, so new that it doesn't even have a title yet. This for sure is an extremely good opening band that takes this task very serious and executes it very well.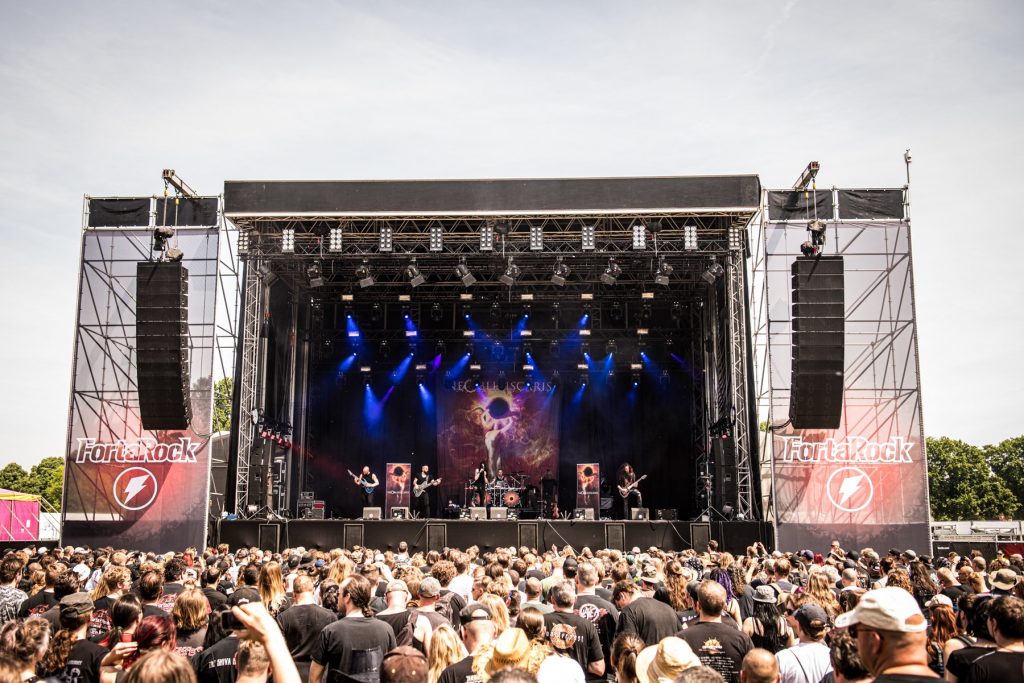 After that really intense opening show it is time for the opener of the Main Stage: Ne Obliviscaris. For these Australian metallers the hot sun is very welcoming, since it's winter in their home country. Ne Obliviscaris' music of course is also, just as God Mother's, very energetic, intense and progressive. However, the contrast between this show and the show of God Mother is quite big. In terms of what can be seen on stage Ne Obliviscaris' show seems to be somewhat boring in this regard. The fact that the sound isn't that great doesn't help making it less boring either. This especially affects the vocals, the harsh vocals of Xen as well as the clean vocals of Tim Charles. The blast beats of drummer Dan Presland really bulldozes over the audience. Some things that stands out positively are the bass lines of Martino Garattoni, who also delivers a solo, the guitar solos of Benjamin Baret and of course Tim Charles' violin.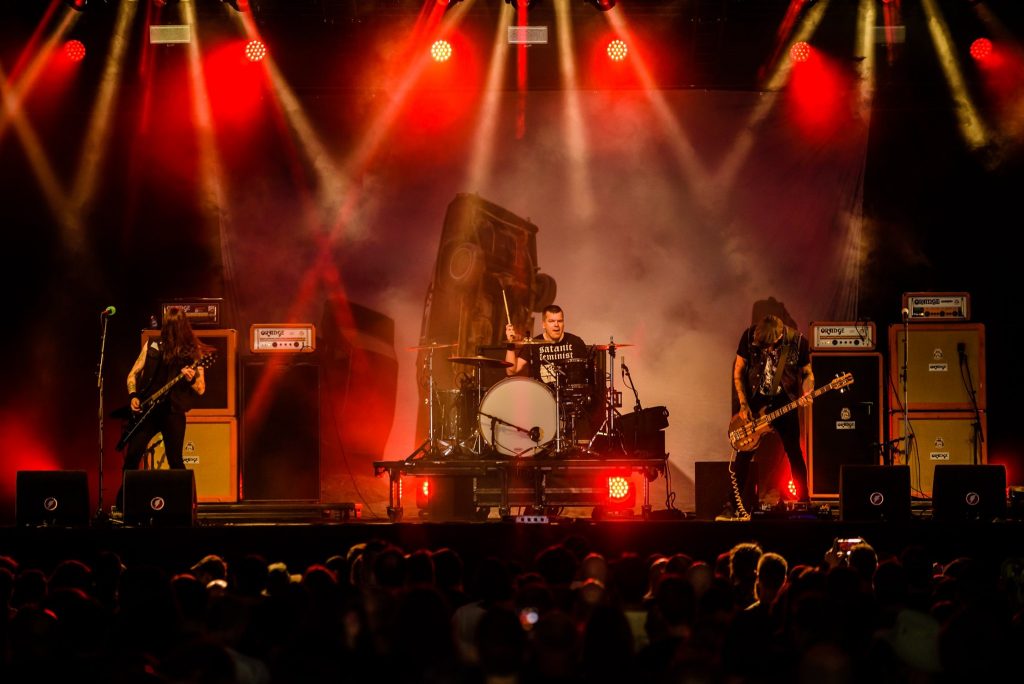 After 45 minutes watching Ne Obliviscaris in the hot sun, I am going back to the Tent Stage. It's not much cooler in here, but at least the direct sunshine isn't there. From this moment on there will be one band playing the Tent Stage and one band playing Hank's Garage at the same time in between the shows at the Main Stage. While the punkers of Batwölf open the stage of Hank's Garage, I am back in front of the Tent Stage where Monolord is performing their show. I can be quite short about what can be seen on the stage. Monolord is a trio with every one of them playing an instrument, while guitarist Thomas V Jäger also takes care of the vocals. His vocals sound very clean, especially in contrast with the gritty, fuzzy and hypnotizing wall of sound that Monolord produces. There is not much of a show going on on stage, but the music they play is very nice and needs to be felt rather than just being watched. This is a show you have to experience completely, let yourself go into the hypnosis of Monolord's music. Many of the people in the audience seem to do so, made quite clear by the look of many people headbanging and the big applause after the songs. However, there also are some people that aren't experiencing it, at least not completely, some people are talking with each other during the show while others even walk away. It seems to be pretty clear: you like Monolord's music and let yourself go into their show or it isn't your kind of music, something in between seems to be a bit difficult. Personally, they really convinced me with their great show.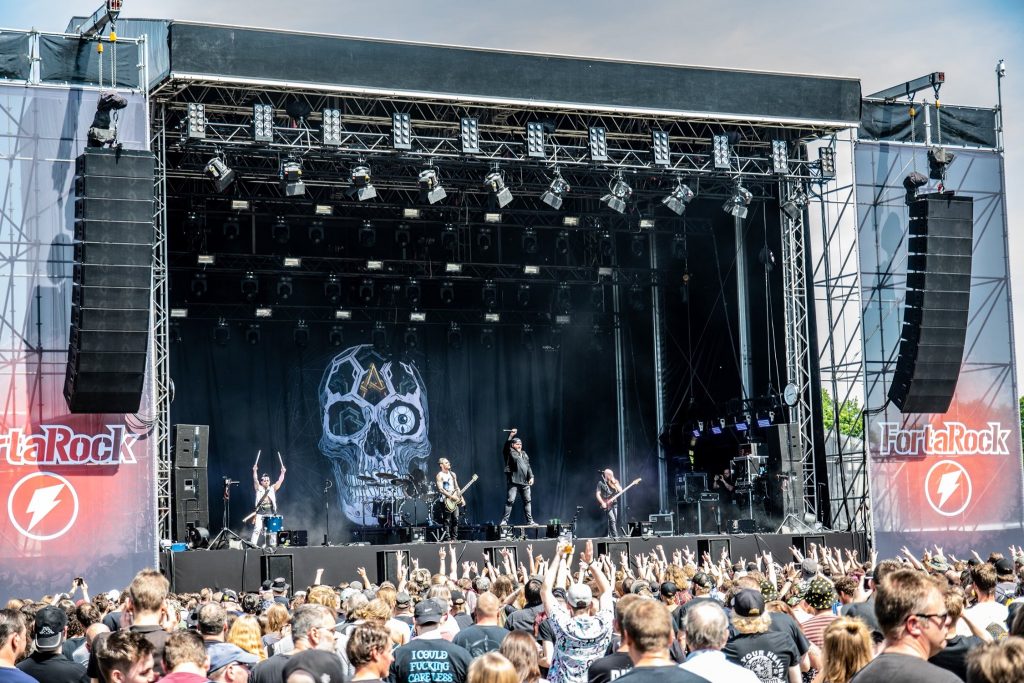 Then we can go to watch another show at the Main Stage in the full sunshine, this time the Americans of Atreyu are going to climb the stage. During the start of their show it seems to have somewhat of an average nu-metal show in terms of the vibe, but that changes after a few songs. After those few songs Atreyu also shows to be able to pound quite heavily, but they also show quite some catchy melodies. Something that probably is seen immediately among those that have seen Atreyu before, or those that did some research to them, is that their line-up is a bit different. Drummer/vocalist Brandon Saller is now only doing vocals and thus fronting the band, because frontman/vocalist Alex Varkatzas stayed at home on doctor's advice because of problems with his back. Bass guitarist Porter McKnight takes care of the screams because of this, but those sound a bit forced on some occasions. Later in the set he can also be found within the audience when he is playing his bass in the middle of the circle pit. In the beginning of Atreyu's set the guitars are on a low volume compared to the rest of the band. Luckily the solos are more audible and later on the guitar sound gets better. Atreyu for sure delivers a very energetic show that is very well executed. The only exception to this in my opinion is their cover of Bon Jovi's You Give Love A Bad Name.
While there is a Q&A with Buma ROCKS! Export Award 2019-winner Anneke van Giersbergen in Hank's Garage, I am in the tent watching Enslaved's show. A show that clearly is very different compared to the preceded Main Stage show of Atreyu. Unfortunately, the sound during the start of this show isn't very well: Grutle Kjellson's screams aren't very audible just as the keyboards by Håkon Vinje. Luckily this gets better after a few songs. The only exception to this is the bass of the device Grutle Kjellson creates soundscapes with, it is way too loud. Another point of critic is that Håkon Vinje's clean vocals are sounding a bit too emotionless in my opinion. Enslaved surely delivers a very nice show, however this only reveals itself later on in the set due to the aforementioned sound problems earlier in the set. The fact that Enslaved plays extreme metal while also including a keyboard in this, is a very interesting combination. It is something that leads to a very mysterious atmosphere. Of course, the extensive use of the smoke machines also adds to this.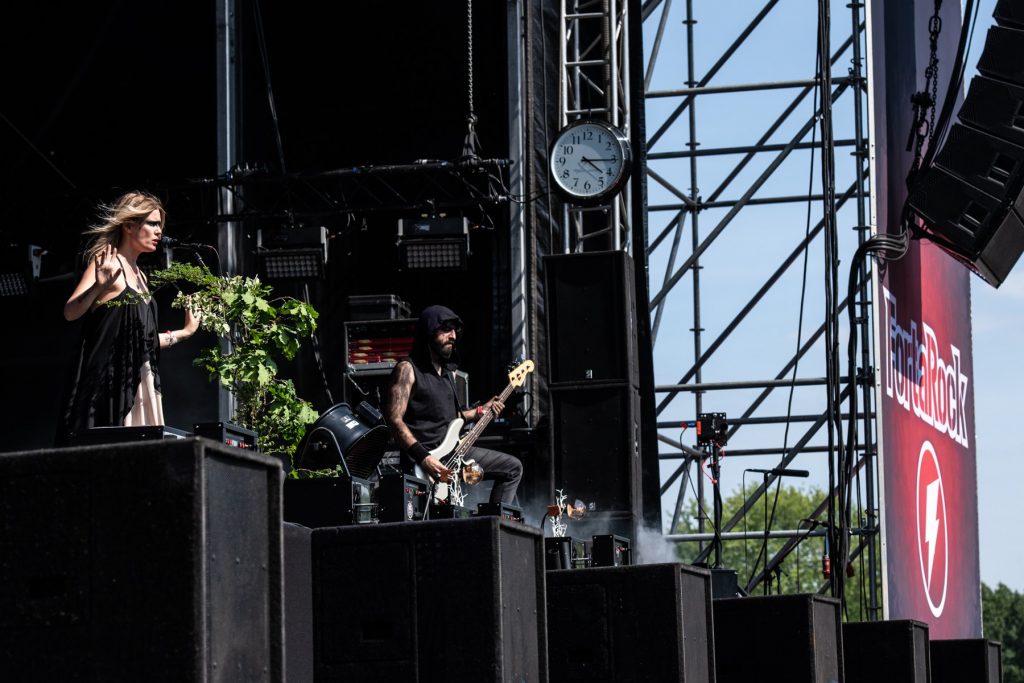 After Enslaved's show in the tent it's again time to go to the Main Stage, while the sun is still shining. Unfortunately, that's much of a downside during this show. Myrkur is playing the Main Stage at this moment and this of course is a show that works better under dark, or at least darker, circumstances. Myrkur plays a very tight show and the sound on the Main Stage during this show is very good from the first moment on. This makes the show at its best possible, even under these sunny circumstances. Amalie Bruun's angelic vocals combined with Myrkur's folk and black metal creates a haunting show. Of course also the added soundscapes are contributing to this. Amalie only performs a few screams, which are of an extreme intensity. As closing song of this very strong show Myrkur performs folk song Villeman & Magnhild. This show surely was a very awesome, Main Stage-worthy show by a band that I already saw a few times before and their show seems to have grown every time.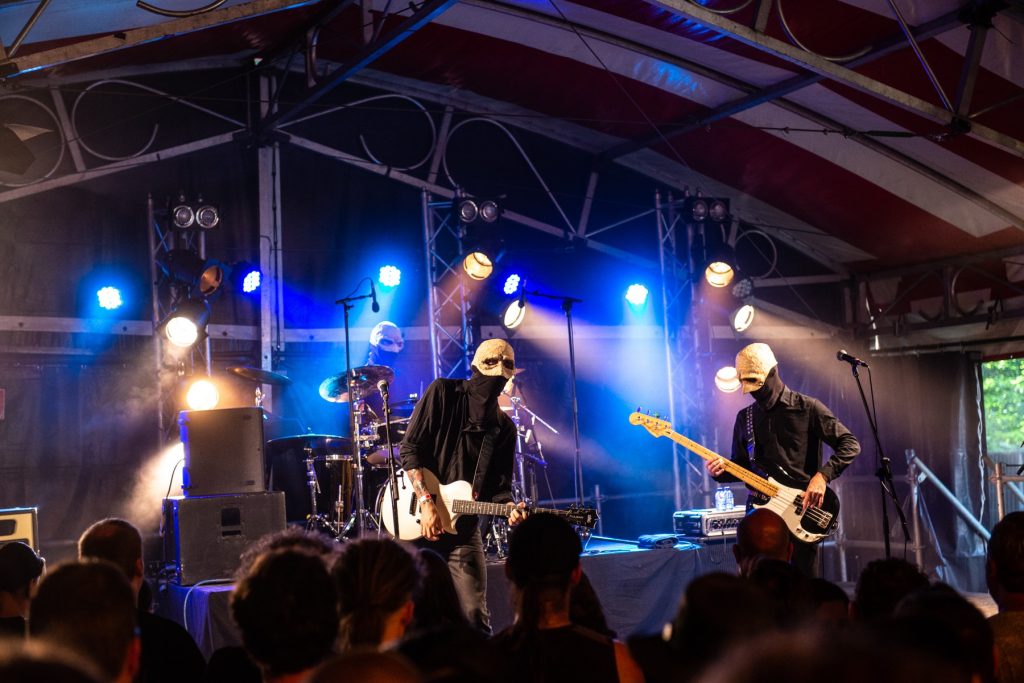 After Myrkur's phenomenal show Uncle Acid and the Deadbeats are performing their psychedelic rock at the Tent Stage. The show I choose to go to is in Hank's Garage. This is the first show I am going to watch at this new stage of Fortarock. It is an indoor stage that is, especially in its width, quite small, but because of that it also has a cozy atmosphere. However, 'cozy' isn't really fitting the bands that play here. Due to this the shows that are happening here, for as much as I saw, are getting even more intense and a real party if that's fitting with the music. Where Myrkur showed their special mix of, amongst other things, black metal on the Main Stage, the Dutch trio of Laster performs their black metal in another, also very special way at Hank's Garage. Their experimental, avantgarde and sometimes even jazzy-feeling black metal that is surprisingly danceable, is very interesting to see. The fact that all three members of Laster are performing this show completely dressed in black suits with white, alien-like masks makes the atmosphere during this show become even more mysterious. The clean vocals as well as the screams of the vocalist are echoing quite a lot, but this seems to be a deliberate choice. Deliberate or not, it gives a very nice effect to the show and the atmosphere during this show, that's for sure. It is very clear that many people wanted to see Laster, because Hank's Garage is pretty crowded, while there are even people standing outside hoping to see something of Laster's show. Laster performs a very nice and special show. The only disadvantage is that those aforementioned very nice vocals are getting a bit less audible later on in the show.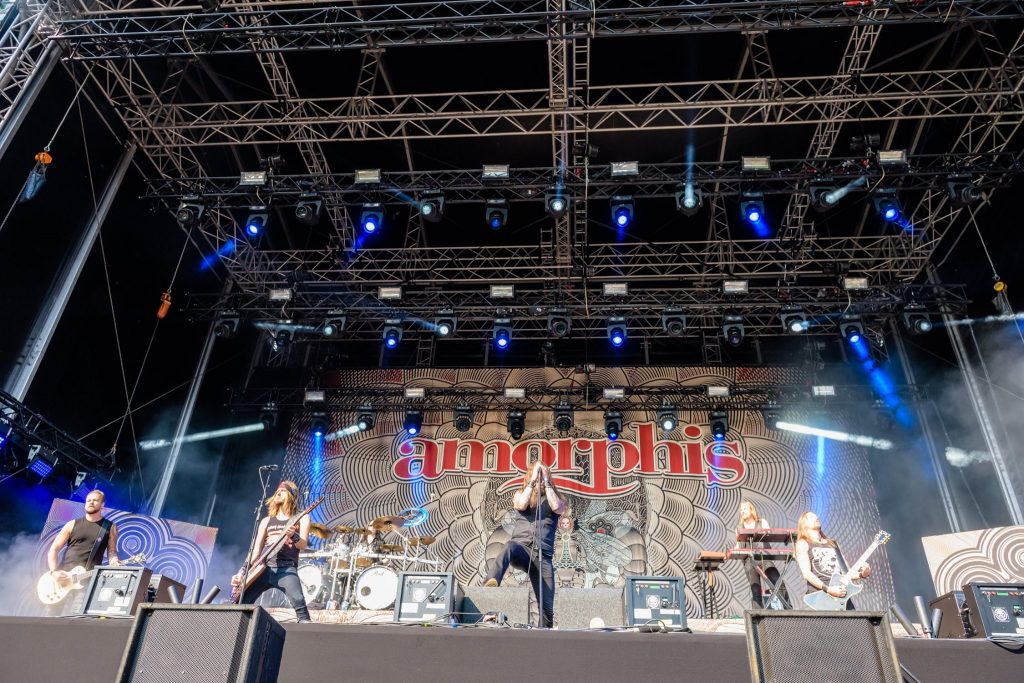 Then we go back to the Main Stage where Amorphis is about to start. Melody as well as heavier pounding moments go hand in hand here. Looking at the very enthusiastic crowd this seems to be a perfect combination for many people. What stands out the most are the vocals of frontman Tomi Joutsen. He performs a very good show with his clean vocals as well as with his very intense grunts. Drummer Jan Rechberger unfortunately stayed at home sick, so he got replaced. Unfortunately the guy replacing him needed to cope with some technical difficulties regarding his drum kit.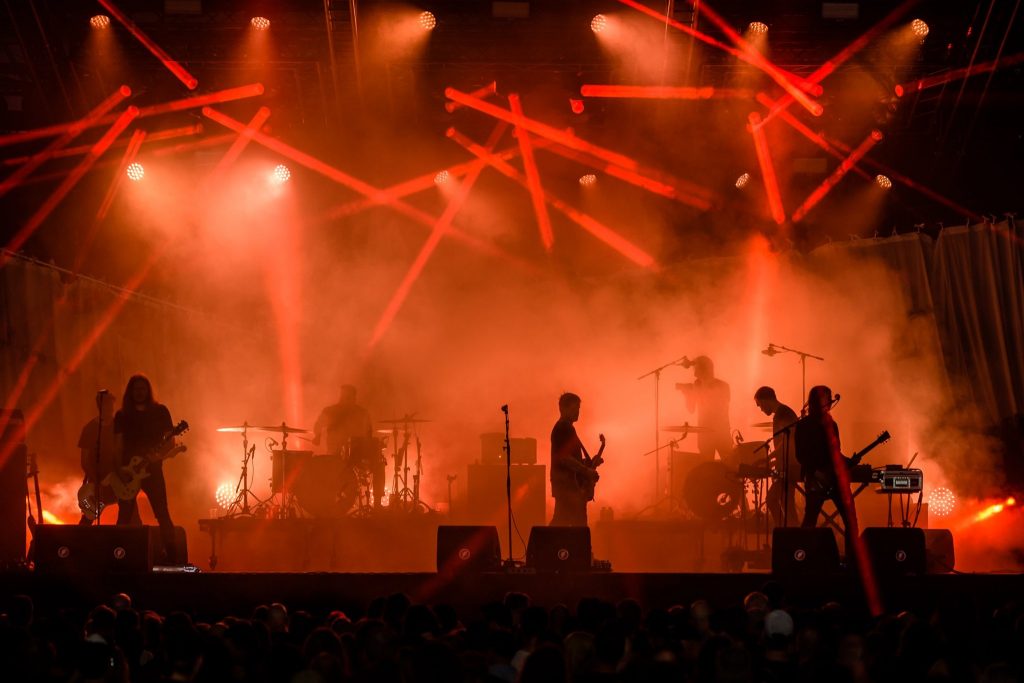 Back in the tent where Cult of Luna is about to begin, their special backdrop is immediately noticeable. I had a feeling that this show could become very special. A feeling that, while looking back, came true for sure. Cult of Luna surely performs a haunting show with their intense post metal, executed in a very tight way with not one but two drummers, Magnus Lindberg and Thomas Hedlund, and the penetrating screams of vocalist Johannes Persson. Their music is extremely intense and haunting, something that gets amplified by the very fitting lightshow and the huge amount of smoke. Heavy pounding moments, more atmospheric moments as well as a few longer instrumental parts are included in this show. All is very well executed. Kristian Karlsson even delivers a very nice keyboard-solo. The fact that there also are a few technical problems during this show do not make the show any less perfect. During this show the garage rockers of JC Thomaz & The Missing Slippers were performing in Hank's Garage.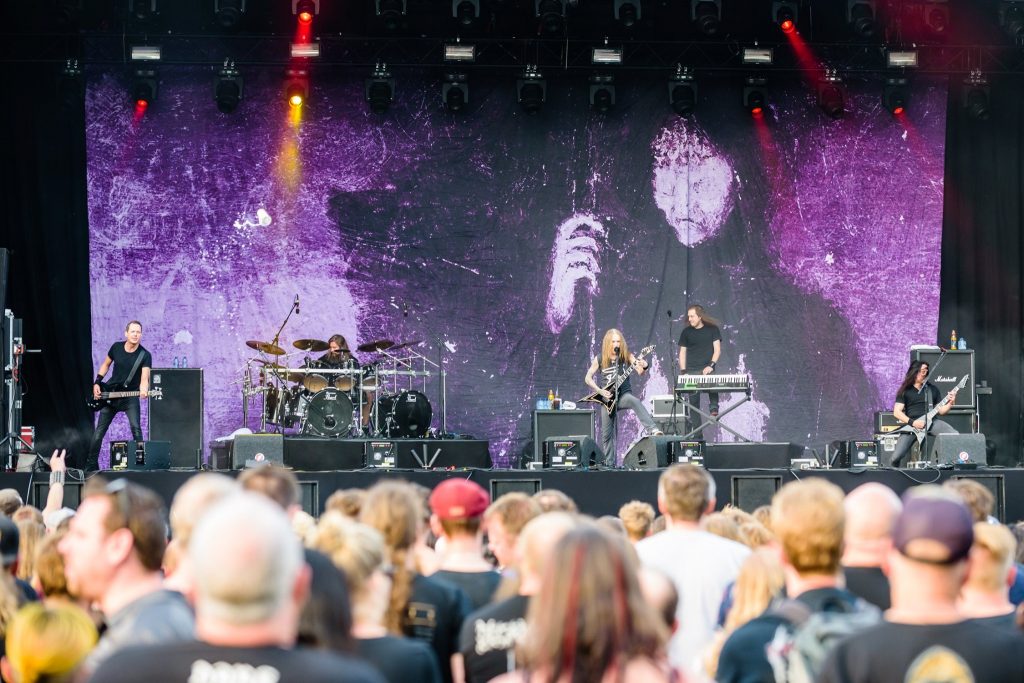 While the next show at the Main Stage, Children of Bodom, takes place, the sun and the heat are slowly fading away. The roaring guitars of frontman Alexi Laiho and his fellow guitarist are thundering over the Goffertpark in a furious tempo. This thundering and pounding in a furious tempo clearly is something that Children of Bodom is very good at. Some very nice solos, on guitar as well as on keyboard are fluently included in this. Unfortunately Alexi Laiho's vocals aren't clearly audible at all times. The fact that he cheers on the crowd isn't hard to miss, especially due to the exaggerated amount of him using the word "fucking". Despite the fact that the vocals aren't very audible at some moments, Children of Bodom delivers a great show. It is a bit boring to watch however, because there isn't much happening on the stage show-wise. However, many people seem to disagree with me on that.
After Children of Bodom there will be four bands on the different stages for today. Besides today's headliner there are two bands to be seen in Hank's Garage. One of those two bands is after the headlining show, the other one is the show of X Raiders that is happening at this moment. This moment is the last moment of choice for today, because now it is the time for the closing band of today in the Tent Stage. I choose to watch that show. There Bloodbath is performing their show, a show which I am very curious to see. These Swedes with English frontman Nick Holmes are making this choice a very worthy one. A very big release of energy happens as soon as they start playing. The atmosphere, on stage as well as in the audience, is quite chaotic and intense as fuck. Bloodbath really pounds very heavily and crushes the Tent Stage with their constantly bulldozing performance executed in a very furious way. What a show! A very nice closing band of the Tent Stage for today and personally surely one of the highlights of this day and, in the end, also of this Fortarock-edition.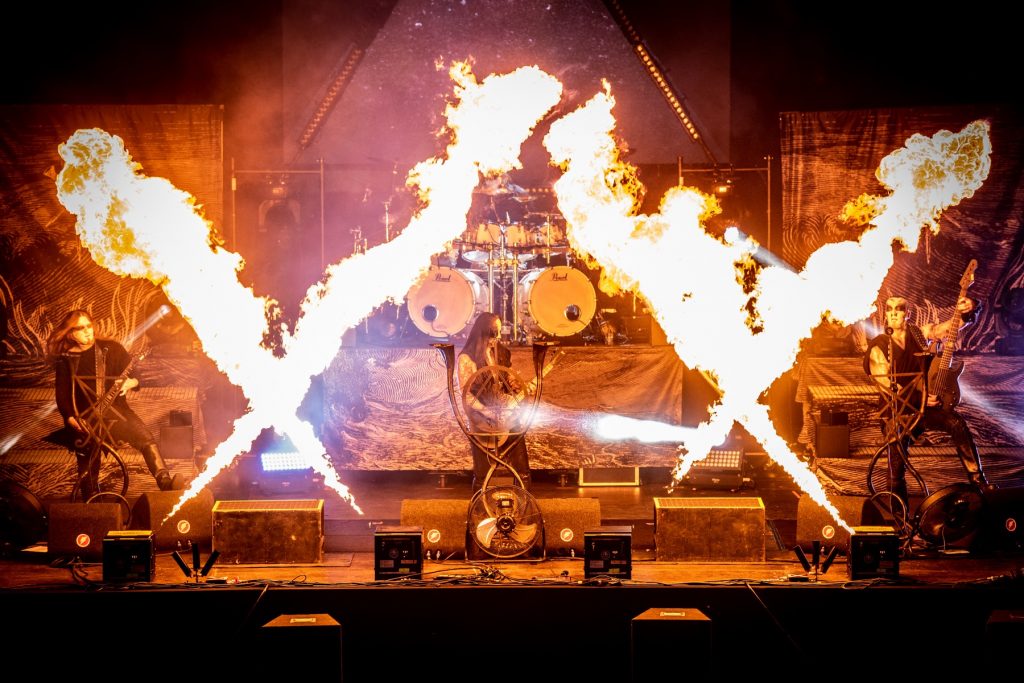 Around a quarter to ten it is pretty crowded in front of Fortarock's Main Stage. Everybody is waiting for today's headliner, Behemoth, to unleash. It immediately becomes very clear that Behemoth is delivering a very nice show. Show-wise as well as musically, this is awesome. The roaring guitars of Nergal and Seth and the pounding blastbeats of Inferno are bulldozing over the Goffertpark. The only disadvantage during this show is, just as it already was during Children of Bodom's show, that Nergal's vocals aren't very audible during the entire show. When his vocals are clearly audible it unfortunately also can be heard that his voice is a bit out of control a few times, however not in a way that it is very annoying. Show-wise Behemoth also brings a lot to the stage: a nice stage design with banners and Behemoth's typical microphone standards, projections at the back of the stage, a great lightshow as well as a huge amount of flames. This all shows that Behemoth delivers a very impressive show that definitely is headliner-worthy.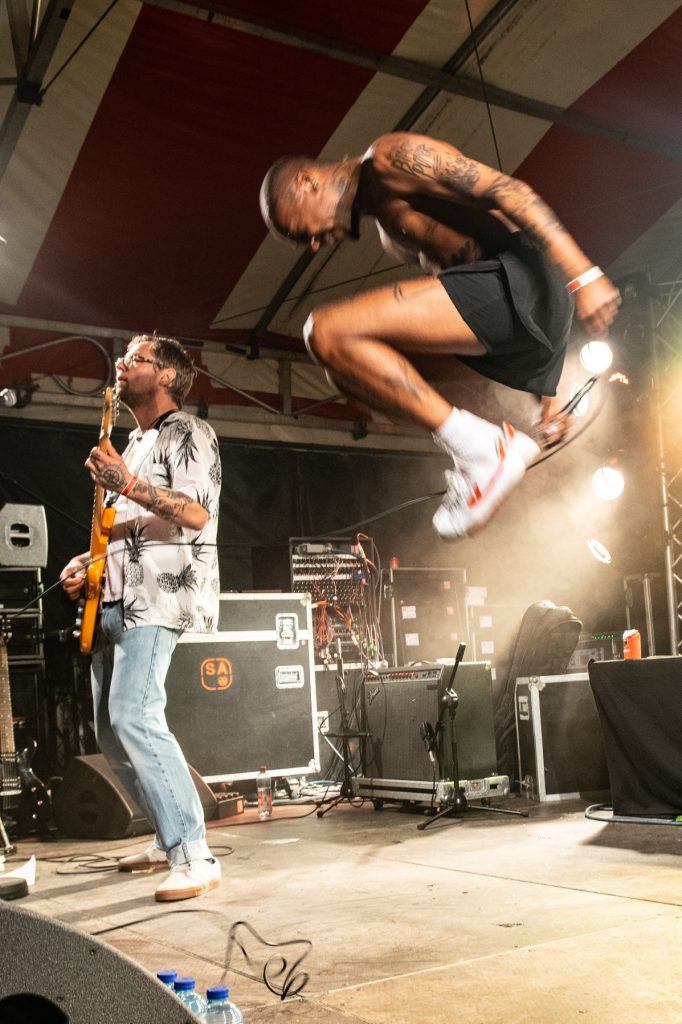 When Behemoth performed their last notes on the Main Stage, the last band of today is starting in Hank's Garage. Here the punkers of Ploegendienst are tearing down this stage. Luckily not literally, because this stage has to host a few more shows on Sunday, but the atmosphere is described very well that way. That the audience present at this show already has experienced a full Fortarock day isn't something that can be seen as soon as Ray Fuego and co are entering the stage. On stage as well as in the audience a huge amount of energy unleashes. On stage this especially gets very clear looking at frontman Ray Fuego. The energy he shows on stage is enormous, in a way of him going crazy, in his vocals as well as in his way of talking to the audience in between their songs. The only thing that isn't very necessary in my opinion while he's talking to the audience is the excessive use of the word "kanker" which means "cancer" in Dutch.
Thus ends the first day of this edition of Fortarock, which was a very awesome day! Onto the next day, of which we will post the live review tomorrow!
Photos made by Jimmy Israël
At the following links you can read our earlier live reviews of FortaRock 2018 (here and here), Children of Bodom (here), Amorphis (here and here) and Myrkur (here) as well as our earlier reviews of Myrkur (here and here) and an earlier part of Promoting Bands including Myrkur (here).
Fortarock Official Website
Fortarock Facebook
Fortarock Instagram
Fortarock Twitter
Ploegendienst Instagram
Behemoth Official Website
Behemoth Facebook
Behemoth Instagram
Behemoth Twitter
Bloodbath Official Website
Bloodbath Facebook
Bloodbath Instagram
Bloodbath Twitter
Children of Bodom Official Website
Children of Bodom Facebook
Children of Bodom Instagram
Children of Bodom Twitter
Cult of Luna Official Website
Cult of Luna Facebook
Cult of Luna Instagram
Cult of Luna Twitter
Amorphis Official Website
Amorphis Facebook
Amorphis Instagram
Amorphis Twitter
Laster Official Website
Laster Facebook
Laster Instagram
Myrkur Official Website
Myrkur Facebook
Myrkur Instagram
Enslaved Official Website
Enslaved Facebook
Enslaved Instagram
Enslaved Twitter
Atreyu Official Website
Atreyu Facebook
Atreyu Instagram
Atreyu Twitter
Monolord Official Website
Monolord Facebook
Monolord Instagram
Monolord Twitter
Ne Obliviscaris Facebook
Ne Obliviscaris Instagram
Ne Obliviscaris Twitter
God Mother Facebook
God Mother Instagram
Hi!
I'm Tim van Velthuysen and I started DutchMetalManiac back in 2014. I'm 29 years old and I live in Nijmegen, The Netherlands. Of course, I like metal, but I can also appreciate other musical styles.
In addition to DutchMetalManiac I also have a personal website on which I'll post various things that won't fit on DutchMetalManiac, but might be interesting for you as well. It's in Dutch though.