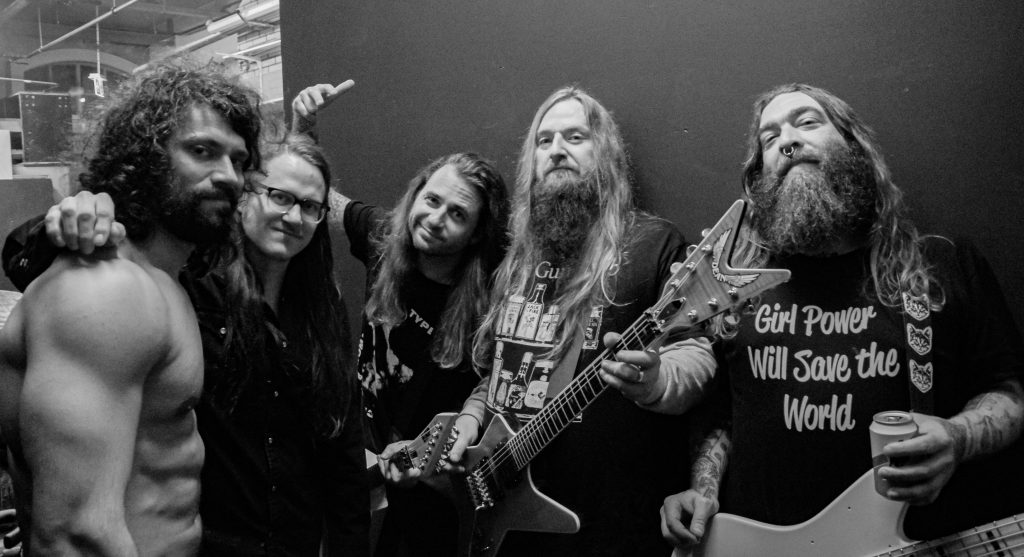 Photo by Francé van der Pol
It's already 25 years ago that the US band Darkest Hour was formed and so 2020 will bring Darkest Hour's 25th anniversary tour. They are bringing four support bands with them on this tour: their fellow Americans in Fallujah and Bloodlet, the Icelanders of Une Misère and the Swedes of Lowest Creature. On Wednesday January the 22nd this tour stopped by in Den Bosch, The Netherlands, more precisely in the venue of Willem Twee.
Due to the facts that there will be five bands playing tonight, that there has to be time to perform a changeover of the stage in between those shows and that the venue takes into account that there are people coming tonight who travel with public transport that want to have the possibility of getting home without having to miss something, the doors of Willem Twee are opening quite early tonight.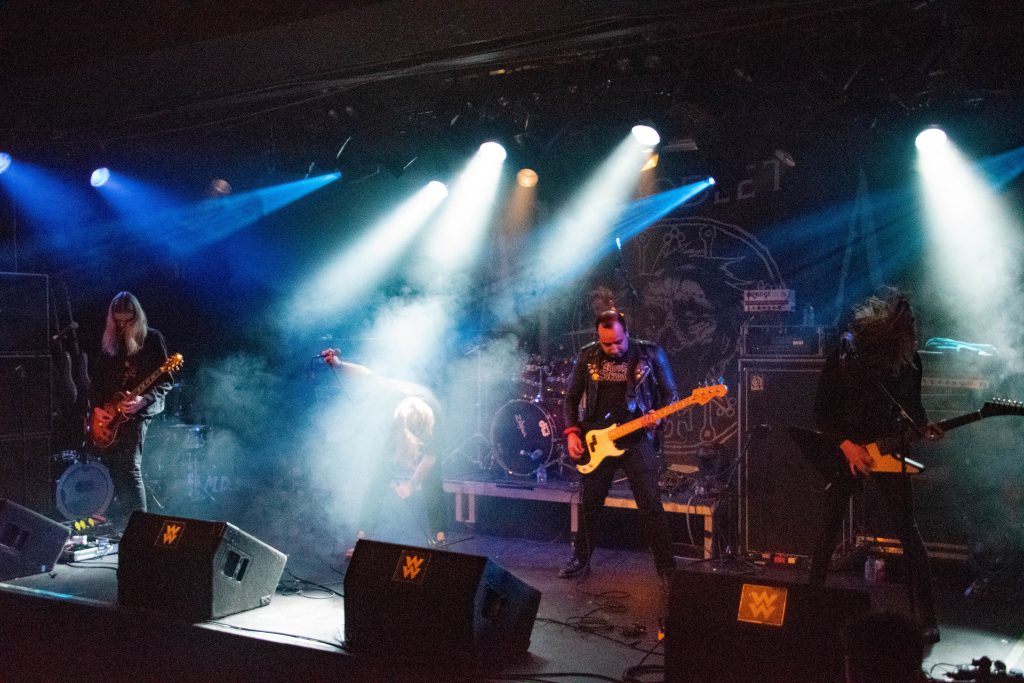 Around half past six, half an hour after the doors of the venue opened, the first band of tonight enters the stage. It's up to Lowest Creature to kick off this evening, while there are only a few people inside the venue at this moment. Some people are banging their heads for a bit already, but mainly the audience that's already there is quite calm. Of course, it's not always easy to warm up the audience as an opening band, which of course isn't getting easier when there are only a few people inside. Especially frontman Toby is doing everything to still succeed in this with the big amount of energy he's putting in this show, in his vocals, in his movements as well as in his interaction with the audience. However, there is quite a contrast in watching him on stage while he seemingly shouts quite loud into his microphone, while the volume of his vocals coming out of the speakers is mixed quite low, which stands out even more at the moments there are backing vocals to be heard, which are quite a bit louder. Toby's call for the first circle pit of the evening also remains unanswered, but he really shows that he's a true frontman who doesn't give up and keeps trying. Toby's vocals aren't the only thing that is on quite a low volume though, at some moments this is also the case with the guitar from Dodge Rose while he's playing his solos. Something that is clearly to be heard during the entire show is the heavily pounding, thrashy aspect of Lowest Creature's show, with the very solid and deep sound of Julius' drums in particular. This all doesn't only overwhelm in heaviness, but also in terms of pace. During the end of Lowest Creature's show the venue is getting more crowded, but it wouldn't surprise me if that has more to do with Une Misère than with Lowest Creature.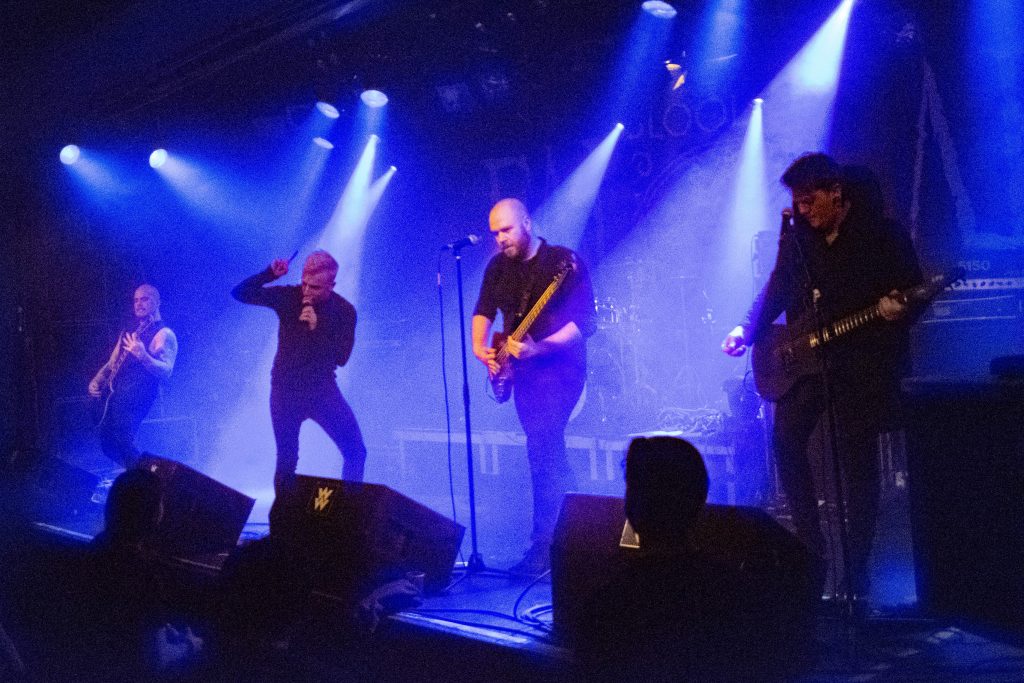 Une Misère was the only band I've seen perform live before, as support act for Lamb of God in 013, Tilburg as well as in V11, Rotterdam where they gave a headline show. I wrote live reviews about both those shows, which you can read here (013) and here (V11). I also interviewed Une Misère's frontman Jón Már Ásbjörnsson before their show in 013, you can read that here. So, now is the third time for me seeing Une Misère perform live and, although they already played some new material during their show in V11, the first time since they released their debut full-length, titled Sermon. Again, I repeat the words that I also wrote in my earlier live reviews about Une Misère: "Haven't you seen this band play live yet? Be sure to check them out, especially live, because it sure is worth it!" and "What a show, what a performance, what a band!", because that's exactly the kind of enthusiasm Une Misère leaves behind after each of their shows. The energy and intensity of this show is phenomenal. As soon as the taped intro starts goosebumps arise to only disappear when the show is over. That intensity and the emotions alongside it can very well be seen when looking at frontman Jón Már Ásbjörnsson, who vocally seems to have grown even more with his extended repertoire of vocal styles. Unfortunately his low vocals seem to be coming out of the speakers on a bit of a low volume. What also stands out is that the atmospheric sound of especially Fannar Már Oddsson's guitar is used more. Une Misère closes this very powerful and intense show, which was accompanied by a very nice and fitting lightshow, with Damages, which Jón Már, as during each of their shows, dedicates to a good friend of his who took his own life after anxiety, depression and addiction while saying "if you're feeling fucked in any way, please talk to someone. Let's go through this together, you don't have to do it alone." As a reaction to this the audience applauds, while going crazy afterwards once again on Damages. However, that part of "going crazy" is still only about a small amount of people in front of the stage, while the venue got a lot more crowded at this moment.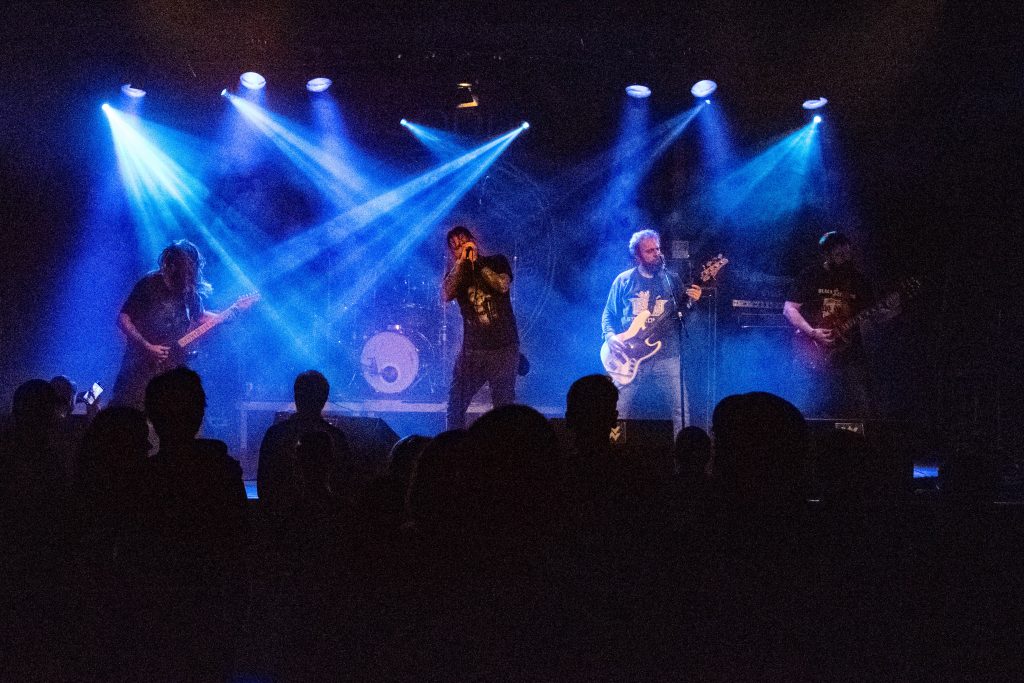 After a bit of recovering (…not!) of Une Misère's intense show during the changeover of the stage, it's time for the next band of this evening, Bloodlet. That means a bit of a switch though, since Bloodlet's show is quite in contrast compared to Une Misère's show. Bloodlet plays quite a bit slower. However, that doesn't mean that Bloodlet doesn't pound, because they are doing so very heavily. They do so in a heavier, lower, more sludgy way, which especially is due to the humming combination of the guitars, from Thomas Crowther and Matt Easley, and Art Legere's bass. In addition to that frontman Scott Angelacos spits out higher, very filthy shouts. The contrast between those vocals and the instrumental part of Bloodlet's music creates that their music in its entirety gets an even filthier vibe. Due to this, as well as due to the fact that Bloodlet also plays a few longer songs, this show creates a vibe that drags you along with it and brings you in some sort of trance.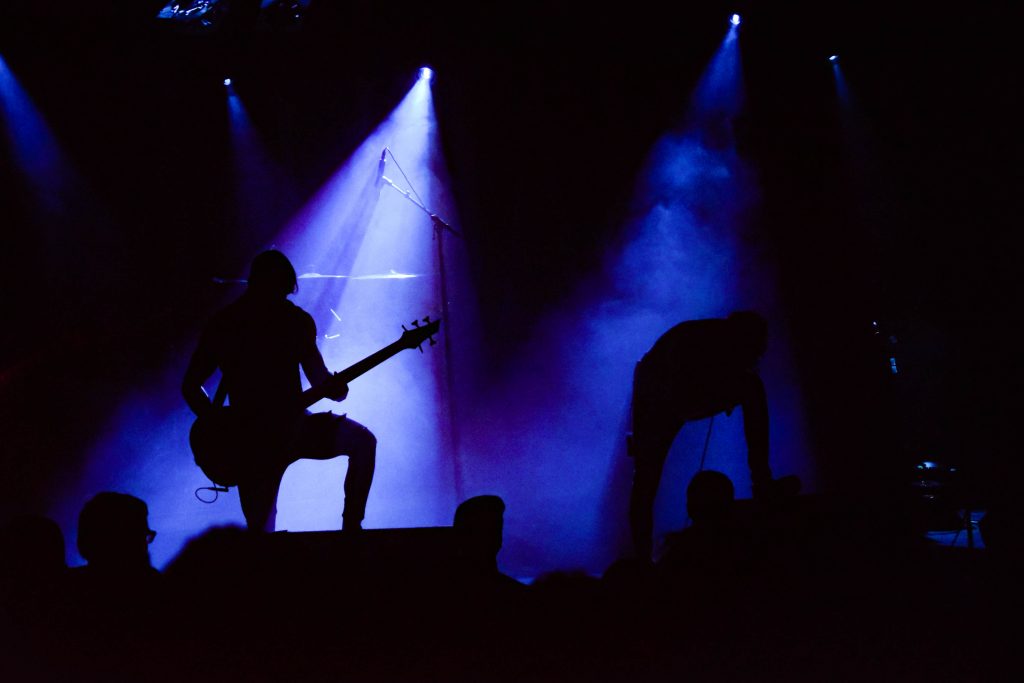 The next band, Fallujah, brings back some speed and complexity to the stage. They exactly know how to deliver a very nice combination of pounding very heavily while also creating an atmospheric, dreamy vibe at the same time. That combination also perfectly describes the accompanied lightshow which fits very well to this show. In terms of their music that atmospheric vibe mainly comes from Scott Carstairs' guitar, while the pounding aspect of Fallujah's show mainly is created by Andrew Baird's blastbeats and Robert Morey's regularly very fast fingers with which he taps his bass. Musically a lot happens in Fallujah's show, which all is delivered in a very tightly executed way. That results in a lot of energy coming off of the stage. And I didn't even write something about frontman Antonio Palermo yet, who roars his very brutal vocals in different styles over the audience in a very powerful way. At the start of Fallujah's show his very low vocals are a bit low in volume, but fortunately this gets better during the show, because those are sounding very brutal. Probably Scott Carstairs' backing vocals are a nice, subtle addition to that. I write "probably" because those are almost unhearable most of the time. At this moment, Fallujah's show, along with Une Misère's show are my personal highlights of this evening.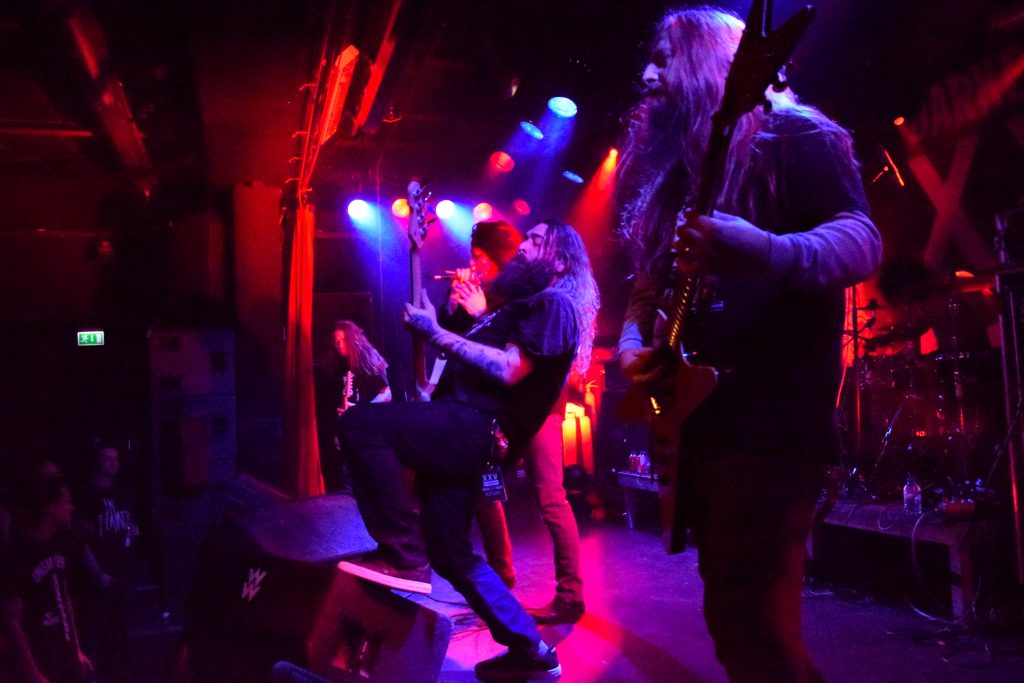 Then it's time for tonight's headliner, the band that celebrates its 25th anniversary with this tour: Darkest Hour. Looking at the people going crazy it soon becomes clear that most of the people especially came to see this band perform. I mean, people going crazy compared to the rest of the evening, because the main part of tonight's audience seems to want to watch the show calmly while holding a beer. However, in this case that doesn't say anything about the audience's enthusiasm, as can be heard by the loud applause. As usual during an anniversary-tour Darkest Hour plays different songs from their entire career. They do so while pounding heavily and visibly want to have a great evening, which is expressed by the interaction with the audience, the stunt with guitarist Mike "Lonestar" Carrigan playing his guitar while being held up by fellow guitarist Mike Schleibaum and bass player Aaron Deal, and the moment at the end of the show during which Mike Schleibaum dives into the audience while playing his guitar. In addition to their own songs Darkest Hour also plays a cover of Dead Kennedys' Nazi Punks Fuck Off, during which a mini-moshpit arises. Unfortunately, again the lead vocals, of frontman John Henry, are a bit low on volume at some moments. That doesn't give in anything to the nice show that Darkest Hour delivers here though.
At quite a few moments the sound could be a bit better, but tonight still was a very nice evening, with, to me personally, the shows of Une Misère and Fallujah standing out the most.
Darkest Hour Official Website
Darkest Hour Facebook
Darkest Hour Instagram
Darkest Hour Twitter
Fallujah Facebook
Fallujah Instagram
Fallujah Twitter
Bloodlet Facebook
Une Misère Official Website
Une Misère Facebook
Une Misère Instagram
Une Misère Twitter
Lowest Creature Facebook
Hi!
I'm Tim van Velthuysen and I started DutchMetalManiac back in 2014. I'm 29 years old and I live in Nijmegen, The Netherlands. Of course, I like metal, but I can also appreciate other musical styles.
In addition to DutchMetalManiac I also have a personal website on which I'll post various things that won't fit on DutchMetalManiac, but might be interesting for you as well. It's in Dutch though.