Hey,
Here's another part of Promoting Bands for you. Hope you enjoy the bands in here!
If you want to check the earlier parts of Promoting Bands, you can do so at the following links:
Part 1
Part 2
Part 3
Part 4
Part 5
Part 6
Part 7
Part 8
Part 9
Part 10
Part 11
Part 12
Part 13
Part 14
Part 15
Part 16
Part 17
Part 18
Part 19
Part 20
Part 21
Part 22
Part 23
Part 24
Part 25
Part 26
Part 27
Part 28
Part 29
Part 30
Part 31
Part 32
Part 33
Part 34
Do you want your band to be part of an upcoming part of Promoting Bands? Don't hesitate to send us an email, Facebook or Twitter message!
\m/
Tim van Velthuysen
Hereza
Earlier, we already wrote about Hereza on DutchMetalManiac. That was in 2017, back then we reviewed their second full-length, titled I Become Death, here, and interviewed Hereza's guitarist/bass player/drummer/backing vocalist Slobodan Stupar, here. Last June Hereza released I Become Death's successor. This successor is titled Death Metal Drunks and is released, just as its predecessor, via the Polish record label Godz ov War Productions. Next to Slobodan Stupar, Hereza's line-up as can be heard on Death Metal Drunks consists of vocalist Ivan Kovačević Kova, guitarist Christian Eiberger and drummer Thomas Polder. The originally Croatian, but currently Germany-based Hereza again delivers some very heavy pummeling death metal with quite some filthy, punky influences on Death Metal Drunks. To get an example of this, be sure to listen to its title track, which also includes some very nicely roaring guitars, and album opener Back from the Grave, which has a Dutch touch to it, since the guest vocals that can be heard on this track are coming from the throat of Sinister's Adrie Kloosterwaard. He isn't the only guest vocalist to be heard on Death Metal Drunks though: Igor Buljin, vocalist of the Croatian black metal bands Black Cult and Gorthaur's Wrath, can be heard on Kopam oči, režem jezik, prste, nos i uši, while Aleister Kainulainen, of King Satan and Saturnian Mist, can be heard on Dullahan.
Mark Morton
You'll probably know the name of Mark Morton. For everyone not recognizing that name, Mark Morton is Lamb of God's guitarist. In March last year he also released his first solo-album, titled Anesthetic, a very nice album and a definite recommendation. Recently, on January the 17th, he released new solo-material though. This time it's an EP, titled Ether. Be aware, Ether is quite a lot calmer compared to Anesthetic or Lamb of God's music, because Ether consists of acoustic songs. However, this surely isn't making it less interesting. Each song contains vocals from a guest, Light the Torch's/ex-Killswitch Engage's Howard Jones, Halestorm's Lzzy Hale, Moon Tooth's John Carbone and Sons of Texas' Mark Morales are all contributing their vocals to Ether, with Mark Morales delivering not one, but two vocal contributions, in Ether's opener All I Had To Lose as well as in the closing track, a cover of Pearl Jam's Black. Black isn't the only cover on this five-track EP though. The song in the middle is a cover of She Talks To Angels, originally by The Black Crowes, on which Lzzy Hale delivers a fantastic vocal performance. In my opinion this is the strongest song on Ether, with the other songs following very closely. An EP that's recommended to check out for sure!
Mark Morton Official Website
Mark Morton Facebook
Mark Morton Instagram
Mark Morton Twitter
Myrkur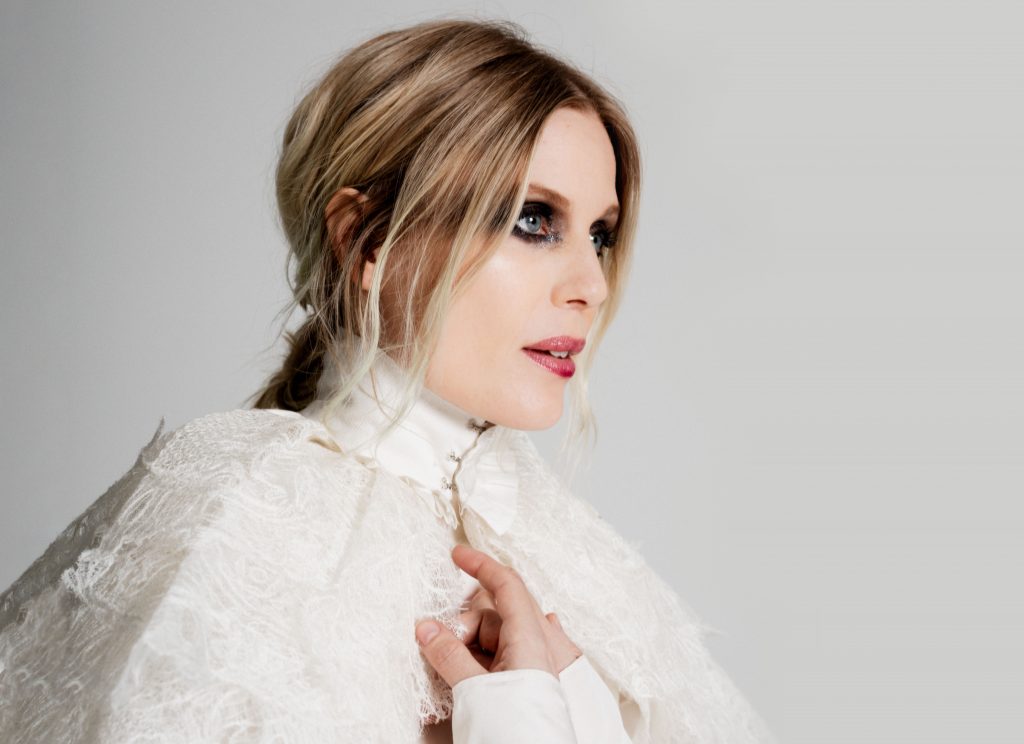 Everyone who regularly checks out DutchMetalManiac probably knows that I personally am quite a huge fan of Myrkur. I already mentioned Myrkur in Promoting Bands Part 2, I had the pleasure of seeing Myrkur perform live multiple times, with writing a live review of their show on FortaRock 2019, while colleague Tim did that of their show in Paradiso, Amsterdam while they were supporting Deafheaven. I reviewed Mareridt, while colleague Glenn reviewed Juniper. When you already know Myrkur you probably know that she, in addition to her black metal, also regularly plays some traditional folk songs. Live she does so under the banner of Folkesange. In March there will be new Myrkur-material being released and this will be, you probably already guessed it, an album that's about that folk-side, logically titled Folkesange. So, no metal, but based on the recently released first single, including video, Ella, this surely is recommended to check out. What a nice song that also seems to include much more layers compared to the traditional folk songs she plays live. A very nice teaser for an album that, hopefully, will be just as nice as this first single.
Myrkur Official Website
Myrkur Facebook
Myrkur Instagram
Hesperian Opus
Last year a new neoclassical power metal band was formed in Amsterdam, called Hesperian Opus. Its line-up consists of guitarist Harry Loisios, vocalist Tassos Krokodilos, bass player Christ Stergianidis and drummer Dimitris Karageorgos. In February Hersperian Opus will be releasing their debut album, titled Chasing the Light, via the Greek record label Steel Gallery Records. This debut album will also include keyboardist George Georgiou, be it as a guest musician. Recently Hesperian Opus already released a first single coming off of Chasing the Light, as a lyric video of Chasing the Light's title track. On this track we'll hear that typical neoclassical guitar-sound and very well fitting vocals of Tassos Krokodilos. Are you someone who likes listening to power metal? Then be sure to check out this first single and remember that the entire Chasing the Light album is being released in February!
Sandbreaker
The Polish band Sandbreaker plays a very heavy form of death/doom metal that's inspired by the saga of Dune. In May last year this band, of which the line-up consists of drummer/vocalist Doombardier, guitarist Kamikaze and bass player Grey Eminence, released its self-titled debut EP, which got a CD-release in September via Defense Records, Free Joy Stereo and Mythrone. Are very heavy, lingering, slow guitars, deep, slow drums and very low grunts that go through marrow and bone exactly what you like in music? Then be sure to check out Sandbreaker! Unfortunately this debut EP only contains four tracks with a total length of fifteen minutes, so it's quite short, but that surely doesn't make it less worth checking out. This crushes everything that gets in its way in a very slow, but very powerful way, as it should be with a heavy load of doom/death metal!
Hi!
I'm Tim van Velthuysen and I started DutchMetalManiac back in 2014. I'm 29 years old and I live in Nijmegen, The Netherlands. Of course, I like metal, but I can also appreciate other musical styles.
In addition to DutchMetalManiac I also have a personal website on which I'll post various things that won't fit on DutchMetalManiac, but might be interesting for you as well. It's in Dutch though.