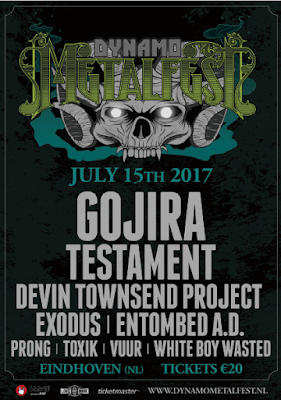 Festival season is upon us fellow metalheads. It was my pleasure to go to Dynamo Metalfest, Eindhoven this year with a killer line-up consisting of;
White Boy Wasted
Vuur
Toxik
Prong
Entombed A.D
Exodus
Devin Townsend Project
Testament
Gojira
I must honestly say that Dynamo Metalfest was a last minute decision between me and a friend of mine because we are both HUGE fans of Gojira and it was just too cheap to not go to the festival. I am also into Exodus and Devin Townsend for that matter so I had a lot of reasons to go. So let's summarizing the bands in order as listed above.
We were a little late to the party so we actually missed White Boy Wasted. My apologies dudes, I'm sure you had great fun on the stage with such a big crowd. Halfway through Vuur's set me and my friend came marching into the building ready for some metal. Vuur had some pretty good riffs and the guitar player really handled his instrument well. I just kept thinking that it needed a male vocalist. I'm a fan of Anneke van Giersbergen's voice but I just think it doesn't fit this style of metal nicely.
Toxik was the first thrash metal band of the day. Really coincidental a friend of mine showed me the band just a week before this show so I was kind of excited to see them! They had a lot of people confused with their proggy brand of thrash. People didn't really know whether a riff was headbangable or not. No offence to the band of course, I really like their music and their bass player is insane! The speed in which he accurately plays riffs is mind boggling. The singer had a really great voice and overall it was a great warm up for the bands to come.
After Toxik came Prong, which was the biggest surprise for me that day. I had honestly never listened to Prong before. To most people that is a weird statement because Prong is a pretty well known, established band in the metal scene for years and years but I just never took the time to listen. I really liked the riff-driven anger in their music which was also very groovy and got a lot of people headbanging.
One band I totally forgot about was Entombed A.D. They immediately showed me that they are a band that should not be forgotten. With their signature death 'n roll sound they have created something unique. I'm not sure Dynamo Metalfest was the right audience for them because I didn't see too many people enjoying themselves during the show. Probably because of the fairly "old" audience.
After Entombed A.D came Exodus and boy they ripped. You could notice the spark in singer Steve 'Zetro' Souza's eyes from miles away. The Exodus boys were really enjoying the fact they were returning to Eindhoven for the Dynamo experience. The set was pretty much made up with old school songs for the older fans that were there 16 years ago. The only thing that bothers me a little is that I've seen Exodus twice now but still haven't seen them with original guitar player, Gary Holt. I think he should make more time for his own band rather than "sinking ship" Slayer.
So, now… The Devin Townsend Project. This was actually the show I was looking forward to the most. I have liked his music for years now and he is a very gifted musician. Between the songs he can crack you up as well! The funny thing is that he takes his music very lightly although it deals with some pretty serious topics. I was pretty much star struck the whole time. There is no other human being with a voice like him. His operatic vocals are so strong and to top it off with some inhuman screams is just the pinnacle of metal as a whole. Best show of the day for sure. I'm sorry Gojira. Hevy Devy took the crown.
After the show we had to wait for an awkwardly long time. We saw the stage being prepared for Testament and it looked awesome! They were probably the only band next to Gojira that made an effort to make the stage look like they were in for serious business. Unfortunately due to technical problems they couldn't perform their whole set. Also due to the strict 23:00 curfew they CHOSE to shorten their set to have Gojira do their whole set and still finish on time for the curfew. This, people, is professionalism. I admire Testament for making that decision because it is a hard one to make. I'm sure they will make up for it on a European tour sometime this or next year.
Headliner of the day, the most popular metal band on the planet right now. And for a damn good reason too. When I discovered Gojira during the time they released From Mars to Sirius I knew there was something special about this band. Some serious Frenchmen that make brutally devastating death metal with a cause, to save the planet. This approach to metal earned them the tag of environmetal. Which I think is hilarious. Their headlining show was so impressive that I've seen every band member of the previous shows next to the stage admiring the mighty presence of Gojira on stage. Bone-splintering set with classics such as Backbone and The Heaviest Matter Of The Universe made for a diverse Gojira experience. Out of the four times I've seen them now, this was by far the most impressive one. Also props to the sound and the light guy. Great jobs, both of you.
After a great day of amazing metal I was once again reminded why I listen to this style of music. It just makes you feel so powerful. You don't need drugs to get a great experience with metal. That's what makes it great for me. Thanks for a great line-up Dynamo!
You can also check two parts of Promoting Bands in which Tim van Velthuysen wrote about Vuur here and here, as well as an interview with Anneke van Giersbergen by Glenn van der Heijden here.
A review of Entombed A.D.'s Dead Dawn written by Nino Milillo can be read here.
Two live reviews about Exodus can be checked here (also written by Joost van der Leij) and here (written by Nino Milillo)
Dynamo Metal Fest Official Website
Dynamo Metal Fest Facebook
Dynamo Metal Fest Twitter
White Boy Wasted Facebook
Vuur Official Website
Vuur Facebook
Vuur Twitter
Toxik Facebook
Prong Official Website
Prong Facebook
Prong Twitter
Entombed A.D. Facebook
Exodus Official Website
Exodus Facebook
Exodus Twitter
Devin Townsend Official Website
Devin Townsend Facebook
Devin Townsend Twitter
Testament Official Website
Testament Facebook
Testament Twitter
Gojira Official Website
Gojira Facebook
Gojira Twitter