Hey,
Here's a new part of Promoting Bands for you! This time it also includes three exclusive Dutch video premieres!
If you want to check out the earlier parts of Promoting Bands, you can do so at the links below.
Part 1
Part 2
Part 3
Part 4
Part 5
Part 6
Part 7
Part 8
Part 9
Part 10
Part 11
Part 12
Part 13
Part 14
Part 15
Part 16
Part 17
Part 18
Part 19
Part 20
Part 21
Part 22
Part 23
Do you want your band to be part of an upcoming part of Promoting Bands? Don't hesitate to send us an email, Facebook or Twitter message!
\m/
Tim van Velthuysen
Deadline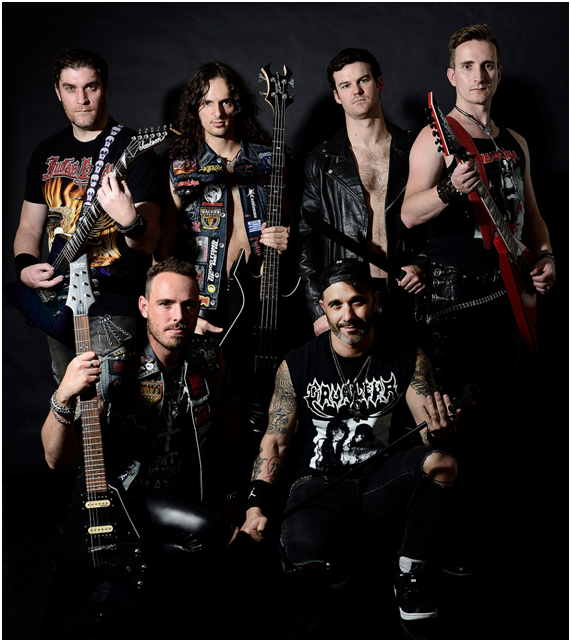 After the wide-spread critical acclaim of their debut album Black Wolf City, New Wave of South African Heavy Metal protagonists Deadline are back with a brand new single High Tops & Bullet Belts. From the synthwave-inspired intro to the pummelling rhythms, soaring vocals and triple guitar attack the song brings the 80's kicking and screaming into the 21st century and makes it feel right at home.
Front man Jessy Switchblade delves a little deeper into the inspiration behind it all: "In a time where superhero movies have become so popular, we decided to write a tune about a group of heavy metal superheroes. (Who wear high-tops and bullet belts of course, haha!) It's a song about power and revenge which ultimately results in the band/superheroes taking over their town, with the focus still strongly on the fictitious city we built with our debut album, Black Wolf City. The artwork is a tribute to the current synthwave music movement which is currently taking the world by storm and the track itself kicks off with a 52 second synth intro. We thought we would be a little more dynamic and it is to date our most ambitious track."
DutchMetalManiac is proud to give you the Dutch track premiere of High Tops & Bullet Belts below. It's now also available on all digital platforms including Bandcamp, Spotify, Deezer and Apple Music.
Deadline Facebook
Deadline Instagram
Deadline Twitter
Weltesser

While surfing on the internet recently I came across the band Weltesser. Once I pressed the play-button it soon was very clear that it was worth it. This band, consisting of vocalist/guitarist Nate Peterson, drummer Mike Amador and bass player Ian Hronek, started in 2014. In 2015 they released a demo, followed by their debut album, titled Crestfallen, in January 2017. Very heavy doom/sludge metal with quite a crusty edge is what Weltesser delivers on Crestfallen, which can be listened to below. This is music that overwhelms and crushes for sure, intense as fuck! Especially Nate Peterson's vocals sound immensely intense, the way he spits out his lyrics and the accompanying emotions perfectly fits the music. Crestfallen, just as their earlier demo, is definitely recommended to check out if you like your music heavy, filthy and crusty. I hope this band will unleash new material soon, I am definitely looking forward to that and I hope that they will play a show in The Netherlands in the future. Live this can't be anything else than very special.
Meridian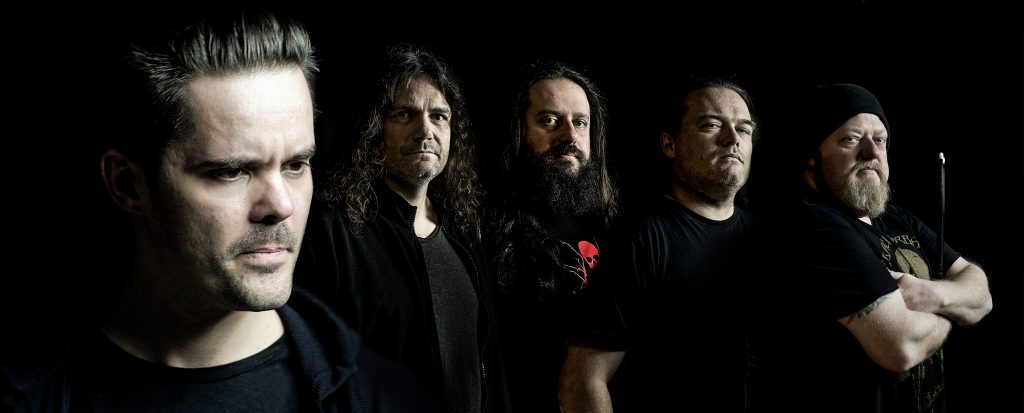 The Devil Inside Us All is the album opener for the new album Margin Of Error by Meridian released today on March 22nd. It kicks off the album with a groovy riff that sets the standard for the following songs.
Bassist Peter Bruun says: "The music was written back in 2017. We were jamming on other new song ideas, and at one point Martin just came up with the first riff out of the blue. It sounded cool right away, so everybody jumped at it. Ideas came flying left and right, and within about half an hour, we had the music done. It was one of those magical moments that you can't plan, but happens once in a while. Afterwards Lars put a nice melody on top of it, and we had a song. Klaus wrote the words about fighting inner demons."
Margin Of Error is the bands third album. It's recorded at Death Island Studio and is produced by guitarist Marco Angioni. It includes songs from the digital EP The Fate Of Atlantis released last year, including the single Fragments Of A Life.
Musically the album displays a varied landscape of melodic hardrock, hard hitting metal anthems and slowpaced heavy monsters. Songs with strong melodies and memorable choruses you can sing along to. It's the most coherent and well crafted collection of songs from a band that's better than ever.
Meridian is heading out on the road in 2019 to support the album.
Margin Of Error is released March 22nd on CD, LP and digital.
Margin Of Error is recorded at Death Island Studios. Produced, mixed and mastered by Marco Angioni.
Cover artwork and band photo by Lena Angioni.
DutchMetalManiac is proud to give you the Dutch video premiere of The Devil Inside Us All below.
Meridian Official Website
Meridian Facebook
Elune/Dark Apotheosis
Coming from Serbia, Lukian Antonić and Andrej Mihailo Milanović, already released their debut EP, titled Hate Capacitor, with their band called Dark Apotheosis, in 2017. In that same year they also started a second band, Elune. While their death metal in Dark Apotheosis is faster and more pounding, the death metal they play in Elune is more on the atmospheric and melodic side. Earlier this month Elune released its very first single, including a video. It's called Song of the Seven Winds and can be watched below. The beautiful melodies and captivating atmospheric vibe combined with the tight riffing and brutal vocals result in a very awesome song. It also features some female vocals done by Una Nikolić, which fit perfectly in this song. I am definitely looking forward to hear more music by Elune. Be sure to check out Song of the Seven Winds, as well as Hate Capacitor, by their other band Dark Apotheosis, it's worth it!
Elune Facebook
Elune Instagram
Dark Apotheosis Official Website
Dark Apotheosis Facebook
Dark Apotheosis Instagram
Dark Apotheosis Twitter
Ghost Ship Octavius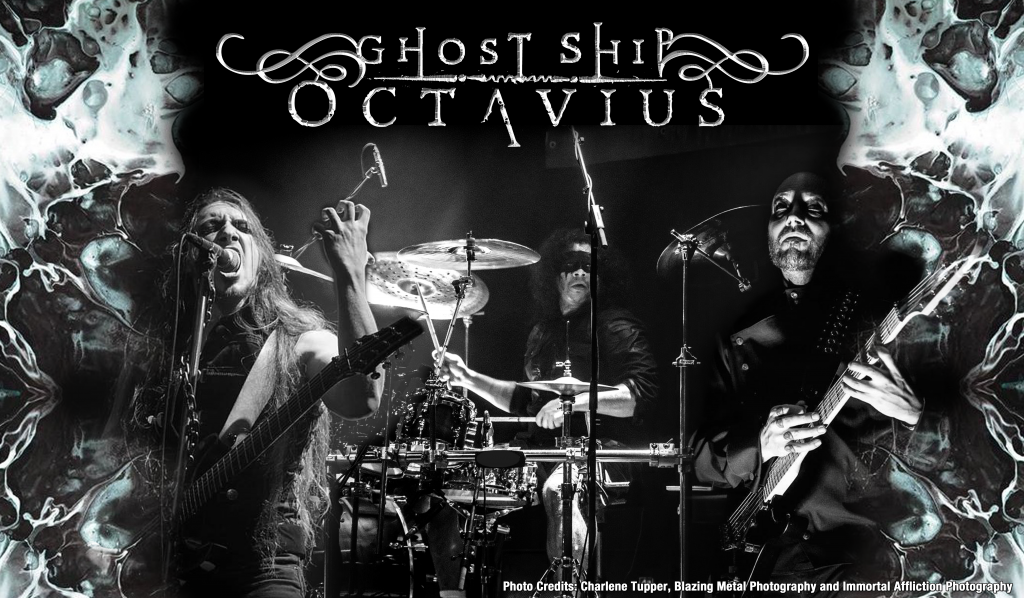 Second single Turned To Ice from the masters of progressive metal Ghost Ship Octavius is a true melodic masterpiece, taken from the album Delirium.
Formed in 2012 by guitarist Matthew Wicklund (God Forbid, HIMSA), drummer Van Williams (Nevermore) and vocalist/guitarist Adōn Fanion, Ghost Ship Octavius began writing what would become their critically acclaimed 2015 self-titled debut release. With foundations in progressive metal, GSO is forging a fresh pathway in the metal genre by exploring emotional and melodic writing firmly founded in technical playing and memorable hooks with a common theme of darkness, hope and ghostly imagery with chilling, arctic elements throughout. Their 2019 album Delirium sees GSO raising the bar in both technical ability and emotional depth and color and marks the beginning of a new record label partnership with Mighty Music.
"We are beyond pleased to announce joining forces with Mighty Music, bringing forth a new and exciting chapter for GSO Worldwide." – Matthew Wicklund, Van Williams & Adōn Fanion.
"Ghost Ship Octavius is one of the most promising and professional artists I ever signed to Mighty Music. Their Delirium album is a 10/10 in my personal fanzine", Michael H. Andersen, Mighty Music CEO.
Earlier DutchMetalManiac posted the exclusive Dutch video premiere of Ghost Ship Octavius' Edge of Time here. Now DutchMetalManiac is proud to give you the Dutch lyric video premiere of Turned To Ice below.
Ghost Ship Octavius Official Website
Ghost Ship Octavius Facebook
Hi!
I'm Tim van Velthuysen and I started DutchMetalManiac back in 2014. I'm 29 years old and I live in Nijmegen, The Netherlands. Of course, I like metal, but I can also appreciate other musical styles.
In addition to DutchMetalManiac I also have a personal website on which I'll post various things that won't fit on DutchMetalManiac, but might be interesting for you as well. It's in Dutch though.