Hey,
We are back with another part of Promoting Bands. Hope you enjoy the bands in here! This time we have one extra band thrown in with an exclusive Dutch video premiere!
If you want to check the earlier parts of Promoting Bands, you can do so at the following links:
Part 1
Part 2
Part 3
Part 4
Part 5
Part 6
Part 7
Part 8
Part 9
Part 10
Part 11
Part 12
Part 13
Part 14
Part 15
Part 16
Part 17
Part 18
Part 19
Part 20
Part 21
Part 22
Part 23
Part 24
Part 25
Part 26
Part 27
Part 28
Part 29
Part 30
Part 31
Part 32
Do you want your band to be part of an upcoming part of Promoting Bands? Don't hesitate to send us an email, Facebook or Twitter message!
\m/
Tim van Velthuysen
Wolf Jaw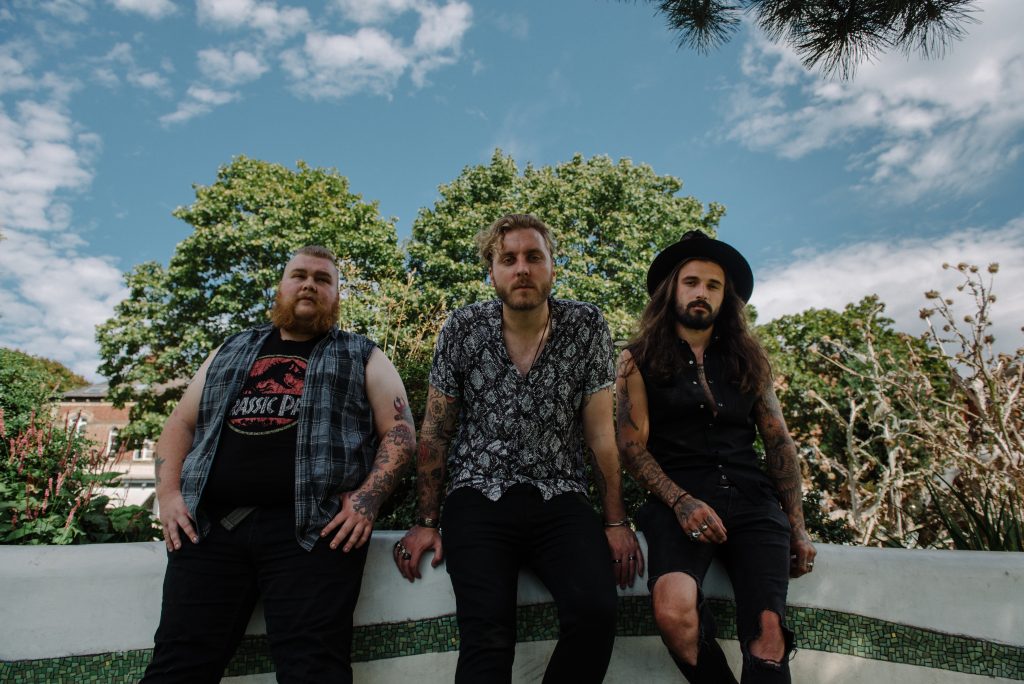 We'll start this part of Promoting Bands not that heavy. You want it heavier? Don't be disappointed, heavier stuff will come your way. The band that nowadays is called Wolf Jaw started in 2014 under the name The Bad Flowers. Wolf Jaw consists of guitarist/vocalist Tom Leighton, bass player/vocalist Dale Tonks and drummer Karl Selickis. Last year they released their full-length debut Starting Gun. For those who enjoy some nice rock'n'roll with a big amount of roaring guitars there is good news! On October the 25th, Wolf Jaw released a successor to Starting Gun. This successor is titled The Heart Won't Listen and was released via Listenable Records. On The Heart Won't Listen Wolf Jaw are continuing with what they started on Starting Gun: rocking very nicely while the guitars are especially standing out! Do you like some very nice rock? Be sure to listen to The Heart Won't Listen, as you can do below!
Wolf Jaw Official Website
Wolf Jaw Facebook
Wolf Jaw Instagram
Wolf Jaw Twitter
Laurentian Tides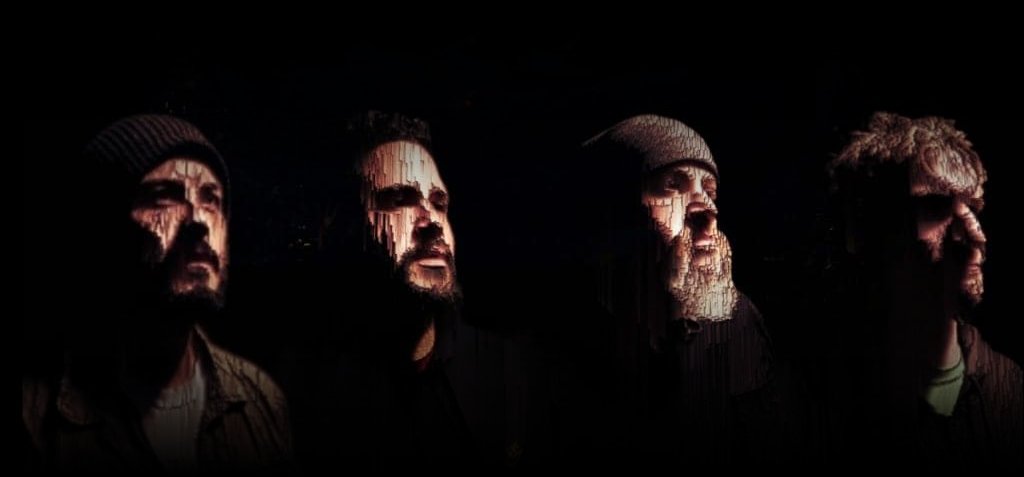 Four years ago, in 2015, the progressive metal band Laurentian Tides was formed. Two years later the first studio-material of this band was released, debut EP Sacred Geometry. Sacred Geometry is definitely a recommended listen if you like progressive metal that is more towards the brutal progressive metal of, for example, Between The Buried And Me, compared to the a bit more melodic progressive metal of, for example, Dream Theater. Nowadays, Laurentian Tides' line-up has changed in one position, compared to the line-up to be heard on Sacred Geometry. It's the position of bass player, on Sacred Geometry Tom Chappel was playing the bass, nowadays Kenny Herrick is doing so. Furthermore Laurentian Tides consists of vocalist Alejandro Aguirre, guitarist Bill Hughes and percussionist Richardoug Harris. That line-up already went to the studio to record Sacred Geometry's successor. That successor will be Laurentian Tides' debut full-length, titled In the Wake of the Great Collapse. They will release this debut full-length on March the 13th next year. Recently they already released a first single coming off of this album, titled Malign, a very promising song that can be listened to below.
Laurentian Tides Official Website
Laurentian Tides Facebook
Laurentian Tides Instagram
Laurentian Tides Twitter
The Black Moriah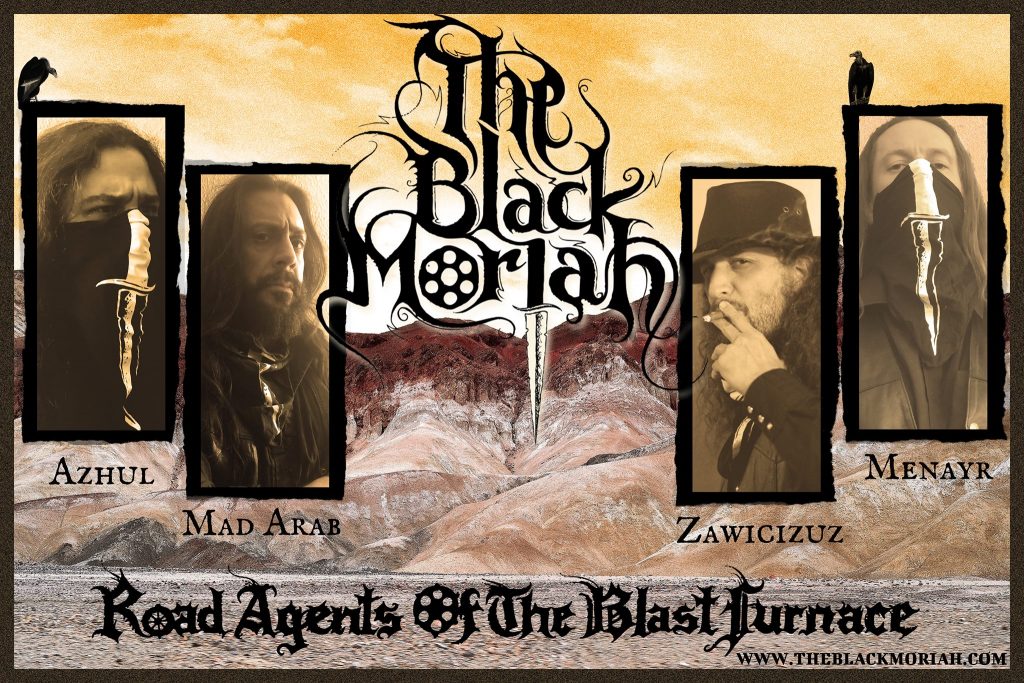 In 2009, The Black Moriah was formed by drummer/vocalist The Mad Arab and guitarist/keyboardist/vocalist Zawicizuz and in 2012 they released their debut full-length Casket Prospects. At that moment, The Black Moriah's line-up consisted, besides The Mad Arab and Zawicizuz, of vocalist Pete Brown, bass player/vocalist Maledon and guitarist Alkahest. Currently The Black Moriah again only consists of founding members The Mad Arab and Zawicizuz. Earlier this year, in March, they released their second full-length album, titled Road Agents of the Blast Furnace. That album has become a nice, fast-paced black/thrash album with quite some accentuation on the guitars. The sound of those guitars is very nice, during the tight riffing as well as during the regularly returning roaring solo's. To get an idea of this, be sure to check this album's title song or Death Valley Days. Is black/thrash metal something that makes you go wild? Then be sure to check this Road Agents of the Blast Furnace by The Black Moriah!
The Black Moriah Official Website
The Black Moriah Facebook
The Black Moriah Twitter
Sons of Alpha Centauri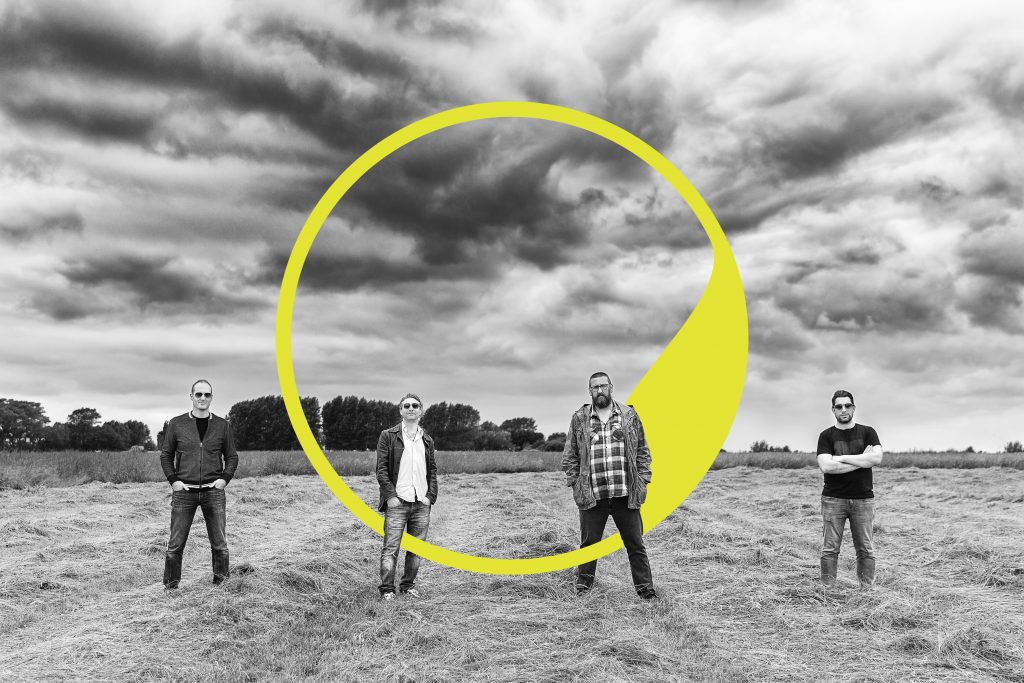 The next band in this part of Promoting Bands is again playing music that is a bit less heavy compared to the last two mentioned bands. This band, Sons of Alpha Centauri, consisting of guitarist Marlon King, bass player Nick Hannon, drummer Stevie B and Blake, who is responsible for the electronics, are playing ambient-like post-metal with some progressive touches. As you probably already noticed looking at this band's line-up, they do so the instrumental way. Sons of Alpha Centauri formed in 2001 and in 2004 they released their first demo, simply titled Demo 2004. In 2007 that demo was followed by their self-titled full-length debut. After that another two full-length albums, as well as four splits, followed. Recently Sons of Alpha Centauri released a new, fourth full-length album, titled Buried Memories. On Buried Memories Sons of Alpha Centauri worked together with Justin K. Broadrick and James Plotkin. Justin mixed opener Hitmen and also made two remixes of it, one as Jesu and one as JK Flesh. James Plotkin mixed Warhero and Remembrance and made a remix of SS Montgomery, a song of which the original version can be found on Sons of Alpha Centauri's debut. Buried Memories is an album to completely dream away to. This is an experience you have to have by yourself to fully understand what it's about. An experience you have to take some time for, but that's definitely worth it.
Sons of Alpha Centauri Official Website
Sons of Alpha Centauri Facebook
Sons of Alpha Centauri Twitter
Head of the Baptist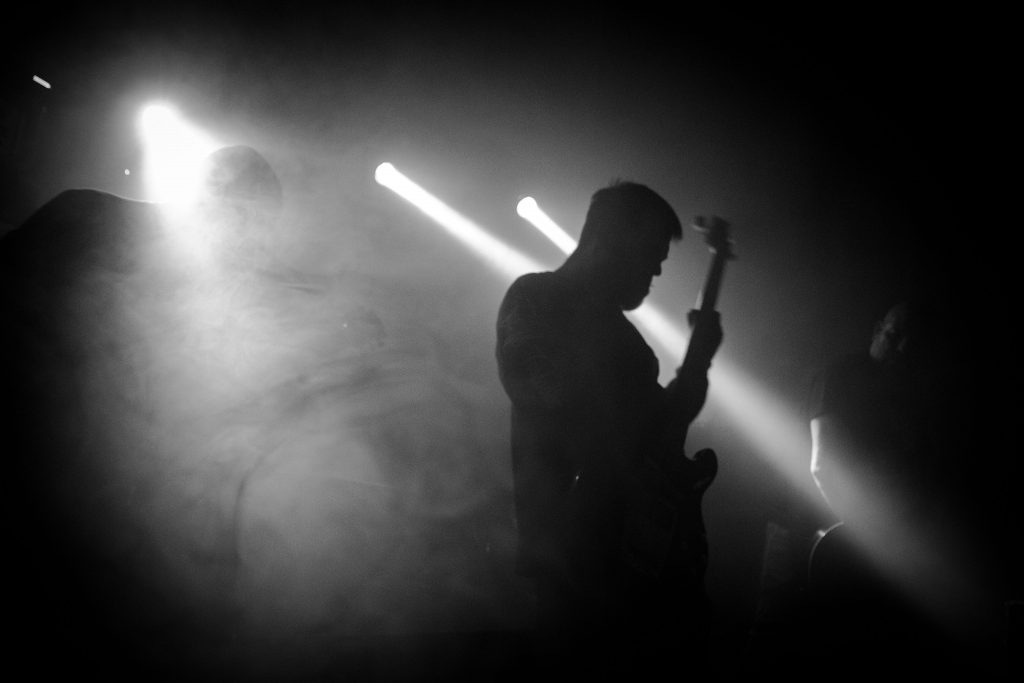 The next band of this part of Promoting Bands is again giving the amount of heaviness a boost, it's about the Belgian black infested death crust band Head of the Baptist. Recently I went to the release party of The Fifth Alliance's new album in the Little Devil in Tilburg to interview The Fifth Alliance. You can read that interview here. The supports of that evening were Depravation and this band, Head of the Baptist. I missed Depravation's show because I was interviewing The Fifth Alliance at that moment. However, I saw Head of the Baptist, the evening's first band, perform. They kicked off that evening in an awesome way. Off stage vocalist Niels, guitarists Dille and Millie, bass player Kurt and drummer Yenthe look like very kind Belgian guys, but as soon as they've entered the stage they deliver a devastating, crushing show with especially Niels standing out with his powerful, intense performance. The only studio-material this band has released since their formation in 2017 is a demo in 2018. The two songs on that demo already sound very devastating and crushing, while there is also given some attention to, for example, variation. Quite good, especially for a debut, although the quality of the recording is a bit less. On the other hand that's quite logic, since it's a demo. That demo already convinced me of Head of the Baptist being a nice band, but live they did prove that much more. This is a recommended band for sure!
Onhou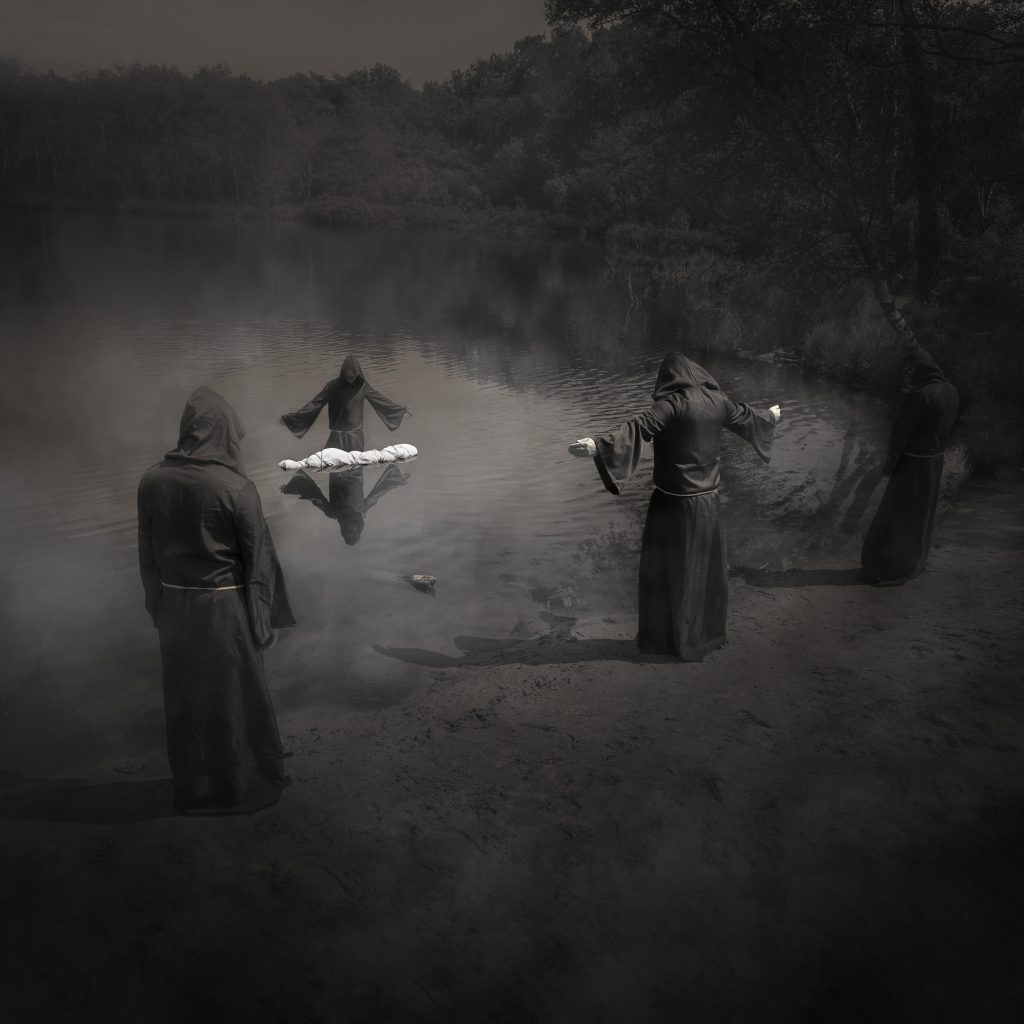 Onhou was founded in 2016 and consists of previous and current members of Killteam, Lords of Gravity, Wolvon, Grinding Halt and Ortega. Rooted in Groningen, the band embodies their northern heritage by mixing desolate sludgy doom riffs with miserable post-metal atmospheres, embracing the sinister history of the soil that made them.
Today sees the release of the video for their new track Dire, taken from the album Endling, which releases on November the 29th, 2019 on vinyl via Lay Bare Recordings, on tape via Tartarus Records and all digital platforms.
"Dire tells the story of demise hidden behind false gods and meaningless worship. In the end, only death awaits…. " – Onhou
DutchMetalManiac is proud to give you the exclusive Dutch video premiere of Onhou's Dire below.
You can pre-order Endling on vinyl here and on tape here.
Hi!
I'm Tim van Velthuysen and I started DutchMetalManiac back in 2014. I'm 29 years old and I live in Nijmegen, The Netherlands. Of course, I like metal, but I can also appreciate other musical styles.
In addition to DutchMetalManiac I also have a personal website on which I'll post various things that won't fit on DutchMetalManiac, but might be interesting for you as well. It's in Dutch though.